February 6 is likely to see the biggest strike action the NHS has ever experienced after the Unite union announced fresh ambulance worker walkouts.
Thousands of nurses from the Royal College of Nursing (RCN) were already scheduled to strike on February 6 and 7, and the GMB union announced earlier this week that its ambulance workers would join them on February 6.
On Friday morning, Unite said workers from five ambulance trusts in England and Wales would also join the strike on February 6.
Downing Street insisted that the Government was still open to facilitating talks with trade unions, while admitting that the planned walkout would cause further "disruption" for patients.
Several other dates of strike action are already scheduled by ambulance workers throughout February and March.
Unite's ambulance workers are already set to walk out next Monday as the pay row with the Government shows no sign of reaching a resolution.
It comes after thousands of nurses across England went on strike on Wednesday and Thursday this week, while around 1,000 ambulance workers in Wales also walked out on Thursday.
A spokesman for the Prime Minister called it "disappointing" that strike action would take place amid major strains on the NHS, but said that the Government was committed to reaching a "resolution".
"I think it's important to say firstly, that ambulance workers do an incredible job. It's obviously disappointing that some union members are going ahead with further strikes at a time when the NHS is already under huge pressure.
"We've said throughout this period that we know it will cause disruption to patients, which is why the NHS and unions will continue discussions about contingency planning to ensure we can keep people safe.
"What we want to do is reach a resolution and come to an agreement between the employers and the unions to end the industrial action that we've seen over recent weeks and months."
Unite general secretary Sharon Graham said of the new announcement: "Rather than act to protect the NHS and negotiate an end to the dispute, the Government has disgracefully chosen to demonise ambulance workers
"Ministers are deliberately misleading the public about the life and limb cover and who is to blame for excessive deaths.
"Our members faithfully provide life and limb cover on strike days and it's not the unions who are not providing minimum service levels.
"It's this Government's disastrous handling of the NHS that has brought it to breaking point and, as crisis piles on crisis, the Prime Minister is seen to be washing his hands of the dispute."
Talks between the Government and trade unions on NHS workers' pay earlier this month failed to reach an agreement or see off further industrial action.
Downing Street said the Government was "very much open" for further talks.
"We want to continue to facilitate those negotiations to try and get to a point where we can end this industrial action," the PM's spokesman said.
The escalation in industrial action comes as NHS Providers and the NHS Confederation warned of the damage to the NHS caused by prolonged disputes.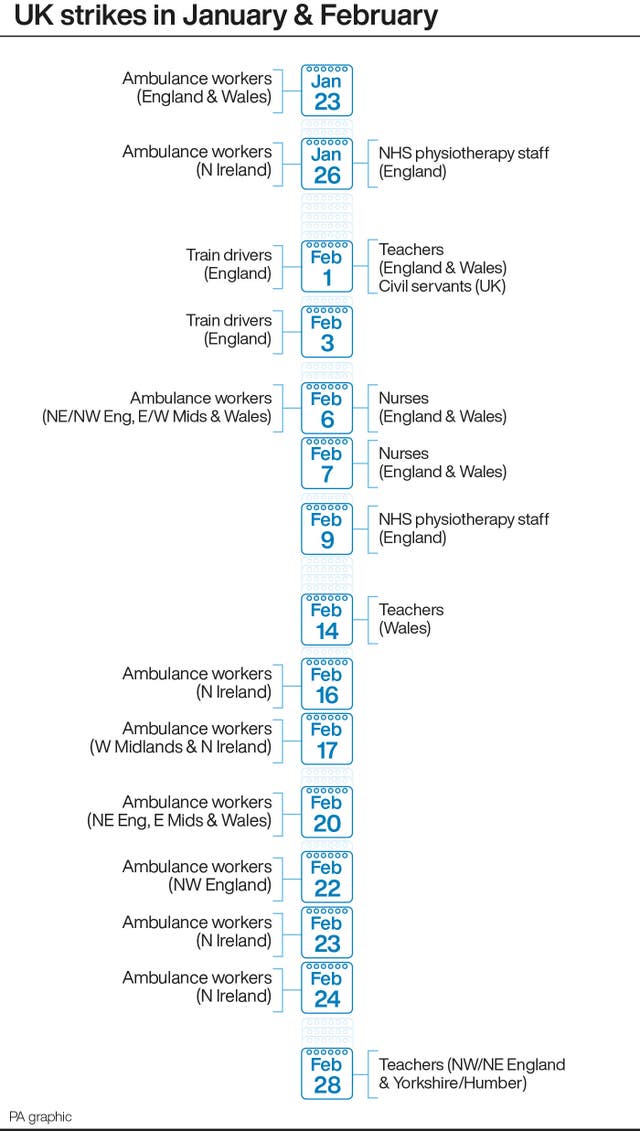 Thousands more operations and appointments will need to be cancelled over the next few months, while the loss of ambulance workers will lead to long delays or some patients getting no ambulance sent to them at all.
NHS Providers' director of policy Miriam Deakin said: "Ten more days of strikes by Unite ambulance staff will make what is already an incredibly difficult situation for NHS patients and staff even harder.
"As one of these dates, February 6, coincides with strikes by nurses and GMB ambulance workers next month, trust leaders are facing what for many may be the most challenging day of their careers.
"Nobody wants these strikes to happen but it's clear that staff feel they have been driven to this. We understand that.
"Trust leaders will do all they can to mitigate the impact of these strikes but escalating industrial action will only cause further disruption and impact patient care at a time when trust leaders and their staff want to focus on driving down waiting times.
"It's absolutely imperative that the Government sit down with the unions immediately to resolve this by talking about pay for this financial year."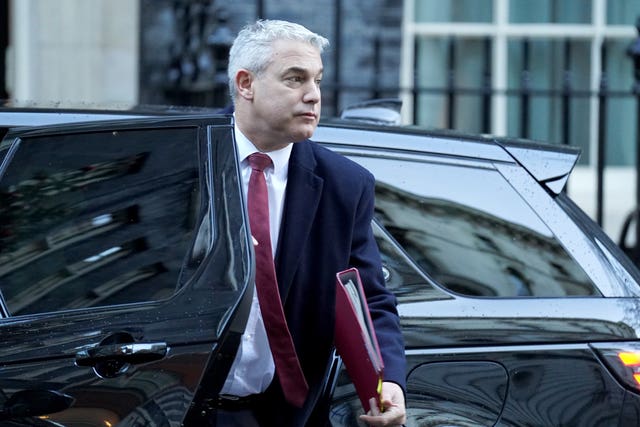 Speaking to broadcasters during a hospital visit earlier this week, Health Secretary Steve Barclay appeared to rule out a 10% pay rise for nurses, insisting it was "not affordable".
"Well 10% is not affordable, it would be an extra £3.6 billion a year and obviously that would take money away from patient services, essential services that we need to invest in given the backlogs from the pandemic," he said.
"Now, within Government we take a whole Government approach – of course I have discussions with the Treasury, as do other Secretaries of State, and these things need to be balanced not just with the needs of teachers, with the Education Secretary, or train drivers with the Transport Secretary, but also what's affordable for your viewers in terms of their own cost-of-living pressures."
He insisted he was working "constructively" with unions but said he was "disappointed" in the strikes.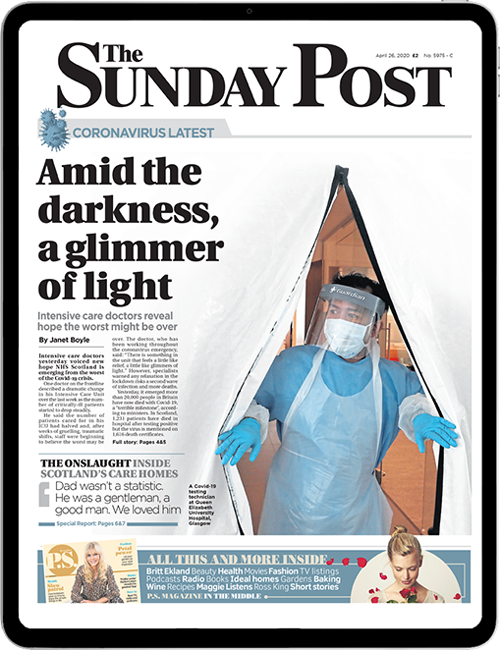 Enjoy the convenience of having The Sunday Post delivered as a digital ePaper straight to your smartphone, tablet or computer.
Subscribe for only £5.49 a month and enjoy all the benefits of the printed paper as a digital replica.
Subscribe