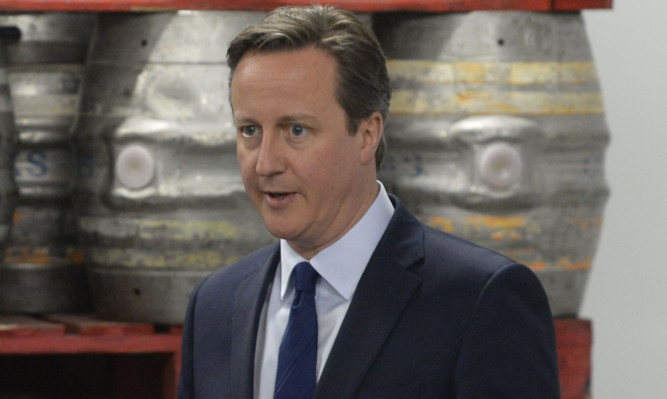 David Cameron is supposed to be enjoying a political honeymoon.
But no sooner had the new session of parliament officially got under way on Wednesday than he jetted off to Europe on an itinerary that would please any newlyweds.
However, there was little romance on this particular trip.
First he was due in Copenhagen but Danish PM Helle Thorning-Schmidt went to the extreme measure of calling an election to get out of her date with Dave.
Given the popularity of Nordic noir these days some might look for a bit of intrigue behind her decision.
More pertinent might be that Thorning-Schmidt's husband is new Labour MP Stephen Kinnock son of Welsh political royalty Neil and Glenys.
Kinnock's only been an MP for a few weeks but he showed he's inherited the family trait for losing by announcing he was backing Labour leadership no-hoper Mary Creagh in the forthcoming election to be opposition leader.
Instead of Denmark Cameron went to Holland but that may have been a mistake since from there he went to meet President Hollande in France. That certainly was a mistake since he received a very cool welcome in Paris.
This was more make-or-break than romantic mini-break.
Cameron was on his tour trying to drum up support for his proposals to renegotiate Britain's relationship with the EU.
Trouble is nobody else wants to go to marriage guidance with him. And frankly Cameron doesn't either.
He was bounced into pledging a Euro referendum to see off the Ukip threat and like a bad romance he's left ruing a promise made in haste.
And the last person to give the PM advice on improving a relationship would be the French President, whose wife walked out after he was spotted leaving an actress's flat on a scooter.
From France Cameron made for Poland and then on to Berlin where Angela Merkel seemed to take pity on the man she once described as being like a "naughty nephew" and made some encouraging noises. Or at least not entirely discouraging noises and, after this dispiriting trip, that's the best Cameron could hope for.
The irony is that while the PM was away there was respect and maidens in the House of Commons.
The new SNP members were making maiden speeches. It's no longer a hard and fast rule that a new MP must make a maiden speech an opportunity to talk up their constituency, praise their predecessor and give the House a chance to measure them up before joining in proceedings fully, but most like to do so.
SNP defence spokesman Brendan O'Hara was first out of the blocks, surrounded by supportive colleagues.
He was followed on his feet by arch Tory Jacob Rees-Mogg, a stickler for parliamentary protocol, who was gracious and genuine in his praise not just for O'Hara and his speech but for the entire SNP group.
Earlier in the day Tommy Sheppard had tweeted that the "massed ranks of Tories" were "smug, self-satisfied, braying and guffawing".
Sheppard is set to surprise Westminster. He looks like a washed up children's entertainer and he used to run a comedy club but his speech was serious and well-delivered.
But some of the new members like him are also going to be surprised when the Tory opponents they were quick to characterise turn out to be civil and reasonable.
When Sheppard made his maiden speech it was Philip Davies the headbanger's headbanger who can probably lay claim to being the most right-wing Tory in the House who welcomed it as "accomplished and excellent" and added: "There is clearly no doubt about the quality of the SNP people who were elected".
The SNP are being well received and showered with respect.
How David Cameron would wish for a bit of that as he heads back to Europe this week.