Sir Ed Davey has called for a new legal right for cancer patients to start treatment within two months of an urgent referral, using a keynote speech to underline the Liberal Democrats' focus on health.
The party has said enshrining the commitment in law would make ministers more accountable for failing to reach the target, which is currently a pledge of the Tory Government.
Lib Dem officials say the policy is expected to cost about £4 billion to deliver over the course of five years.
In his rallying cry to delegates gathered in Bournemouth for what could be the party's last annual conference before a general election expected next year, Sir Ed said "voting Conservative is bad for your health".
A personal section of the speech saw him recall losing both of his parents to cancer as a child, telling members: "My family's story isn't unique.
"There are millions of us whose lives get turned upside down by cancer. I fervently hope we can build a consensus across politics to make cancer a top priority in the next Parliament."
Officials say the party's proposed legislation would involve patients reporting complaints to the health ombudsman, starting a process which could ultimately end with the Government facing legal action.
Elsewhere, the Lib Dem leader heightened his attack on the Conservatives, which his party is seeking to oust in so-called "blue wall" seats in places like southern England.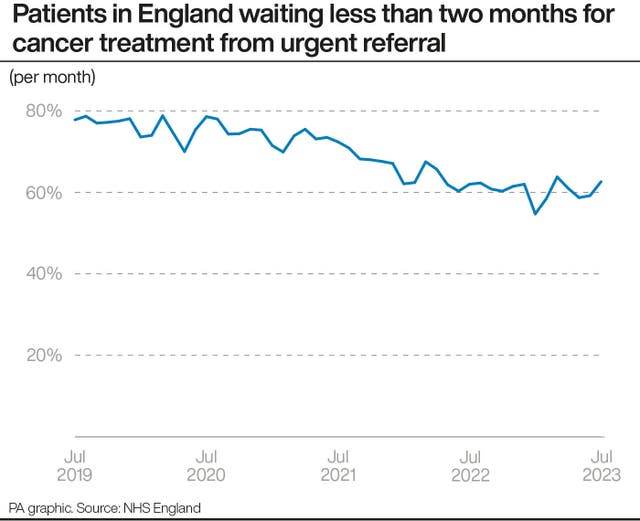 He recalled having branded the Tories "clowns" following the Somerton and Frome by-election won by Sarah Dyke, adding: ""I'm sorry. I used the wrong c-word."
Some 62.6% who had their first treatment in July after an urgent referral had waited under two months, up from 59.2% in June, according to latest health service performance data.
Health groups welcomed the commitment but said it would only be successful if backed by adequate funding.
The NHS Confederation pointed to 100,000 vacancies within the service, as it questioned how the proposed legislation would guarantee patients are seen within two months.
NHS Providers said the ambition to end cancer delays will "only bear fruit if properly resourced", but suggested the party was taking a "big step in the right direction" on health.
The party has not yet fully costed its health policy, which is the centrepiece of a pre-manifesto aimed at wooing traditionally Tory voters.
It has promised to do so nearer the next election.
The Lib Dem election strategy will be to target Tory heartlands where, buoyed by a series of by-election and local election successes, the party hopes to make significant gains.
The leader did not mention Brexit directly, but earned perhaps his loudest applause when he told the conference hall the party would seek to "fix our broken relationship with Europe".
Sir Ed has been reluctant to speak publicly about the ultimate goal of rejoining the EU, which is current party policy, saying it is not currently on the table.
He told delegates: "So much unnecessary pain inflicted on so many by so few. And only the Liberal Democrats have consistently stood up against it.
"Only we have set out a detailed plan to tear down those trade barriers, fix our broken relationship with Europe and get a better deal for Britain."
He said Labour's plan is "nowhere near that ambitious", adding: "Labour has a long way still to go, which means it's up to us to lead the way – a better economy, a better future, with Europe."
Chairman of the Conservative Party Greg Hands said: "Ed Davey's conference speech did little to address the priorities of the British people.
"The Liberal Democrats' chaotic debate over how much of the green belt to concrete over is the latest example of them saying one thing and doing another. They are just same old politicians stuck in the past."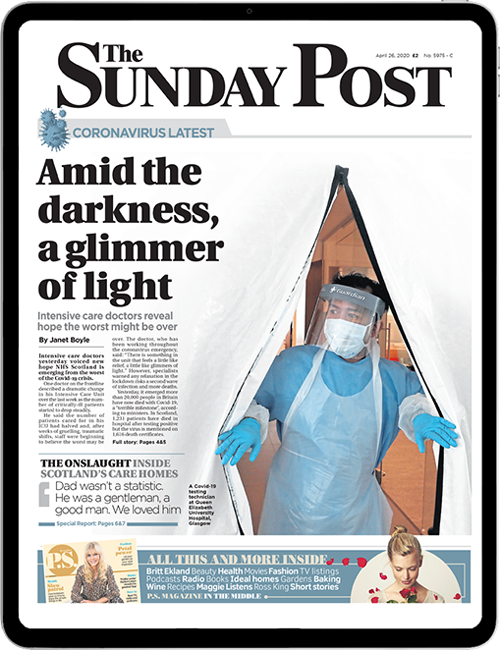 Enjoy the convenience of having The Sunday Post delivered as a digital ePaper straight to your smartphone, tablet or computer.
Subscribe for only £5.49 a month and enjoy all the benefits of the printed paper as a digital replica.
Subscribe