More than 40 wildlife charities and climate activist organisations have gathered outside the Government's environment department demanding ministers take stronger action to restore nature.
It follows a landmark report showing 16% of the UK's wildlife species are at risk of extinction, with numbers continuing to fall despite political pledges internationally and at home.
Unsustainable farming and fishing as well as climate change were identified as being the main causes of the loss of wildlife, with habitats from woodland to peatlands and the sea floor having been significantly degraded.
Outside the Department for Environment, Food and Rural Affairs building in Westminster, representatives of organisations including the Wildlife Trusts, WWF, the RSPB, Extinction Rebellion, Just Stop Oil and Green New Deal Rising blocked the road with large colourful banners and listened to speeches from scientists angered by the State of Nature report's findings.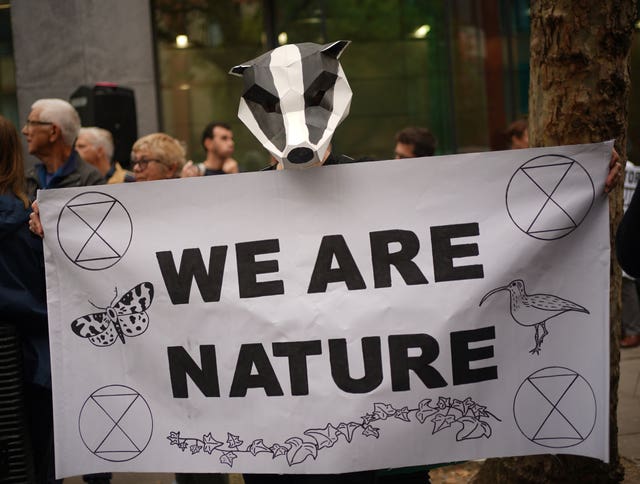 Naturalist and TV presenter Chris Packham, who organised the protest with two other people in nine days, said: "When a report says that 16% of your monitored species are in danger of extinction – one in six – you are in deep trouble.
"We have to act far more rapidly, and that's why I'm keen to motivate these charities to ask their membership to stand up and be counted to take more action than we have done.
"I'm afraid these days that means taking to the streets in a peaceful, democratic way as we have done this morning. No paint, no powder, no gluing ourselves.
"People have been motivated by love, deep rooted affinity and concern for nature. And they're running out of patience when it comes to nature's recovery."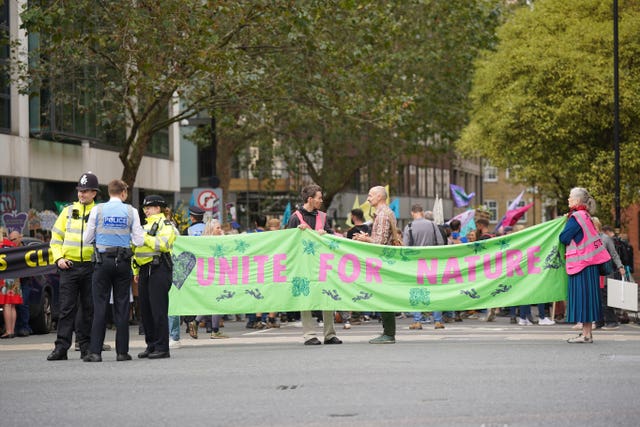 The State of Nature report, led by the RSPB and supported by more than 60 conservation and research organisations, is the latest to chart the continued decline of British wildlife.
Its authors said the problems and solutions have never been better understood but what is missing is action on a large scale, citing examples of restorative work that have brought back life to degraded habitats but which need to be replicated and expanded.
Richard Benwell, chief executive of the Wildlife and Countryside Link, said the report's findings contain "heart-stoppingly horrible figures".
He said: "We know that we've got to change the way we behave in every corner of society and every inch of the economy.
"That means in particular, change for farming to shift to regenerative models, change for developments to build nature into the way we plan our homes and infrastructure. and we need to change the way that corporates operate so that the polluter pays and invests in nature.
"Have we seen those things in the Environmental Improvement Plan? No.
"The Government has the answers on the page in front of it, now we're looking for political bravery before the election to see which one of the parties will put the cash put the regulation and do the enforcement."
Environment Secretary Therese Coffey said the Government has legally committed itself to protecting 30% of the UK's natural environment by 2030.
In response to the report, she said: "The UK's nature is a crucial part of our islands.
"That is why we put in law the requirement to halt the decline in nature and protect the abundance of species, why we are committed to increasing the amount of habitat for nature to thrive, and why we were one of the first countries to pledge to protect 30% of our land for nature by 2030.
"At the start of this year, I published our comprehensive Environmental Improvement Plan, setting out how we will create and restore at least 500,000 hectares of new wildlife habitats, starting with 70 new wildlife projects including 25 new or expanded National Nature Reserves."
Packham said Government agencies tasked with protecting nature such as Natural England and the Environment Agency have had their funding cut so much that they are incapable of doing their job sufficiently, and he is asking members of wildlife charities to take to the streets.
Speaking of the group gathered behind him in Westminster, he said: "I know that these people have the capacity to come together and do things that, historically, they're not very good at.
"But this is our time. So it doesn't matter whether you're into bats, bumblebees, butterflies, birds, bugs or badgers – ultimately, we need to come together."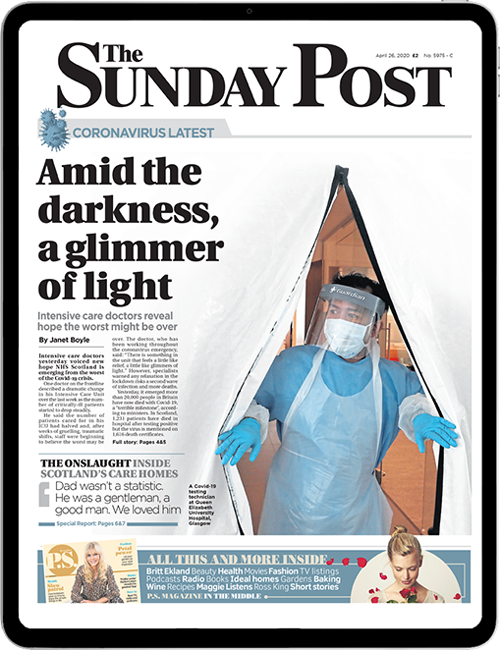 Enjoy the convenience of having The Sunday Post delivered as a digital ePaper straight to your smartphone, tablet or computer.
Subscribe for only £5.49 a month and enjoy all the benefits of the printed paper as a digital replica.
Subscribe