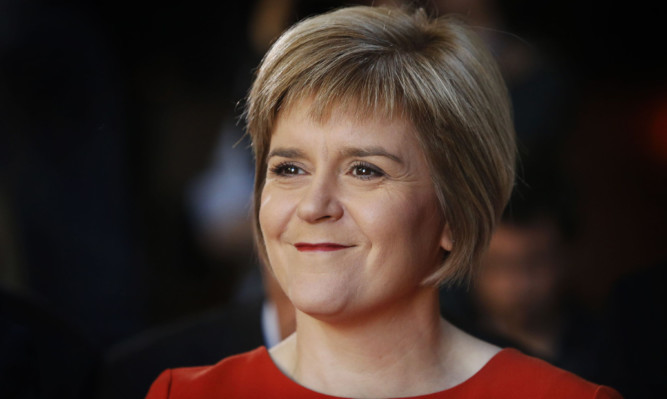 "Funny isn't it, that it takes a woman getting to the very top before folk realise women have been political leaders for some time."
Congratulations to Nicola Sturgeon.
Not only is the Ayrshire lass set to become Scotland first female First Minister, she's also the first politician to sell out the 12,000-seater Hydro arena and she's reminded journalists everywhere women have actually been running Scottish politics for years.
Johann Lamont became Scottish Labour leader in 2011, four years after Wendy Alexander quit, Ruth Davidson took over the reins from Scottish Tory leader Annabel Goldie the same year and the Greens have always had a female co-convenor though Maggie Chapman's light is rather hidden behind that luminous wee dynamo, Patrick Harvie.
Indeed Nicola herself led the SNP at Holyrood at the relatively tender age of 34 while Big Lec was still an MP in London. She must have done a pretty good job at the end of her three-year solo innings the SNP made history by winning the 2007 Scottish elections.
Funny isn't it, that it takes a woman getting to the very top before folk realise women have been political leaders for some time.
Perhaps Willie Rennie now Holyrood's only male party leader should become a protected species?
Let's face it, without special status, the Lib Dems won't survive the next elections after helping the Tories deliver shockers like the bedroom tax at Westminster.
But it's funny too that it's the SNP that has produced Scotland's first female First Minister when it was Labour that used quotas to promote women when the Scottish Parliament began in 1999.
Back then, the Lib Dems "zipped" alternating men and women on party lists and Labour "twinned" pairing first past the post seats by winnability and giving one seat in each pair to the best female candidate.
The SNP like the Tories opted to ignore special measures and let brilliant, exceptional women tough it out to get to the top.
I suppose you could argue Nicola is living proof that good women don't need quotas to get to the top. You could but there's a wider argument.
Firstly, the SNP leader-in-waiting has benefitted hugely from the sheer normality of having lots of women in the Scottish Parliament.
The first Scottish Parliament was the second most gender equal in the world in 1999 and that environment allowed capable women to shine. When Labour stopped twinning, the gender mix at Holyrood slipped back.
Today, our parliament is only number 25 in the world equality league tables. How will Ms Sturgeon redress that in her own party's ranks?
Second, Nicola isn't just a capable woman she's an exceptional force of nature. Her forensic, lawyer's skills demolished two Scottish Secretaries in STV referendum debates.
Her stamina took her round more meetings than any other Scottish politician. And her man doesn't complain he's chief executive of the SNP!
Traipsing around wouldn't have been so easy otherwise. We need talented women to progress in politics even if they aren't Superwoman.
Thirdly, the services that Scottish women use are still expensive and low quality. Childcare is obvious but elderly care matters too women live longer and tend to care for parents when state services fail.
So to remain Scotland's most trusted politician Nicola must deliver an early year revolution without the independence dividend and ensure the mighty SNP doesn't hoover up all the power, influence and top jobs in Scotland. Not easy.
But as Nancy Reagan once said: "A woman is like a tea bag. You can't tell how strong she is till you put her in hot water."
Gaun yersel' Nicola.