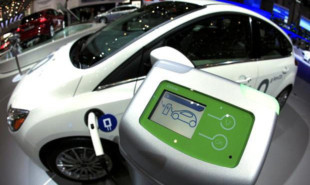 You know the sound. The clanking that says your 12-year-old car has yet another mechanical fault.
You know the face. The "not again" face on your old man when yet another front light bulb mysteriously explodes for no reason. Life is trying to say something get a new car.
Until today, I've been resisting the call. Changing cars every few years has always seemed like dumping a best friend cos her hair's turned grey a bit callous and very wasteful.
The value of used cars is so low, why go through more than you need in a lifetime? Besides, getting all those old CDs out from under the back seat . . . it's just seemed easier to soldier on.
Until I saw this ad: "Drive 10,000 miles a year for £186 with an electric car."
That's quite a headline so where's the catch?
Well the average 'leccy car does cost more than £23,000, even after a government grant.
Mind you, running costs are low (2p per mile if you recharge overnight), Transport Scotland will provide and fit a free charging unit, 'leccy cars have no tax and get some free parking, they're quiet and there's no clutch.
Most models are Golf-sized, not wee biscuit tins and new models are on the way. And the environment is a winner since it has no damaging emissions.
What about recharging once you've left home? The Scottish Government reckons it's got that licked too with plans to treble the number of public recharging points so you're never more than 50 miles from a recharge.
Sounds good but, as ever, the devil is in the detail.
First flats. More than 400,000 households live above the ground floor in Scottish tenements. How can they charge 'leccy cars? Cables flapping in the wind I don't think so.
The Government says free workplace charger provision is the answer. Great if you've a co-operative employer with space.
Second rural areas. There are currently big "empty" stretches with no public recharging spots across rural Scotland.
You can plug a 'leccy car into a friend's house like a giant mobile phone (as long as the wiring's new!) but will cautious Scots take the risk?
Third time. It can take eight hours for a fully electric car to recharge, less for hybrid cars (cos wee petrol engines work as generators charging the car battery while it's running).
The latest chargers take just 30 minutes and wifi charging is on the cards. But how many hyper-fast rechargers will Scotland have and where? Local councils will decide.
Finally do electric cars really help the environment? The green jury's out. Leccy car and battery production is more energy and emissions intensive than petrol or diesel cars. So it all depends on how much renewable energy is supplied in the grid mix.
All of which could rule out 'leccy cars for folk who do more than a school run or a short commute without hills or freezing weather (both reduce charge). Swapping batteries like Calor Gas canisters could work but who wants to swap a brand new battery from a £23,000 car? All of this means that grants of £5,000 have so far coaxed fewer than 2,000 Brits into buying the new-fangled machines out of 28 million British motors.
These technical problems will be ironed out if "early adopters" lead the way folk like the Transport Minister himself. If Keith Brown really wants a 'leccy car revolution, he should buy one. Better still, convert the entire Holyrood fleet. If it's too hard, why should recession-hit punters lead the way? C'mon, Keith plug in, green up and show off!