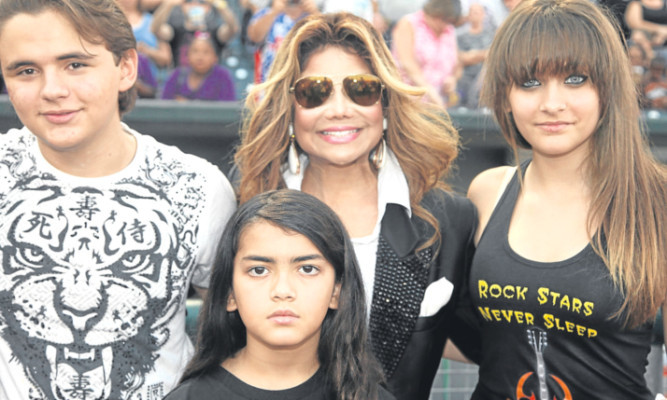 Here's hoping the pressures on Paris Jackson ease.
Any tragedy seems heightened when it involves children. My heart went out to Paris Jackson last week after news started filtering through she had attempted suicide. At the moment she's recovering in a hospital in Los Angeles surrounded by her family.
I've met her a couple of times and she seemed like a smashing girl in fact, out of the three Jackson children, Paris seemed to enjoy media attention the most. But when it comes to someone who's troubled, sometimes it's hard to tell what's going on beneath the surface.
Paris was concealed from view for so long. She was hidden under masks and beneath blankets by her father Michael up until four years ago, when he died. It seems strange, but that's when she was unveiled to the world at her dad's funeral.
I can't imagine how difficult that would have been for the girl. She wasn't even a teenager at the time and she had to cope with all that pressure.
First of all, she grew up in the Jackson family who, by anyone's measure, are a little bit strange. She had to deal with the death of her father who was still quite a young man himself, really.
Ever since, she's been at the centre of a media scrum. And of course she had to get on with being a teenage girl which is probably difficult enough as it is.
And then there were allegations of cyber-bullying.
With schools being a hotbed of cliques and rivalries, the daughter of one of the most strange and famous stars in the world becoming a target herself is sadly predictable. Paris was also due in court to testify in the trial of Conrad Murray, the man accused of Michael's wrongful death. Her lawyer said the pressure of appearing on the witness stand had no bearing on last week's events, but I'm not sure I agree.
I know if I was in court as a witness for even a fairly minor crime I'd be a bit of a nervous wreck, so goodness knows how she felt. Conrad Murray sent Paris a message of support recorded from his jail cell on Friday, which, unbelievably, I think he thought would help the situation.
Paris has been spotted recently with her biological mother Debbie Rowe, who originally gave Michael full custody rights of the children they had together. Police afterwards said Paris may not have wanted to kill herself, she may have just been crying out for help.
In attempting to reach out to her mother it seems the young girl might need a bit of love. I pondered how to best cover the news about Paris last week. It was a difficult one it's obviously news, but this is a 15-year-old girl who needs help and not reporters from four corners of the globe camped on her doorstep.
The media need to just back off to let Paris recover. I hope she gets the help she needs to do just that.