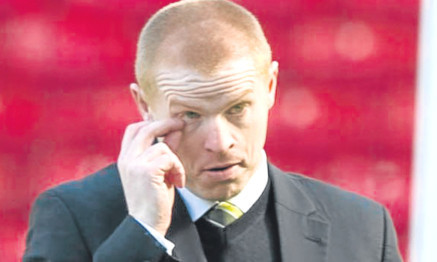 When will the SFA grow up and acknowledge football for what it is a man's game.
In all my years, I have never experienced anything so trivial as Compliance Officer Vincent Lunny's decision to punish Celtic manager Neil Lennon for using industrial language.
All the more so when Lennon wasn't even reported by the fourth official, closer to him on the day than TV microphones at New St Mirren Park.
Instead two viewers, perhaps with hidden agendas, complained after detecting Lennon's vitriol directed at St Mirren captain Jim Goodwin.
It's just as well most of the managers I grew up with are no longer around. Swearing was second nature to the likes of Jock Stein, Willie Waddell, Willie Ormond, Eddie Turnbull (below), George Farm, Jim McLean, John Lambie and Jock Wallace.
Yet no-one took offence not even players who were the target when they gave vent to their feelings.
Alan Gordon had a university degree, but didn't throw a strop when Turnbull told him :"Your problem is your brains are all in your ******* heid." Instead the Hibs striker saw the funny side of it, as did Goodwin three weeks ago.
If the former managers I've mentioned were still to the fore, Lunny would require an enormous staff, as just about every manager would have been up before his committee after every game.
In the heat of the moment, there isn't time to select Oxford English Dictionary vocabulary to get a point across. Lunny will argue otherwise, but his actions reek of pettiness at not being able to charge Lennon for criticising referee Bobby Madden's performance.
Lennon chose his words carefully when he said: "That was the most appalling refereeing performance I've seen for a long time. I mean, you can't get so many big decisions so wrong."
Because Lennon didn't call Madden's integrity into question, Lunny couldn't charge him. Instead he acted on the complaints of two viewers on a separate incident to punish the Celtic boss.
I'm not advocating swearing. Surely, though, Lunny has to be far more understanding of the nature of football?
He would be better employed summoning Referee Development Officer John Fleming to explain why officials are so wrong so often.
Refereeing standards are equally as alarming as the state of football.
And there is far more to address than a manager swearing.