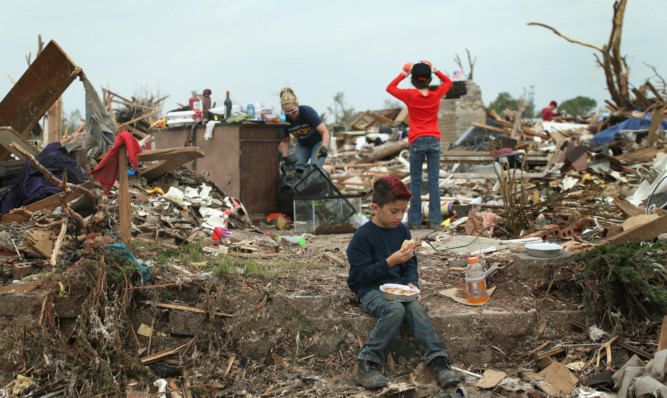 A big part of my week was taken up with the awful tornado in Moore, Oklahoma.
I'd had a particularly long day and got to bed at 5 am. Then I got a phone call half an hour later from Daybreak telling me what had happened and asking if I'd go. That's the strange thing about my job. You never know what's around the corner.
One minute you're interviewing a star and having a fun time, the next you're in a completely different gear, dealing with real-life devastation.
Being there made me realise that 15 minutes had changed some people's lives for ever. And sadly, of course, 24 people actually lost their lives. They're as prepared as they can be in Moore it's situated in what locals call Tornado Alley and lots of them have tornado cellars. But this one was so strong it actually sucked some people out of their shelters.
Can you believe that in Tulsa, more than 100 miles away, residents reported debris from the tornado actually raining down on them? It's so hard to fathom. I was filming at what had been Moore's Medical Centre. What was kind of surprising was how specific the tornado was. The Medical Centre was flattened but not 200 yards across the road, a cinema and theatre were perfectly intact. It wasn't the total devastation you might have imagined.
I went out in a helicopter and have to admit that when we flew over the school where seven children died, it was hard not to get emotional. Those poor kids and their heartbroken parents. Their school didn't have reinforced shelters or safe rooms.
There may be anger about that at a later date but when I was there, residents were just in total shock. You could see it on their faces. Parents in tears rushed up to children who'd survived, hugging them.
The kids just looked completely confused by it all. It was really hard for them to take it all in.
Obviously Moore was swarming with news crews and cameras. I was part of it, but I couldn't help feeling a bit guilty, too. We all arrived to do our reports but, while we could move on, those poor locals are left to repair their city. And it will take a long time to recover. There were reports of looting in a hospital after the tornado. That struck me as particularly sad.
I've experienced two hurricanes. It's a bit scary and weird. Maybe I'm a total softie, but an experience like that just makes you want to hug your family. As ever these days, when something so devastating happens, celebrities try to show their support by tweeting their thoughts. Does it actually help to make people feel better? I don't know.
Maybe it does comfort them to know people are thinking of them and rooting for them, whether they're celebrities or not but I think Katy Perry had the right idea. She included the number of the Red Cross donation line and encouraged people to send $10. If just a 10th of her 36 million followers did, that's, ummm, a lot of dollars. I ran out of fingers and toes trying to work it out!