Chance encounter with a national treasure.
Timing, as they say, is everything.
I was having lunch out here in La-La Land with my pal, who's a female comedian aiming to make it big.
Being a helpful know-it-all, I was telling her how tough it would be to break through. Just because you're in Los Angeles doesn't mean you can get near the people who matter.
"Do you often bump into celebrities?" she asked.
Ha! As if you just bump into celebrities. They don't just walk up to you and say hello.
"Hello Ross!" said Hugh Laurie at that moment in his unmistakeable accent, with impeccable timing.
I hadn't noticed the star of House and A Bit Of Fry and Laurie standing beside us. He had come over for a quick chat.
Hugh was in his leather motorbike gear and had been out for a ride presumably on the hunt for TV presenters to make look daft. It was nice to see Hugh, though, and we had a nice wee chat about what he's up to.
He told me he's heading to film at a set based on Disneyland this week for his movie Tomorrowland.
Hugh's career has taken off since he landed the role of grumpy doctor House. I still think of him starring in A Bit Of Fry And Laurie, or as bumbling toff Bertie Wooster.
He starred opposite that other British treasure, Stephen Fry, in both of those. Those pair seemed to come as a package but Hugh slipped into the role of House with ease. In fact most Americans who don't know he's British are surprised by his very English accent.
Hugh is so successful he's been listed in the Guinness Book of World Records as the most watched leading man on television, thanks to eight seasons of House. He also became one of the highest-paid actors in television,
earning £250,000 per episode. Not bad for a couple of days work, Bertie!
Tomorrowland is a fantasy movie about the 1964 World's Fair in New York, which also stars George Clooney. The only problem is he was filming at the "It's A Small World" boat ride.
Anyone who's been to Disneyland will know that ride it's great funfor a while. It takes you around various representations of the globe with robot dolls from different cultures singing the "It's A Small World" soundtrack.
Let's just say it becomes challenging, in the same way that song Barbie Girl became challenging quite quickly.
I told Hugh to ask them to switch the music off at least to preserve his sanity. All I could think of was some poor Disneyland employee being taken to task by Hugh Laurie doing grumpy doctor House.
Maybe Hugh will grow to love the song and put it on his next album?
Speaking of musicians, I was in the barbers last week when a music legend was mentioned. I was getting my usual trim and nothing else contrary to popular belief, my hair colour is 100% natural. Or so it says on the bottle anyway.
The Beatles came on the radio and I asked if my barber was a fan.
"Of course, everyone loves the Beatles," he said. "I also cut Paul's hair."
That was a bombshell I've the same barber as Paul McCartney!
When he's sweeping up his clippings afterwards I wonder if there's hair, there and everywhere. That one is for fans of Revolver!
The Beatles have been big news over in the US for the past couple of weeks with the 50th Anniversary of their appearance on The Ed Sullivan Show. The TV special had loads of great artists paying tribute from Dave Grohl to Katy Perry to Stevie Wonder.
The highlight for me was Ed Sheeran's wonderful cover of In My Life. If you can, check it out on YouTube.
The real Beatles' set list was All My Loving, Till There Was You, She Loves You, I Saw Her Standing There and I Wanna Hold Your Hand.
Amazingly all but one track was taken from a single album. Most bands would kill for that to be their career set list!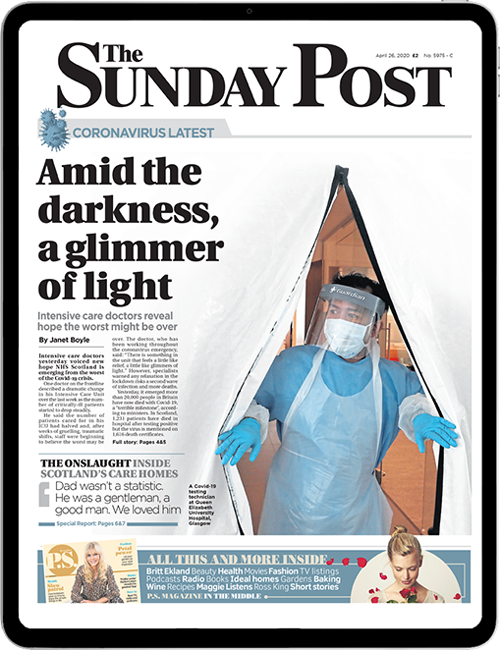 Enjoy the convenience of having The Sunday Post delivered as a digital ePaper straight to your smartphone, tablet or computer.
Subscribe for only £5.49 a month and enjoy all the benefits of the printed paper as a digital replica.
Subscribe