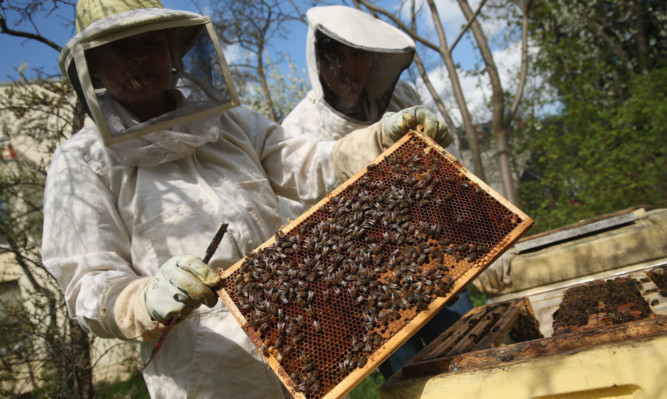 Green ideas make life better for humans, animals and the environment they make business sense too.
Never mind the new Forth Bridge, whatever it's finally called. What about the Green Bridge over the M73? Last week, Scotland's first motorway "green bridge" got off the ground by winning Best New Idea at the Central Scotland Green Network awards. Great but what is it? Well the French built the first in 1950, a bridge with vegetation not tarmac, to let animals span the artificial boundaries created by motorways.
The Dutch have 600 "eco-ducts" to let otters, badgers, deer and newts move across freeways. The Americans and Canadians have bigger green bridge users like bear, lynx and moose! But the great thing is that people benefit, too.
Currently, folk in Easterhouse can't access the natural delights of nearby Drumpelier Country Park, even though it's just a walk or cycle away. The problem is the M73. A green bridge could end this disconnect experienced by so many communities which sit cheek by jowl with uncrossable roads or derelict land.
The Green Bridge is wider than the conventional crossing, carrying woodland, bushes and wildflowers as well as cycle paths, pavements and a bit of road so animals don't have to leave their habitat to hop across. Perhaps that sounds a bit airy-fairy in a grim world where jobs are scarce and bad news abounds.
Now medics say half of us will contract cancer in our lives. It's stressful stuff. But the antidote is not in a bottle. Scots need to get out and about for their own health and sanity especially in the Central Belt. That's why these small, local green ideas matter, they make life better for humans, animals and the environment, and they make business sense too.
The Green Bridge will complete the proposed Seven Lochs Wetland Park between Glasgow and North Lanarkshire. That park will join up existing nature reserves to become Scotland's biggest outdoor recreation attraction in the Central Belt, and that'll give thousands of Scots new homes in a truly idyllic setting.
The Green Bridge beat off stiff competition from another great eco-wheeze Beekeeping for Business. A survey has shown most of Scotland's honey bees were wiped out last winter. Around four in five beekeepers lost at least one colony as the pollinating insects were hit by freezing conditions, starvation and mites. The Scottish Government bought in new queens from New Zealand and workers from Italy. Hopefully these healthy incomers will rejuvenate the bee population, because they play a vital role in the nation's ecosystem, acting as pollinators for crops and wild plants, as well as producing honey. And that's where Beekeeping for Business comes in.
The social enterprise Kelvin Valley Honey, based in North Lanarkshire, loans hives (plus the protective kit) to schools and makes beeswax candles, furniture polish, natural cosmetics and mouth-watering tablet, which pays for the equipment, provides funds for community gardens and helps Scots feel a connection with nature, even in built-up areas. They want more Scottish town centre businesses to copy London firms like Harrods, Fortnum & Mason and Harvey Nichols with bee hives on their rooftops. This brilliant idea has taken the Kilsyth-based beekeepers to the final of Barclay's Take One Small Step competition. If they win the £50,000 top prize, hundreds more hives could appear all over the Central Belt looking for homes (wee hint you could always vote for them online!).
These ideas are not just for the green-minded or green-fingered. They're planet-saving, sanity-providing, human-helping and money-making. That's just what the doctor ordered.