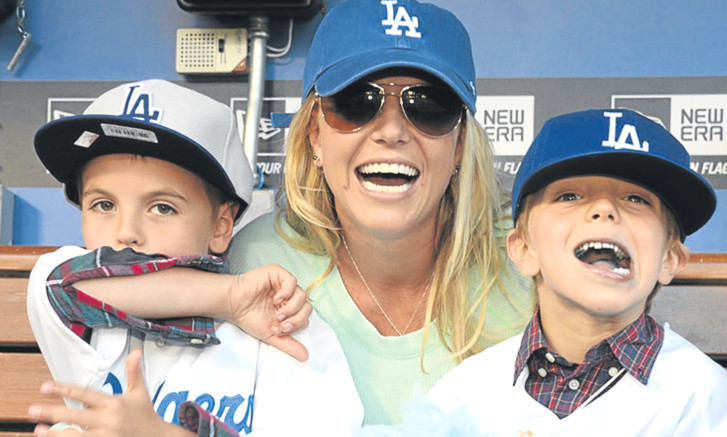 I caught up with one of the music business's great survivors this week. And, boy, was Britney Spears in fine form.
She's obviously had troubles in the past but she really was looking the best I've seen her in a while.
It's such a good time for her just now. She has just released her eighth studio album, Britney Jean, and it's already doing really well.
She's signed an amazing deal to star in Las Vegas. And after splitting from her fianc at the start of the year, she's happily dating again.
I congratulated her on turning 32, being loved-up and busy.
"I would probably have to say it's one of the best times of my life. It's wonderful, like being Cinderella," she smiled.
Like I say, she was looking stunning but she admitted it didn't come easy, with tough seven-hour days in the gym and the studio learning dances for the show.
The residency is at the Planet Hollywood resort and casino, and she'll perform about 50 shows a year in 2014 and 2015 reportedly for around $20 million.
It's an incredible amount of money but it shows how much Vegas wants to change its image.
Although it's a party town, it still has this perception of being for an older crowd. With Planet Hollywood trumpeting a younger star like Britney it's making a statement.
Yes, the highest paid Vegas resident is still Celine Dion, who appeals to an older crowd, but Britney is another example of how the gambling capital is always looking to reinvent itself.
Mind you, I was working out that after she's paid all her taxes, agents and management fees, she could ONLY be getting $100,000 a night.
Is it really worth it? Hmmmm . . .
Britney does a fake English accent on a couple of the album tracks and I was asking how that came about.
She said it was fun to play characters and bringing them to life in a song was an interesting thing to do.
So I tried to get her to do a Scottish accent.
I told her that her attempt at "Aw right the noo" was a bit like Dick Van Dyke.
But she made a really funny stab at "It's a braw, bricht moonlicht nicht the nicht".
Sometimes she's not the easiest person in the world to interview but she seemed at ease and really content.
In the past she has been quite guarded. And, with all that she's gone through, I can understand that. Her life was out there for everyone to see.
But it struck me that she is really trying to get things back on track. She has her two boys and revealed she'd love to have more children.
She was saying that there were three kids in her family and ever since she was young she always imagined that she'd have three or four children.
The good thing about the residency, as she admitted, was that it would give her more time with the kids.
Rather than travelling round the world, staying in a different hotel each night, she had one place where she can be with her boys.
But because it's only a set number of dates each year she'll still be able to do other things.
Fans should love it as it'll be like a greatest hits tour show with a bit of Las Vegas thrown in. And since it's Vegas you can sit and order drinks during it!
The new album is the other thing that's making her happy. It's being hailed for being very personal.
She told me that she wanted to share the experience of her painful break-up with her fans.
She said that hearing someone else tell of what they went through would hopefully make them feel they weren't alone if it happened in their lives.
As always she's been smart enough to surround herself with artists like Will.i.am on the album.
Amazingly she's been around as a singer for the best part of 15 years but, as I say, she's a survivor.
Americans, in particular, have a great fondness for her.
They first knew her from the Mickey Mouse Club so there's history there.
And there aren't many people in the world where you just need to hear their first name to know who they are.