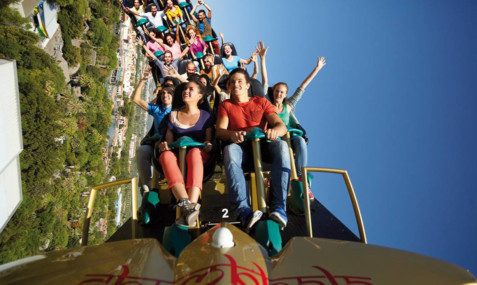 Porta Ventura is the hot place to be cool.
When families go on holiday together, pleasing everyone can be tricky. Add in teenagers and it can seem nigh on impossible.
A great option is to throw a theme park into the mix. All thoughts of acting cool quickly go out of the window once teens spy tempting rollercoasters and super-scary rides. So the few days we spent at Spain's Port Aventura with our 16-year-old, Ben, were pretty much perfect.
It's a really well-organised theme park and you're almost guaranteed sunshine if you're there over the summer.
Port Aventura is about an hour's drive from Barcelona, and 15 minutes outside the city of Salou. We flew from Edinburgh to Barcelona El Prat and there are bus services which run directly to Port Aventura from the airport.
The theme park is split into six different areas. We stayed at Hotel Gold River, part of the Far West section. It has a shop, bar, central restaurant and various pools that cater for all abilities.
Our room was spotless but hot so make sure you don't do as we did and discover the air conditioning unit on the last day of your stay!
The theme park is a short walk from the hotel and the beauty of staying on site is that if mums and dads fancy a rest back at the hotel or a dip in the pool, you're close enough to leave teens in the park and let them make their own way back.
We had Express passes and, if you're intending to spend a lot of time there, they are well worth paying extra for. You can include these when booking. There are electronic boards around the park detailing the waiting time for the most popular rides.
While some rides had a wait of up to two hours, we never waited longer than 10 minutes to get on to any of them, thanks to our Express wristbands.
Every day, 100 guests are selected at random to ask what they think of Port Aventura and how it could be improved. That's how the kiddies' Sesame Street area arrived because parents asked for a compact area for younger kids and it certainly seemed popular with the pre-schoolers.
The teenagers' favourite area has to be China. It contains the Shambhala rollercoaster, the highest and fastest "hypercoaster" in Europe, and has a 78 metre "fall". I went on it once and it's fair to say I screamed all the way round!
The other popular rollercoaster in the China section is Dragon Khan, situated right next to Shambhala. If you have thrill-seekers in the family, they're both perfect. But make sure you also take a trip to the Mediterranean section and try Furius Baco.
It looks pretty tame but it certainly isn't.
Eating out is all part of the experience at Port Aventura. There are more than 70 places to eat, from fast food joints to la carte dining and we tried lots of them! We had breakfast every day in the hotel, and there was a fabulous choice on offer at the buffet, from fresh fruit to cheeses to cooked breakfasts. Dinner in the hotel was a great choice, too, with something for everyone, no matter how fussy.
Make sure you try the dogfish and paella but leave enough room for pudding as there was a fine selection of cakes and desserts on offer, too!
The big new attraction this summer is Cirque du Soleil's show, Kooza. I've never really been one for circuses, but this world-renowned troupe will knock your socks off. They combine traditional circus with a more theatrical presentation and some of the performers are simply amazing. The whole show is dazzling and I'm sure a sizeable chunk of the audience must have wondered if they could run away to join the circus they looked like they were having a ball.
Many visitors spend all their time in Port Aventura, but actually taking a trip into Barcelona is well worthwhile if you've never visited. It might be geeky, but take the tourist bus around the city if you have time and listen to the commentary on the earphones provided. The city has a fascinating history, and you'll get to see fantastic landmarks such as Barcelona FC's Camp Nou and La Sagrada Familia.
One surprising aspect of our stay was the fact that some visitors were taking day trips to Paris. We never made it that far. But one thing's for sure we'll definitely return to Port Aventura.