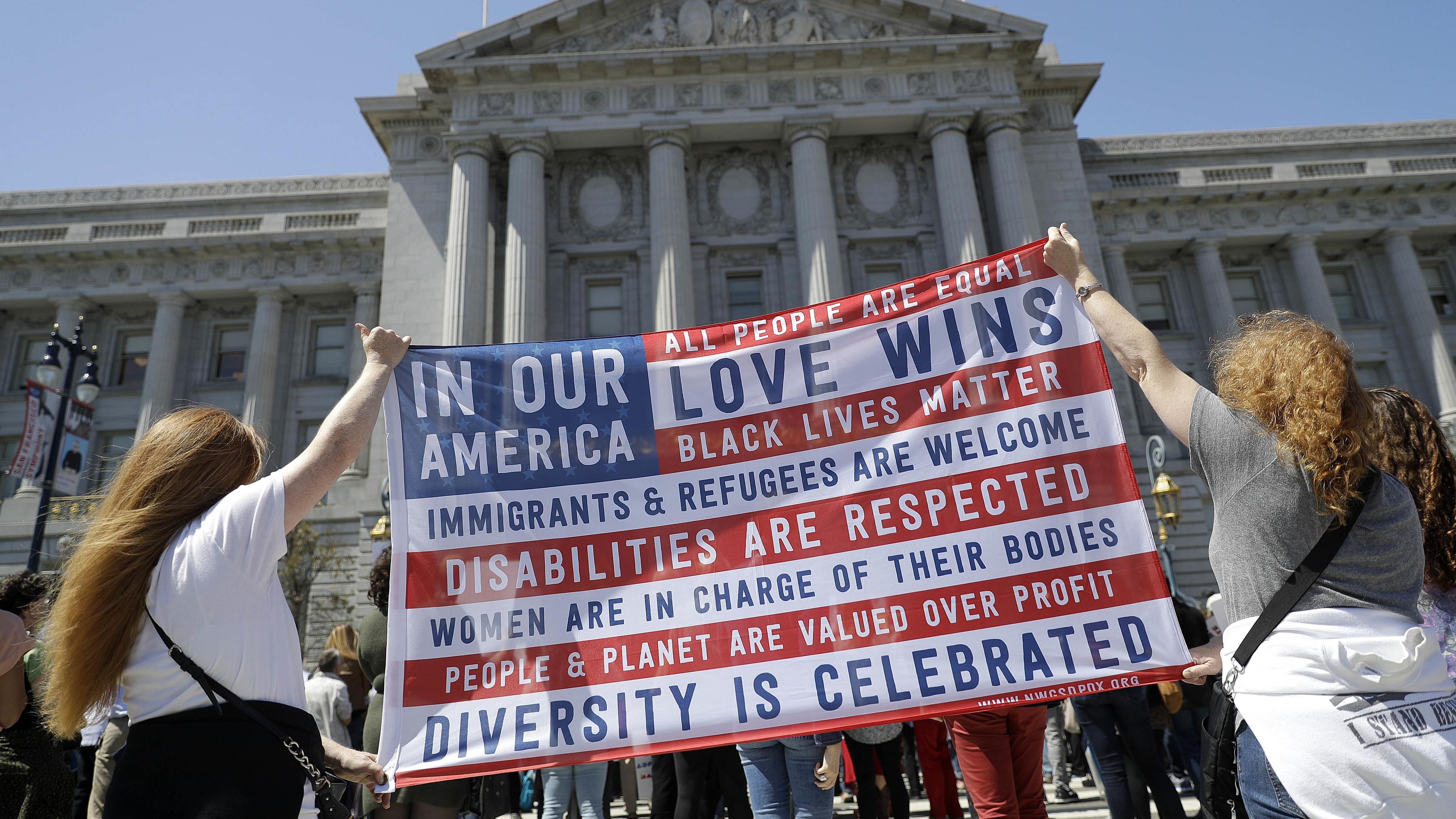 Protesters opposing a right-wing "freedom rally" in liberal San Francisco have claimed victory after the event was cancelled when city chiefs walled off a park.
The rally organiser claimed the draconian move was more about silencing his group's message than preventing a violent clash, but civic leaders in San Francisco, a cradle of the free speech movement that prides itself on its tolerance, repeatedly voiced concerns that the Patriot Prayer event would lead to a clash with counter-demonstrators.
Patriot Prayer leader Joey Gibson, who is Japanese American, insisted his group disavowed racism and hatred and wanted to promote dialogue with people who may not share its views.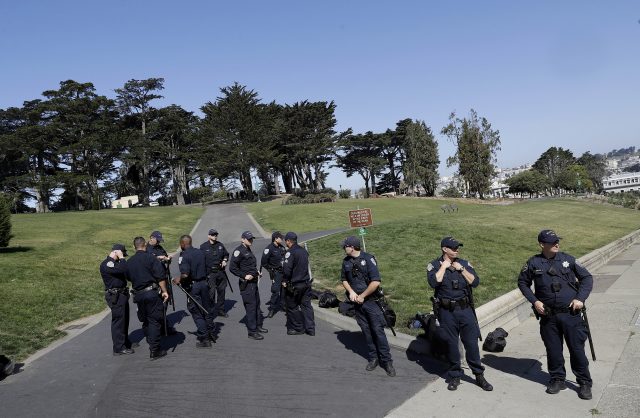 He cancelled Saturday's planned rally at a field under the shadow of the Golden Gate Bridge after he said his members received anonymous threats on social media and feared civic leaders and law enforcement would fail to protect them.
He said mayor Ed Lee wrongly labelled Patriot Prayer as a hate group, needlessly raising tensions and stirring emotions in the San Francisco Bay Area, and felt San Francisco's Democratic leaders had shut him down.
But Mr Lee described the counter-protests as peaceful celebrations of love.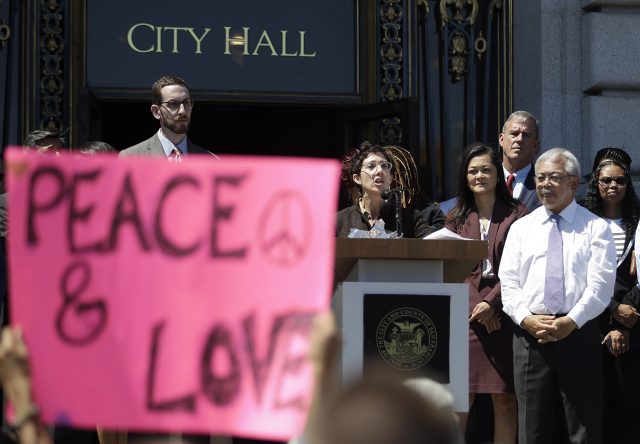 Earlier in the week he raised concerns that Patriot Prayer would attract hate speech and potential violence and US congresswoman Nancy Pelosi, a fellow Democrat who represents the city, called the planned rally a "white supremacist" event.
"They're definitely doing a great job of trying to make sure my message doesn't come out," Mr Gibson said.
San Francisco officials closed the park where Mr Gibson had planned a news conference after cancelling the rally at Crissy Field.
City workers surrounded Alamo Square park with a fence and sent scores of police officers, some in riot gear, to keep people out.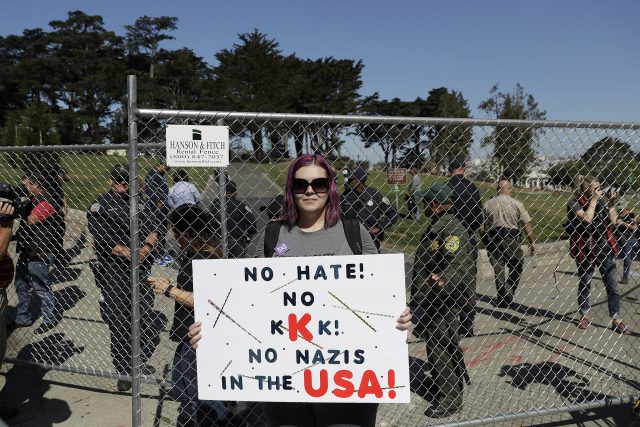 Mr Lee defended the city's response.
"If people want to have the stage in San Francisco, they better have a message that contributes to people's lives rather than find ways to hurt them," he said.
"That's why certain voices found it very difficult to have their voices heard today."
Mr Gibson later spoke in suburban Pacifica with a handful of supporters that included African Americans, a Latino and a Samoan American.
Several said they supported US president Donald Trump and wanted to join with moderates to promote understanding and free speech.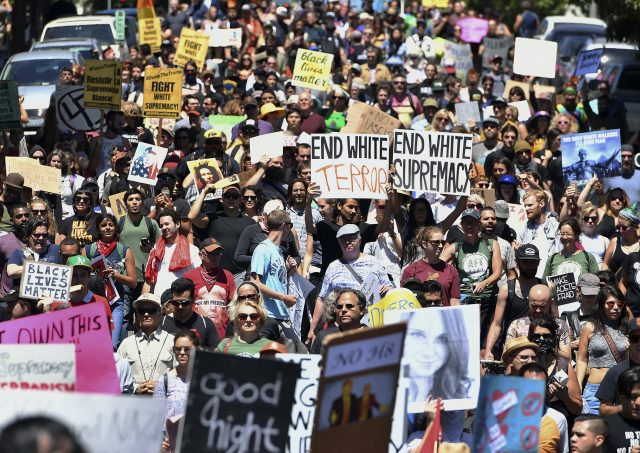 But more than 1,000 left-wing counter-protesters descended on Alamo Square park, where they suspected right-wing supporters still might show up, waving signs condemning white supremacists and chanting "Whose streets? Our streets!"
Hundreds of others took to the streets in the Castro neighbourhood.
"San Francisco as a whole, we are a liberal city and this is not a place for hate or any sort of bigotry of any kind," Bianca Harris said.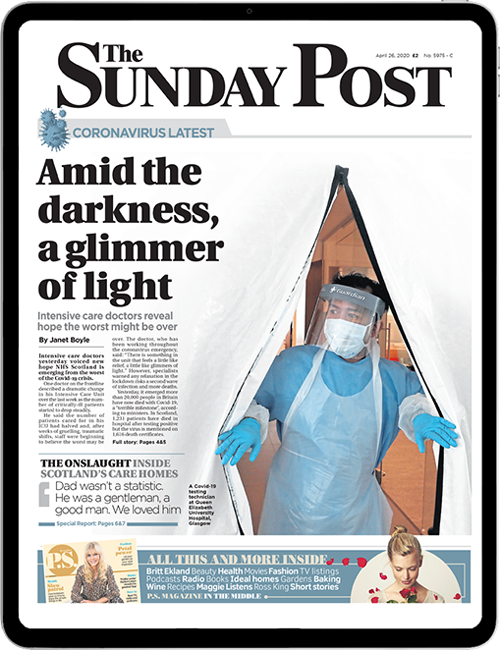 Enjoy the convenience of having The Sunday Post delivered as a digital ePaper straight to your smartphone, tablet or computer.
Subscribe for only £5.49 a month and enjoy all the benefits of the printed paper as a digital replica.
Subscribe