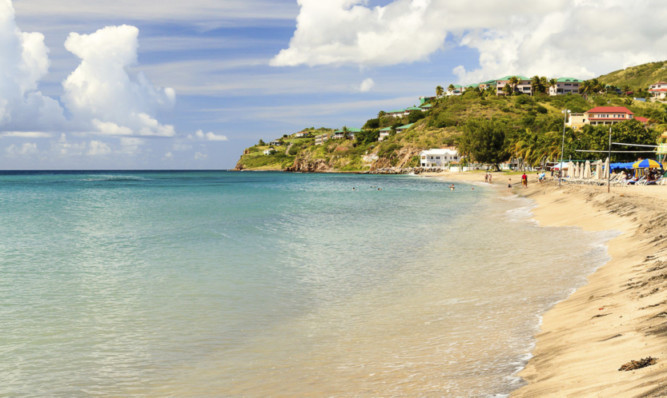 Saint Christopher Island is only a 10-minute boat trip away when you're on the island of Nevis.
Last week I revealed the delights of the island of Nevis.
So it won't surprise you that I took the 10-minute boat journey over to St Kitts and explored that beautiful island too.
It's 23 miles long and five miles wide, with a population of 36,000 and the 12 hours sunshine a day is tempered by the wonderfully cool breeze from the North-east Tradewinds.
If you want a relaxing holiday, but still want a bit of shopping, nightlife, a spell in a casino or some golf, then St Kitts is for you.
You won't find the big All-Inclusive resorts here that you see on Jamaica, Barbados and so on, but you will find some wonderful hotels and truly amazing sights, both natural and man-made.
If you want a relaxing holiday, but still want a bit of shopping, nightlife, a spell in a casino or some golf, then St Kitts is for you
Originally populated by native Carib Indians, Christopher Columbus sailed past the island in 1493 hence it was named St Christopher after his patron saint.
The name was later shortened to St Kitts by the English, who arrived in 1623, followed a year later by the French.
The island was considered so valuable to both nations that the British and French later agreed to live side by side, making St Kitts the first permanent settlement of these two countries in the Western Hemisphere.
The Brits gained control in 1713 and the island was officially designated British under the Treaty of Versailles in 1783, following 130 years of struggle. It remained British until 1983 when it gained independence.
What can you do there apart from sightseeing, shopping and eating out?
How about sightseeing, hiking, birdwatching, boating, catamaran cruises, deep sea fishing, golf, horseback riding, surfing, scuba, snorkelling, tennis, windsurfing, waterskiing, jet-skiing, cycling and zip-lining?
Will that do you for starters?
One of the most impressive sights is the colossal Brimstone Hill Fortress National Park, a military bastion and World Heritage Site.
It dates from 1690 and is a massively-impressive example of 17th and 18th-Century military architecture.
Designed by the British and built by African slave labour, the view from the fort is amazing. Take the audio tour and expect to stay at least two hours.
Wingfield Estate has the ruins of a mighty water-powered mill and is well worth seeing. Right next to the rainforest where the zip-line is.
It was in this rainforest that I was taken on a hike by none other than O'Neil Mulraine, a local Kittitian with 25 years' experience in guiding.
In torrential rain we scrambled up, deep into the forest which is filled with tropical flowers and teeming with medicinal plants and herbs. Tours from US$40.
The sugar industry survived here until 2005 and a legacy is the St Kitts Scenic Railway where you can ride for 18 miles along a narrow-gauge line built to transport cane to the capital Basseterre.
Fairview Great House is a beautifully-restored 18th-century house with wonderful interiors, a pleasant botanical garden and there's even a pool the guests can use.
It's right next to one of the best restaurants on the island the pan-Asian cuisine Nirvana (nirvanafairview.com).
Romney Manor is my last "must see". The charming old estate great-house now houses a hand-made batik factory, so great for souvenirs.
Accommodation-wise there's everything on St Kitts these days, from five-star luxury to modest inns. I stayed at the 394-room Marriott resort and casino. It's comfortable but lacks character.
My money would go to Ottley's Plantation Inn for not a lot more cash. It's a stunning Caribbean hideaway, 500ft above sea level, offering colonial grandeur in the Great House and cottage rooms.
Rates start from US$205 per night for a standard room. Visit ottleys.com.
I challenge anyone to visit St Kitts and Nevis and not fall in love with the laid-back charm of the islands; stunning landscapes, friendly locals and idyllic climate. They're magical.
British Airways offers Gatwick to St Kitts from £616.16 return. See ba.com/St Kitts or call 0844 4930787. More info stkittstourism.kn.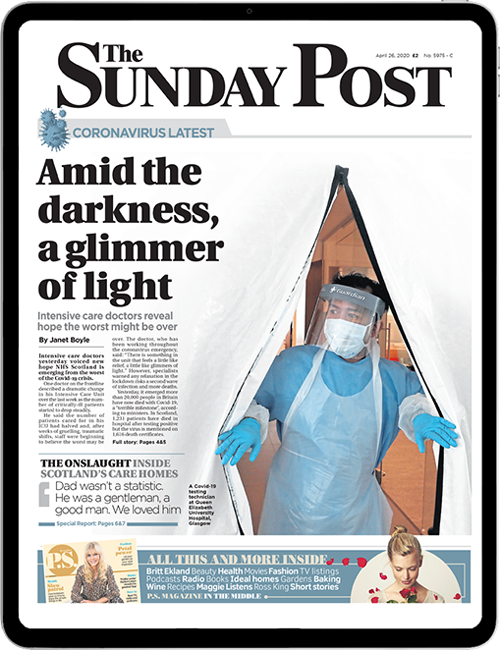 Enjoy the convenience of having The Sunday Post delivered as a digital ePaper straight to your smartphone, tablet or computer.
Subscribe for only £5.49 a month and enjoy all the benefits of the printed paper as a digital replica.
Subscribe