Russian missiles and artillery pounded cities across Ukraine early on Thursday, sparking fires, killing at least three people and trapping others under the rubble of destroyed buildings, authorities said.
The bombardment came as Poland said it would stop providing weapons to its ally amid a trade dispute.
The early-morning wave of missile strikes on what is known as the International Day of Peace was Russia's largest in more than a month, and came as world leaders meet at the United Nations General Assembly in New York.
In a speech there, Ukrainian President Volodymyr Zelensky denounced Russia as "a terrorist state".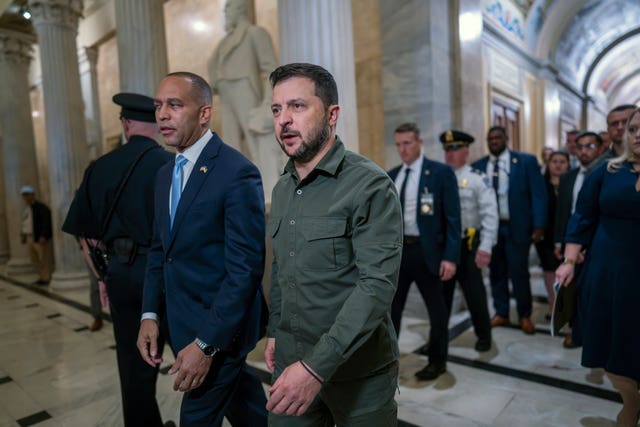 Mr Zelensky was due to meet President Joe Biden and congressional leaders in Washington later on Thursday, with an additional 24 billion-dollar (£19.4 billion) aid package hanging in the balance.
Poland, which has been a major supporter of Ukraine, said it will stop transferring weapons to its neighbour as it works to modernise its own military, but denied the decision is linked to a simmering dispute over a temporary ban on Ukrainian grain imports.
Polish Prime Minister Mateusz Morawiecki said the decision will not affect Nato and US weapons transfers through Poland.
"We are no longer transferring any weapons to Ukraine because now we will arm ourselves with the most modern weapons," he said in an interview on private TV broadcaster Polsat News late on Wednesday.
A dispute about whether Ukrainian grain should be allowed to enter the domestic markets of Poland and other European Union countries has pushed the tight relationship between Kyiv and Warsaw to its lowest point since Russia invaded Ukraine last year.
Mr Morawiecki stressed that Poland will defend its economic interests, but added that the dispute over grain imports will not harm Ukraine's security.
"We are not going to risk the security of Ukraine," he said.
Poland has transferred large amounts of its older weapons to Ukraine and has been upgrading its own inventory with new equipment purchased from South Korea and other countries.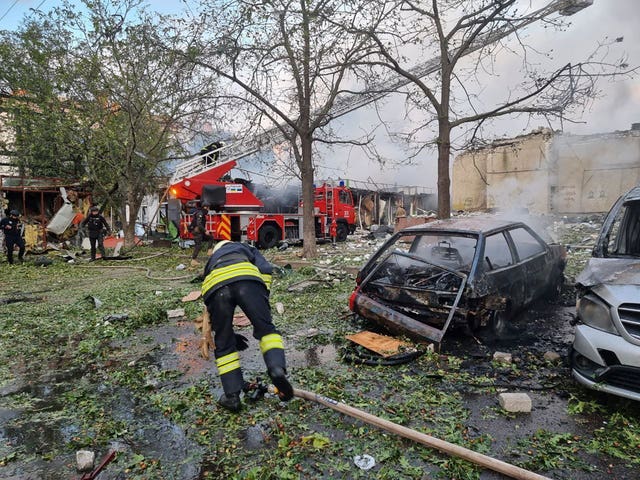 Air raid sirens sounded repeatedly across Ukraine early on Thursday, as Russia launched dozens of missiles and, near the front lines, likely used shorter-range artillery to pound the southern city of Kherson.
Three people were killed in Kherson and at least four others were injured when a residential building was hit, the Defence Ministry said on social media.
Seven people were injured in Kyiv, including a nine-year-old girl, Mayor Vitalii Klitschko said, as missile strikes blew out windows in buildings and cars and left fires burning around crumpled metal wreckage.
Marharyta Moldokova, 76, who had taken shelter on the floor of her Kyiv home just before hearing an explosion and the sound of her window shattering, denounced Russian President Vladimir Putin.
"God, we can't wait for someone to shoot him," she said. "Everything is not enough for him … What does he need?"
Students at the National Academy of Statistics, Accounting and Audit in Kyiv stood outside, looking at a building where metal strips hung from the portico and empty window frames were bent inwards.
Illia Melnyk said he had taken shelter behind two walls as he heard an explosion and saw a flash and then ran outside.
"When I came out, I saw bricks falling from the door," he said. "It was visible how the wall was broken and the door was knocked out … It was scary."
The academy, located in Kyiv's Tatarka neighbourhood, has endured numerous missile strikes and damage from falling debris. It is located near an arms maker that manufactures high-precision ammunition and missiles.
The Ukrainian Air Force said it had intercepted 36 of 43 cruise missiles launched deep into Ukraine. Kharkiv, closer to the front lines, was struck with S-300 missiles.
Russia's Ministry of Defence said it targeted Ukrainian arms factories and radio-technical intelligence centres with precision-guided missiles and drones.
It said, without providing details, that "the strike achieved the objectives and all targets were hit". It was not possible to confirm that claim.
At least six strikes damaged civilian infrastructure in the Slobidskyi district of Kharkiv, said regional governor Oleh Syniehubov. The city's mayor added that two people had been taken to hospital.
At least 10 people were injured and at least one was rescued from under rubble in Cherkasy, in central Ukraine, according to Ihor Klymenko, Ukraine's internal affairs minister.
Up to 23 people may still be buried under rubble, said Cherkasy regional governor Ihor Taburets.
Rescue services are working to clear the debris.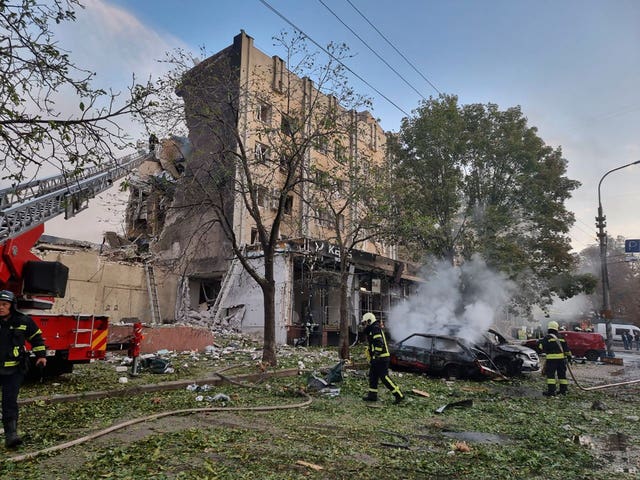 An industrial zone was hit in the western region of Lviv, damaging buildings and starting a fire, but no information on casualties was immediately available, Mr Klymenko added.
Regional governor Vitalii Koval reported strikes in the city of Rivne, in the north-west region of the same name, without immediately providing details.
Ukrainian armed forces said they attacked a military airport near the city of Saka in Russian-annexed Crimea.
Russia said 22 drones were taken down overnight by air defence systems, 19 above Crimea and three others in the Kursk, Belgorod and Oryol regions near Ukraine.
The defence ministry did not say whether there were any casualties.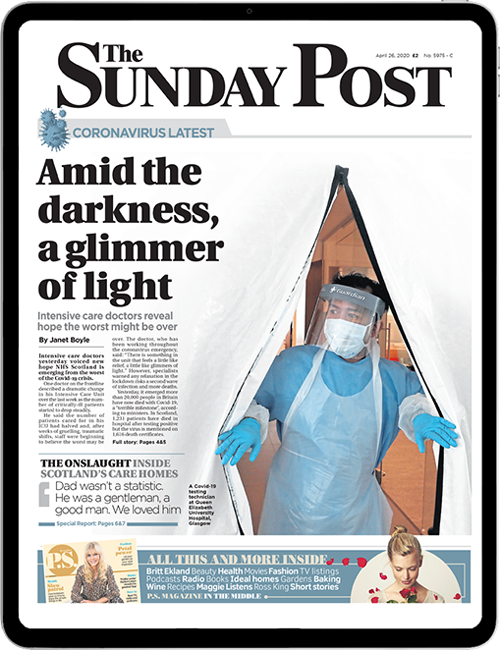 Enjoy the convenience of having The Sunday Post delivered as a digital ePaper straight to your smartphone, tablet or computer.
Subscribe for only £5.49 a month and enjoy all the benefits of the printed paper as a digital replica.
Subscribe