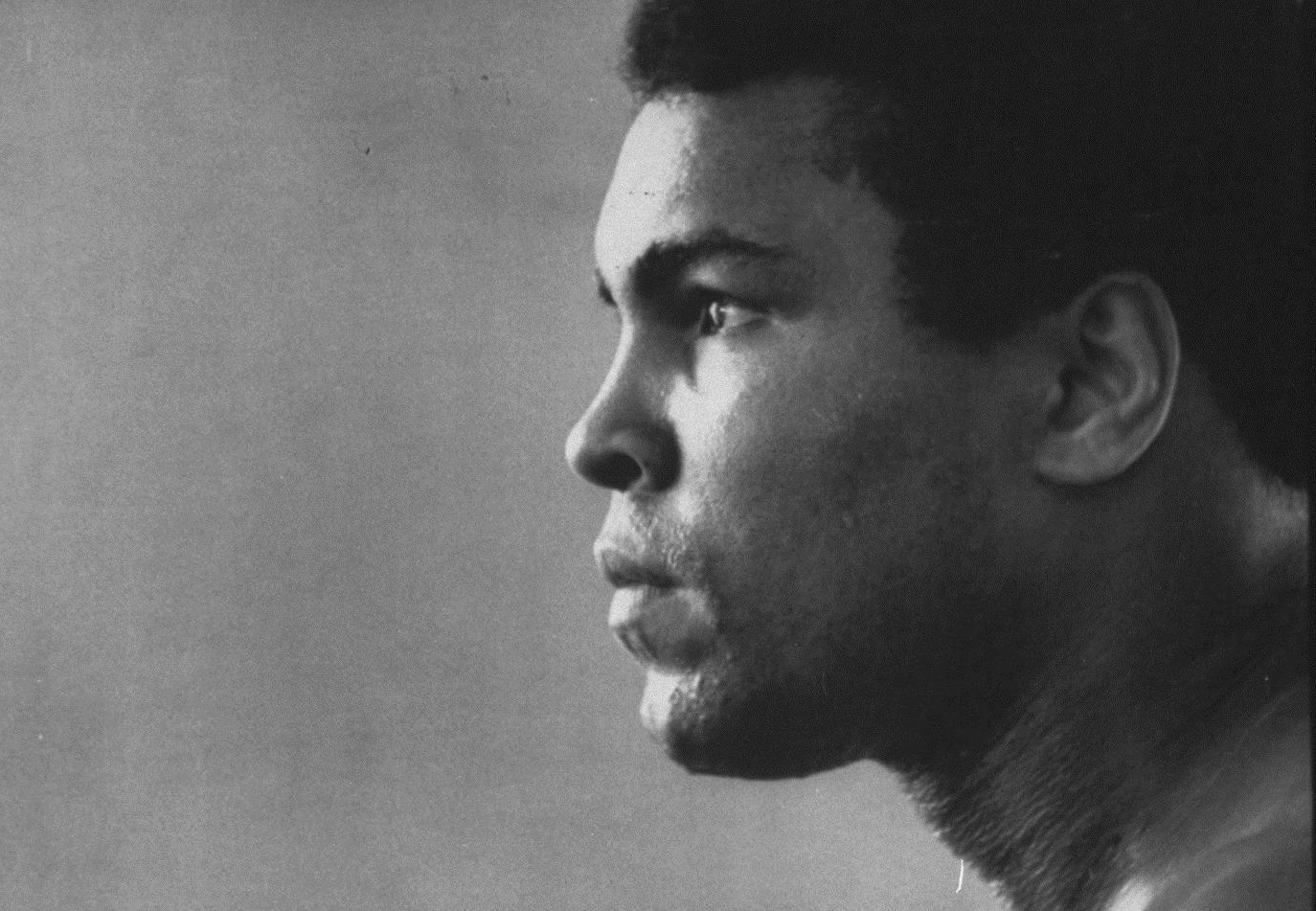 THE WORLD is in mourning following the death of Muhammad Ali – the greatest sportsman of all time.
The three-time world heavyweight champion, who had battled Parkinson's disease for 32 years, died late on Friday night.
He had been taken to hospital in Arizona last week with respiratory problems.
Following his death, the father-of-nine's distraught family issued a statement thanking "everyone for their thoughts, prayers and support".
Tributes poured in from around the world for the iconic boxer – who was nearly as famous for the quickness of his wit as for the speed of his hands.
Perhaps fittingly, it was from the world of boxing – and a former enemy he faced in the ring – where the most poignant tribute came from.
George Foreman, Ali's friend and rival from the famous Rumble in the Jungle fight in Zaire in 1974, said: "We were like one guy – part of me is gone."
His last public appearance was in April, when he looked frail, a shadow of the colossus made famous by a thousand ringside snaps, at a celebrity dinner in Phoenix, Arizona.
Boxing promoter Bob Arum has praised Ali as the catalyst who "paved the way for Barack Obama to be elected as the first black President of the United States".
"The impact he had and the evolution he brought led people to accept the integration of blacks into American society," he said.
"When history books are read in 50 years' time, there will be a significant chapter about Muhammad Ali in the history of American civilisation."
---
READ MORE OF OUR COVERAGE ON THE DEATH OF A TRUE SPORTING ICON
Tommy Gilmour Jr and Dick McTaggart on their meetings with Ali
Scot Ken Buchanan on being the only man to push Ali into second place
Ewing Grahame: Muhammad Ali was everything you could want in a hero
Ali deserves the credit for bringing money into boxing, says Scots former champion Jim Watt
---
Ali's spokesman confirmed the tragic news to the world with a simple, brief statement.
"After a 32-year battle with Parkinson's, Muhammad Ali has passed away at the age of 74," he said.
He was taken to hospital with an "unshakeable cough". His fatal respiratory problems likely to have been complicated by the Parkinson's.
Ali's family said his funeral would be held in his hometown of Louisville, Kentucky, and thanked the public for their outpouring of support.
The condition was the adversary he had spent nearly half his life fighting – and the only one he could never defeat.
It was a condition doctors said was "probably" caused by the thousands of punches he took over his career.
Born Cassius Marcellus Clay Jr in Louisville, Kentucky, on January 17, 1942, he hailed from a respectable family.
He began to box at the age of 12 after his bike was stolen.
He reported the theft to a local policeman, Joe Martin, who also ran a boxing gym.
When Cassius told Joe he would "maim" the bike thief if he caught him, the trainer suggested he first learn how to punch properly.
It was the start of a story that would enthral the world.
The master of reinvention would go on to become Muhammad Ali – the greatest sportsman of the last century according to the BBC Sports Personality of the Year.
As a fighter he was capable of feats that made people's hairs stand up on their arms.
As a man, his views on everything from racial segregation to the Vietnam War would go on to define an epoch.
Incredibly, he would later confide he was never taught how to read properly – and had never read a book, neither the ones on which he collaborated or even his beloved Koran.
School records showed the teenage Clay had graduated 376th out of his class of 391 pupils.
Last night, Ali's younger brother Rahman Ali, 72, paid tribute to his brother who he said was a "sweet, kind, nice" man who "was the world's most famous person".
"There was nobody on this Earth more famous than Muhammad Ali, he was known in every country," Rahman said through his tears.
"There will never be another Muhammad Ali. So I cry from joy, and happiness."
Tributes pour in for a 'truly great man'
SIR Michael Parkinson led a flurry of tributes from around the world to the legendary fighter.
The TV chat show host was largely responsible for introducing Ali to the wider British public with a series of iconic and often explosive interviews in the 1970s and 1980s.
Sir Michael described Ali as a man of "great genius, great charm and great humour", with equally warm tributes flowing in from across the spectrum of sport, politics and entertainment.
Sir Paul McCartney last night said the "world has lost a truly great man" while US President Barack Obama said Ali "shook up the world and the world is better for it".
For many Brits, the majority of whom never saw Ali's fights, it was his prime time TV interviews with Parkinson which will have left the biggest impression.
Sir Michael interviewed Ali four times over two decades, claiming every one added two million viewers because people knew they were going to be so controversial.
Speaking yesterday, he said: "He was not a man without flaws – you have to consider those. But if you wanted to concentrate on what was attractive about him I could talk forever.
"I could not believe how beautiful he was. He was an extraordinary looking man. He was graceful and all those things and, of course, he was as funny as hell."
During one interview, the pair once squared up as Ali described the Yorkshireman as a "honky", while during another, Ali signed off by saying: "You and this little TV show is nothing to Muhammad Ali".
Sir Michael continued: "It's one thing to be abused by a film star but to be abused by a man weighing 17 stone who is the heavyweight champion of the world, who would kill you with one blow, your options are a bit limited."
The veteran broadcaster said Ali had a "real star quality which I have never seen in anyone else I have interviewed" but still doesn't feel like he knew him.
He added: "If you believed he was serious about his views on white people then he was actually guilty of what he accused others of being – racist.
"We mustn't deify him at all from that point of view.
"He was a man of many flaws, but he was a man of great genius, great charm, great humour and he was, in his quiet moments, fascinating."
Sir Michael also yesterday revealed how he turned down the chance to interview the boxer in 2000, after he was named the Athlete of the Century, because of the extent to which Ali's Parkinson's had taken hold.
He explained: "I'd seen him on American television and he wasn't capable of doing an interview. I didn't want to be part of that.
"I wanted to remember him as he was and I'm glad I didn't do it.
"The interview was done but they had to put subtitles on it. I wouldn't have wanted to sit with this great man and go through all that, not for my sake but for his."
Elsewhere, tributes flooded in for the boxer from stars who had met him.
Ali first met The Beatles in 1964 when the Fab Four flew to Miami to appear on The Ed Sullivan Show.
While Beatlemania was well under way, Ali – then still Cassius Clay – was an underdog ahead of his world title fight against Sonny Liston.
Sir Paul McCartney last night said simply: "I loved that man."
He continued: "He was great from the first day we met him in Miami, and on the numerous occasions when I ran into him over the years.
"Besides being the greatest boxer, he was a beautiful, gentle man with a great sense of humour who would often pull a pack of cards out of his pocket, no matter how posh the occasion, and do a card trick for you. The world has lost a truly great man."
President Obama meanwhile revealed he keeps a pair of Ali's gloves in his private study at the White House, and said we are fortunate that "The Greatest chose to grace our time".
He added: "What made The Champ The Greatest – what truly separated him from everyone else – is that everyone else would tell you pretty much the same thing.
"In my private study, just off the Oval Office, I keep a pair of his gloves on display, just under that iconic photograph of him – the young champ, just 22 years old, roaring like a lion over a fallen Sonny Liston."
Retired Irish boxer Barry McGuigan said that Ali was "a remarkable human being", adding: "He was hugely inspirational for me and many fighters all over the world.
"Everybody wanted to box because of him. He was just so amazing in every way."
Ali's former promoter Don King said we should "celebrate his life".
"This is not a time to mourn," he added.
Former heavyweight world champion Lennox Lewis described Ali as "a giant among men", adding: "Ali displayed a greatness in talent, courage and conviction that most of us will never be able to truly comprehend."
---
READ MORE
Muhammad Ali: A life in pictures