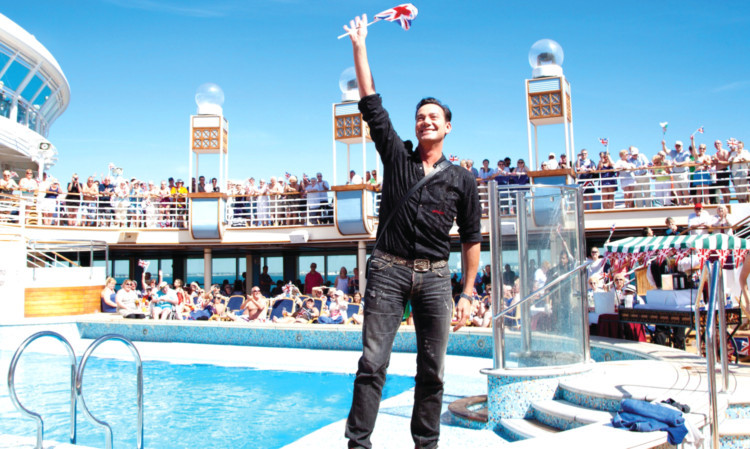 Top football columnist Gordon Smith sails away with the stars of Strictly Come Dancing.
Until a few years ago, I was like many people when it came to the idea of taking a cruise. It was the last thing on my mind and I had no appetite to participate in one.
When my brother persuaded my wife and I to go on one with him and his wife Eileen, I couldn't believe I'd agreed, given how cynical I was regarding this type of holiday.
Even as we boarded the ship I was angry with myself for being talked into it and I wasn't looking forward to the following 12 days of torture.
I think it was after dinner on the fourth night when I made my full apology to my brother. I wasn't enduring the experience I was loving it. I now know many people who, like me, agree that it's only after you've experienced a cruise that you realise how much enjoyment it can deliver. I've now been on five cruises. Every one a delight!
Most of my cruises have been with P&O and all credit to them for coming up with a clever and attractive initiative. They offered a 14-day cruise with a theme of BBC's iconic hit show, Strictly Come Dancing!
When you consider that Strictly has an audience of more than 12 million viewers every week, then it would be no surprise if the public would flock to see some of the show's stars perform their magic live on stage. If you were to add the opportunity of meeting them, having a chat and even posing for photographs with them, then that would surely enhance the truly special experience for the many admirers of the show.
Thanks to P&O, for those able to enjoy this opportunity on a fantastic cruise, it must have been close to the holiday of a lifetime.
This cruise in May on board the Azura was the first time such a theme had been introduced. Passengers were told of this in advance when they booked their cruise. Being informed of which stars from the show were coming along to perform must have added to the demand.
Outspoken judge Craig Revel Horwood and top professional dancers Natale Lowe and Ian Waite were the Strictly representatives on Azura. If it had been down to a public vote on who the representatives from the show should be, then I'm certain these three would have come out on top. They were outstanding in their re-enactments of routines from the show, very forthright in interviews and their involvement in judging the dance competitions involving the passengers.
It was great entertainment, but the cruise itself was a wonderful experience anyway. Having a special theme only added to the enjoyment for the holidaymakers.
Azura is a marvellous ship with excellent facilities and services on board. The ship visited Madiera, La Palma, Gran Canaria, Lanzarote, Cadiz and Lisbon before returning to Southampton.
So what do I enjoy about cruising, you might ask? Well, there is so much to experience it's hard to detail it all. I'd compare it to being in a large hotel complex that just happens to be moving from one beautiful resort or city to another.
The dining experience is special with an opportunity to experience six restaurants. The evening meals are always special with four courses and a varied range of dishes each night.
Should you want to experience select dining, then for a supplementary payment of around £20 per person, you can enjoy a choice of four fine dining restaurants. When you consider that there are also 12 fashionable bars to go to, you realise just how interesting and diverse your social life can be over the holiday.
As someone who likes to keep fit and active there is an excellent gym, fitness classes and swimming pools to burn off the calories that pile on due to the marvellous dining and drinking opportunities on Azura.
Every day on the cruise is like a weekend so I was in the gym more than I normally would be. Given that there is an excellent spa and beauty salon too, I was able to enjoy a few wonderful, relaxing massages that kept my training muscles in great shape for the daily workout.
Although the theme was Strictly Come Dancing, this does not take away from the fact that the ship offers an outstanding daily programme of other activities and entertainment from 8am till after midnight. There are fitness classes, sporting competitions, quizzes, art classes, dance classes, speakers, singers, musicians, stage shows and more. There's even a cinema showing current films and a casino if you like a flutter.
As I say, I was amazed by the quality of lifestyle, activities and entertainment on board. When you take into account that you're also sailing to some very interesting locations where you can go ashore to enjoy very worthwhile excursions, then you can begin to appreciate how marvellous the whole experience was. I don't know if I've convinced anyone of the pleasures of cruising but I now find I'm angry with myself when we disembark angry that I didn't book a longer cruise!
P&O Cruises has several Strictly Come Dancing themed cruises this year, and in 2014, on a choice of ships and cruising to various destinations, bringing all the glamour of the ballroom to your days on board.
On each cruise two professional dancers from Strictly will perform their show dances for you. There is also the chance to take part in the dancing competition where passengers perform on stage and are judged by the professionals. You can see some of the beautiful costumes used in the shows and attend interviews to hear what it's like to be part of the extraordinary show.
A 14-night Canary Islands cruise on Oriana (X409) departing April 20, 2014. Ports of call are Lisbon, Madeira, La Palma, Gran Canaria, Lanzarote, Cadiz and La Coruna. Vantage Fares from £1,199 per person. The dancers and judge on the cruise will be confirmed nearer the time.
A 12-night Western Mediterranean cruise on Azura (A421) departing August 2, 2014. Ports of call are Lisbon, Gibraltar, Barcelona, Ibiza, Cartagena and Seville. Vantage Fares from £1,229 per person. The dancers and judge on this cruise will be confirmed nearer the time.
Vantage Fares have great benefits including a choice of cabin, dining and shuttle buses where provided, the flexibility to make amendments to, or even change, the choice of cruise or cabin up to 90 days prior to departure, plus Price Promise Protection, which ensures that should the price of a Vantage Fare reduce, the difference will be awarded in on-board spending money or a cabin upgrade.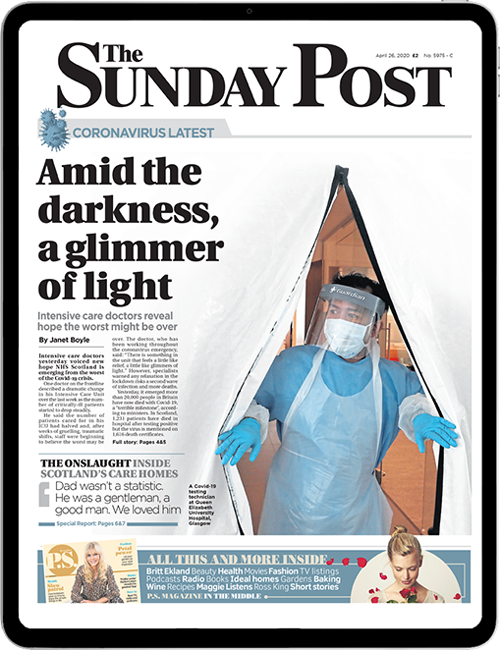 Enjoy the convenience of having The Sunday Post delivered as a digital ePaper straight to your smartphone, tablet or computer.
Subscribe for only £5.49 a month and enjoy all the benefits of the printed paper as a digital replica.
Subscribe