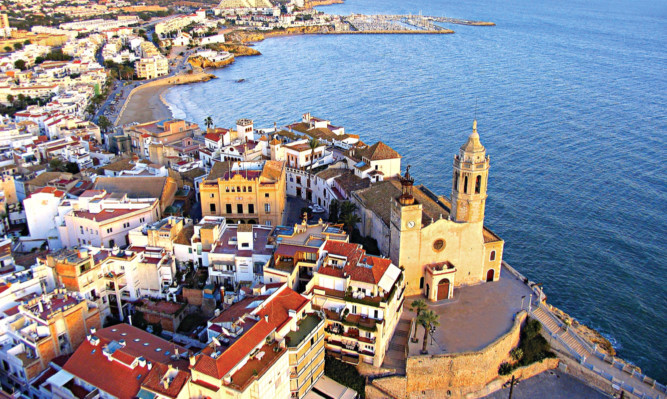 As much as I love Barcelona, I think I love Sitges even more.
It's a fabulous little town with beautiful shops, lots of white sand beaches, great sights, Bohemian bars and cool restaurants.
Best of all, it's only 30 minutes from Barcelona so you can easily stay in sedate Sitges and enjoy time in bustling Barca too.
Sitges is groaning with art and culture. With an international film festival and countless fiestas throughout the year, there's never a dull time to visit.
The impressive architectural and cultural heritage is a result of various artists turning the town into an important centre of the Catalan Modernist Movement.
Another strong theme comes from "the Americanos" locals who emigrated to Cuba and Puerto Rico between the late 18th and early 20th Century in search of a fortune.
On their return, they had large mansions built, which can be found in the old part of town.
Among the sights of Sitges, don't miss the Palacio Maricel (or the Palace of the Sea and Sun). It's not ordinarily open to the public but you can get inside on Sundays by appointment.
Its salons and terraces are a glorious and eclectic mix of Medieval sacred art, Andalusian-style fountains and wonderful ceramics.
It's totally fabulous but a glorious fake, dating back to just 1910 when a super-rich American called Charles Deering took a shine to Sitges and used the town and this amazing building to house his extraordinary art collection.
Another wonderful attraction is The Can Llopis Romantic Museum which is housed in an 18th Century house and shows the lifestyle of an affluent Catalan family at the height of the Romantic movement.
The Neoclassical building is a treasure trove of antique furniture, art and it even has a carriage seating 14 people, as well as a collection of more than 400 dolls.
Another popular visit is to the Bacard House. Facundo Bacard Mass was a Sitges citizen who decided to try his luck in Cuba in the 1830s.
After several bankruptcies, he came up with a winning formula the white rum that bears his name on and sells 200 million bottles around the world every year.
The museum is well worth a visit and make sure you enjoy a mojito, which you're invited to mix yourself at the end of the tour.
I stayed at the Hotel Estela, which I'd thoroughly recommend. Located on the seafront, it's a four-star hotel that offers 65 spacious, comfortable, air-conditioned rooms, all of them with a terrace and sea views.
You're surrounded by all manner of art from the second you arrive at the hotel. All the rooms and public areas are awash with frescoes, paintings and sculptures.
It's a huge bargain too with rooms from just 85 euros and there's a good buffet breakfast (see hotelestela.com).
Two great restaurants to check out are Fragata in town and deservedly considered the number one place to eat in Sitges (see restaurantefragata.com) while, down by the marina, Can Laury is seafood and paella heaven (see canlaury.com).
In terms of must-do excursions, there are two that scream out to be tried the swish Torres winery in the Peneds hills 40 minutes away and Montserrat.
Torres' wines are sold all over the world and their HQ is an impressive operation.
Their visitor centre allows you the opportunity to learn about their wonderful wines and, of course, there's a sampling at the end.
It's in a beautiful location and it's a special feeling to try the wines while looking out at the very vines that produced them (see torres.es). Meanwhile, Montserrat is a real Spanish highlight.
This Benedictine Monks' retreat is set amongst some of the most spectacular mountain views of Catalonia.
You will learn about the holy grotto where visitations by the Virgin Mary were reported and, if you time it correctly, you can hear the fabulous and world famous Montserrat choirboys.
Seeing these gorgeous wee boys (from eight to 12 years old) in the cathedral, all decked out in their choirboy vestments, was a joy. And, when they sing, it's a little piece of heaven.
At Montserrat, there's also a series of mountain walks with breathtaking views to enjoy among unusual rock formations. All in all, a very special place to visit.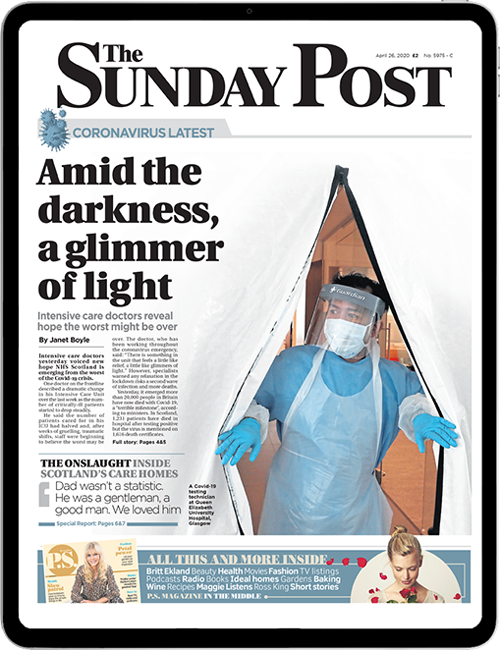 Enjoy the convenience of having The Sunday Post delivered as a digital ePaper straight to your smartphone, tablet or computer.
Subscribe for only £5.49 a month and enjoy all the benefits of the printed paper as a digital replica.
Subscribe