Chinese leader Xi Jinping has arrived in Moscow on a three-day visit that shows off Beijing's new diplomatic swagger and offers a welcome political lift for Russian President Vladimir Putin as the fighting in Ukraine slows to a grinding war of attrition.
China and Russia have described Mr Xi's trip as part of efforts to further deepen their "no-limits friendship".
China looks to Russia as a source of oil and gas for its energy-hungry economy and as a partner in opposing what both see as US domination of global affairs.
Kremlin spokesman Dmitry Peskov said that over dinner on Monday, Mr Putin and Mr Xi will touch on issues related to Ukraine, adding that Russia's president is likely to offer a "detailed explanation" of Moscow's view on the current situation.
Broader talks involving officials from both countries on a range of subjects are scheduled for Tuesday, according to Mr Peskov.
For Mr Putin, Mr Xi's presence at the Kremlin is a prestige visit and a diplomatic triumph, allowing him to tell western leaders allied with Ukraine that their efforts to isolate him have fallen short.
In an article published in the Chinese People's Daily newspaper, Mr Putin described Mr Xi's visit as a "landmark event" that "reaffirms the special nature of the Russia-China partnership".
Mr Putin also specifically mentioned that the meeting sent a message to Washington that the two countries are not prepared to accept attempts to weaken them.
"The US policy of simultaneously deterring Russia and China, as well as all those who do not bend to the American diktat, is getting ever fiercer and more aggressive," Mr Putin wrote.
Mr Xi's trip comes just days after the International Criminal Court in The Hague announced it wants to put Mr Putin on trial for the abductions of thousands of children from Ukraine.
China portrays Mr Xi's visit as part of normal diplomatic exchanges and has offered little detail about what the trip aims to accomplish, though the nearly 13 months of war in Ukraine cast a long shadow on the talks.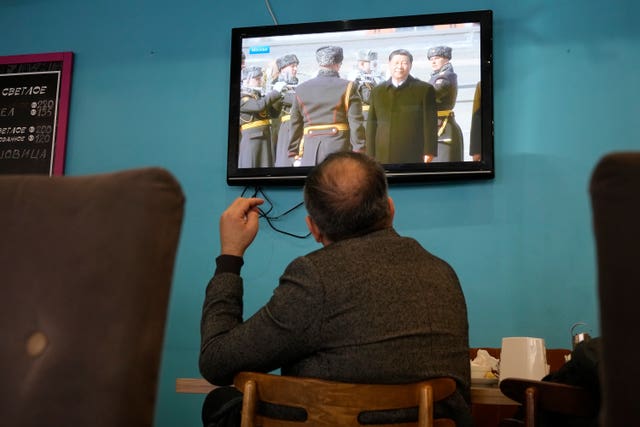 At a daily briefing in Beijing on Monday, Foreign Ministry spokesperson Wang Wenbin said Mr Xi's trip was a "journey of friendship, co-operation and peace".
On the war, Mr Wang said: "China will uphold its objective and fair position on the Ukrainian crisis and play a constructive role in promoting peace talks."
Beijing's leap into Ukraine issues follows its recent success in brokering talks between Iran and its chief Middle Eastern rival, Saudi Arabia, who agreed to restore their diplomatic ties after years of tensions.
Flushed with that success, Mr Xi called for China to play a bigger role in managing global affairs.
"President Xi will have an in-depth exchange of views with President Putin on bilateral relations and major international and regional issues of common concern," Mr Wang said.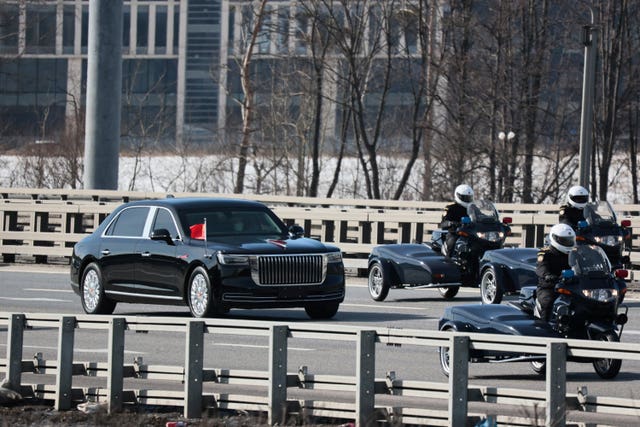 He added that Mr Xi aims to "promote strategic co-ordination and practical co-operation between the two countries and inject new impetus into the development of bilateral relations."
China last month called for a ceasefire and peace talks between Kyiv and Moscow.
Ukrainian President Volodymyr Zelensky cautiously welcomed Beijing's involvement, but the overture fizzled.
The Kremlin has welcomed China's peace plan and said it would be discussed in talks between Mr Putin and Mr Xi that will begin over dinner.
Washington strongly rejected Beijing's call for a ceasefire as the effective ratification of the Kremlin's battlefield gains.
Kyiv officials say they will not bend in their terms for a peace accord.
"The first and main point is the capitulation or withdrawal of the Russian occupation troops from the territory of Ukraine in accordance with the norms of international law and the UN Charter," Oleksiy Danilov, the secretary of Ukraine's National Security and Defence Council, tweeted on Monday.
That means restoring "sovereignty, independence and territorial integrity", he wrote.
Mr Xi's trip to Russia comes after the International Criminal Court (ICC) on Friday issued a warrant for Mr Putin's arrest on war crimes charges.
The Kremlin does not recognise the authority of the ICC and has rejected its move against Mr Putin as "legally null and void".
China, the United States and Ukraine do not recognise the ICC, either, but the court's announcement tarnished Mr Putin's international standing.
China's Foreign Ministry on Monday called on the ICC to "respect the jurisdictional immunity" of a head of state and "avoid politicisation and double standards".
Dmitry Medvedev, deputy head of Russia's Security Council, said on Monday that the International Criminal Court's move to issue an arrest warrant for Mr Putin will have "monstrous consequences" for international law.
"A gloomy sunset of the entire system of international relations is coming, trust is exhausted," Mr Medvedev wrote on his messaging app channel.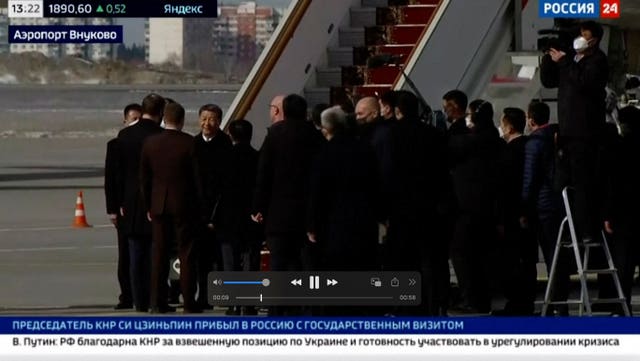 He argued that in the past the ICC has destroyed its credibility by failing to prosecute the purported US war crimes in Afghanistan and Iraq.
He also cautioned that the court in The Hague could be a target for a Russian missile strike.
Mr Medvedev has in the past made bombastic statements and claims.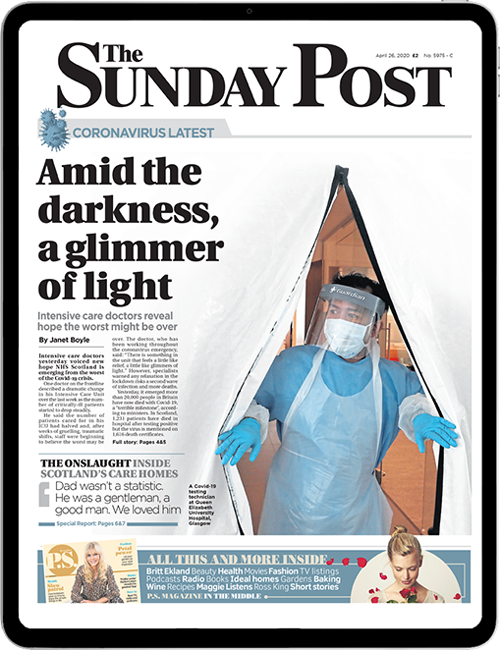 Enjoy the convenience of having The Sunday Post delivered as a digital ePaper straight to your smartphone, tablet or computer.
Subscribe for only £5.49 a month and enjoy all the benefits of the printed paper as a digital replica.
Subscribe