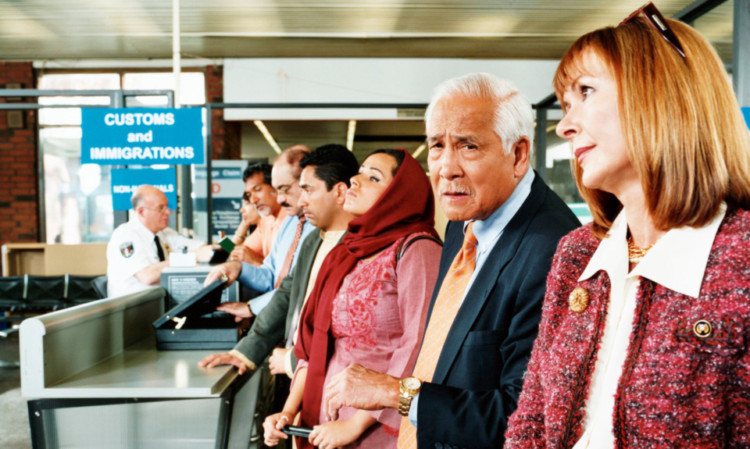 Airports are a ticket to holiday stress.
I remember when I used to love going to the airport; it was exciting and exotic and the departure board read like James Bond's itinerary: Johannesburg, Cairo, Singapore and all points east of Suez.
Maybe it was the fact my grandfather was a Wing Commander and I used to think that "flying is in my blood" but it never failed to give me a thrill even though I was only taking a 50-minute ride on an old turboprop to Stornoway.
Nowadays, the romance is gone.
Instead of looking forward to cocktails in the departure lounge bar oh, all right, I was 11 the thought of going to the airport fills me with dread. Rather than a place from where spies jet off around the world, the airport's become no better than a bus station full of feuding families who've fallen out even before they've got to their all-inclusive on the costa.
Here are the things that make us go gaga at Gatwick.
SELF CHECK-IN
OH, you didn't do it online? That'll be 50 quid.
Oh, you did do it online but your family's been distributed evenly throughout the cabin? That'll require at least three members of staff to annoy several other families who thought they'd sorted themselves out in advance.
The self-service machines are as helpful as those in the supermarket "unexpected passport in the bagging area" and you've just checked yourself in for tomorrow's charter to Azerbaijan by mistake.
And I thought this malarkey was meant to cut queues? The line starts outside, near the smoking area.
DUTY FREE
WHAT used to be an oasis of life's little luxuries yes, I'd love to sample the new Glenlivet, while you waft Paco Rabanne's latest offering my way has become a wilderness of broken dreams as we realise we're not travelling outside the EU and therefore David Cameron's catastrophic fiddling with the taxes means we'd have been much better off buying booze on the high street and stashing it in our suitcase.
SHOPS
WHY do you need to see my boarding pass? I'm buying a tube of toothpaste and a copy of Traction Engine Enthusiast so surely it doesn't matter if I'm going to Djakarta or Derbyshire.
And couldn't you have warned me I can't take this two-litre bottle of Tizer through security? Why are you selling these in an airport anyway?
ANNOUNCEMENTS
"YOU are now reaching the end of the moving walkway." No, we're not, it isn't moving, just like it wasn't when we came through last summer.
What did she say? Was that my name/row number she called? Can't she remove her gum before imparting vital information?
And the boards aren't any better. They suddenly switch from "wait in lounge" to "final call" so you sprint like Usain Bolt on a bad day only to arrive at the gate and find boarding won't start for another half-hour.
SECURITY
WE know it's for our own safety but shuffling along in our socks, holding our shoes in one hand and trying to keep our now beltless trousers up with the other is simply humiliating.
Laptop in or out of the bag? Watch on or off? And that's not a backpack full of potential shrapnel, it's my son's Matchbox cars to keep him occupied for the next seven hours.
And, sorry, but have you never flown before?
Has this come as a complete surprise so that only now,
when you're at the front of the queue, do you start taking off your jacket, your belt, removing your change from your pocket etc, etc.
GATES
WHY are they sooooo far away? You have to set off for some of them before you know which one to go to.
Schiphol in Amsterdam's the worst, you might have to negotiate two miles in less than 20 minutes with the added inconvenience of ANOTHER passport check halfway along why? I haven't left the airport or magically turned into someone else.
PASSPORT CONTROL
IT used to be brilliant stamps on your passport. Now, a bored border guard beckons you through without even a glance, waving you onwards even before you start to lift your bona fides, bad photo and all, open at the correct page.
Until you get back to the UK when they look at EVERY one. We shouldn't complain but we've been awake for more than 24 hours, the kids are at each other's throats and all we want to do is get our luggage and go home. Speaking of which . . .
LUGGAGE WARS
HOW dare you try to charge me for a trolley? Utter bandits. And how dare you park your trolley RIGHT NEXT to the carousel??!! Are you insane? There were 300 people on the flight, all on the brink of sleep-deprived madness, and you're blocking our way.
And isn't it horrible when you see your case coming round but some chap manhandles it because it's vaguely like his it takes every fibre of your being not to yell: "Oi! Paws off!"
Then, finally, you get outside. And it's raining.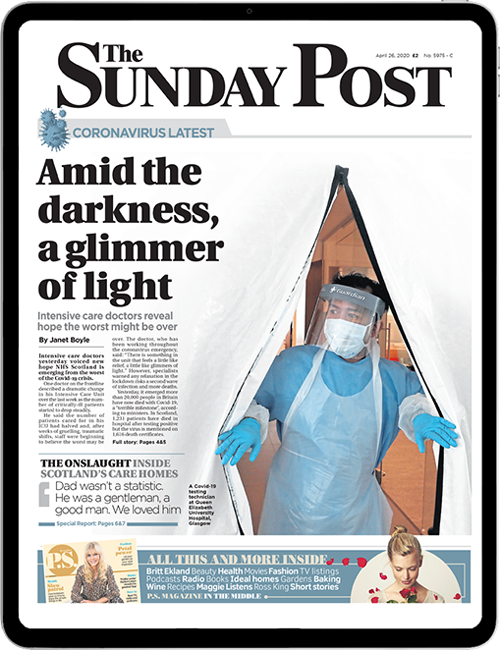 Enjoy the convenience of having The Sunday Post delivered as a digital ePaper straight to your smartphone, tablet or computer.
Subscribe for only £5.49 a month and enjoy all the benefits of the printed paper as a digital replica.
Subscribe