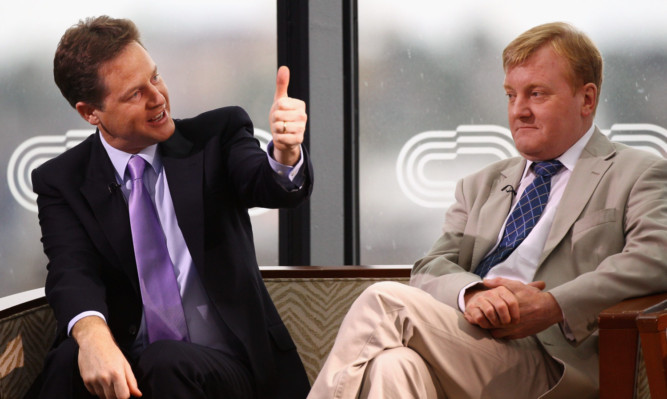 Charles Kennedy and Gordon Brown both Scottish, both former party leaders, both political tragedies in their own way, and both making rare appearances in parliament last week.
First up was Kennedy taking part in the Section 30 Order debate. This was the motion to hand the Scottish Parliament the power to hold an independence referendum.
It barely qualified as a debate given that all sides, including the SNP, were in favour of the Section 30 Order being passed. Usually such a piece of business would go through almost on the nod.
However given the significance of the event and Westminster not wanting to pass up a chance to, metaphorically, kick the six SNP members around the Chamber five hours of parliamentary time was given over to what might more fairly be termed a chat than a debate.
After a typically stolid opening performance from Secretary of State Michael Moore and an unusually stilted response from his Labour shadow Margaret Curran, the member for Ross, Skye and Lochaber was called to speak Charlie Kennedy.
In an intelligent, witty and well-delivered speech he described himself as a nationalistic Scot but poured scorn on what he called political nationalism. Hearing Kennedy speak was like going to the cinema to watch Les Miserables a delight to listen to but ultimately leaving the viewer feeling sad.
Kennedy's tragedy is that he has talent in abundance and it has gone unfulfilled due to a combination of low Lib Dem politics and a drink problem that at times has consumed him.
Never mind his party politics, Kennedy at the top of his game would only be a boon to British public life. After Kennedy's contribution the Section 30 debate never again hit the heights. There was a low point when Labour's Ian Davidson spoke and the SNP members all left the Chamber apparently in protest. Davidson upset the SNP when he fell out with Eilidh Whiteford, their representative on the Scottish Affairs Committee which he chairs, in a petty exchange from which neither he nor Whiteford emerged with any credit. The SNP have every right to disagree with Davidson and plenty on his own side do, too but it's only decent to grant him an audience.
If everyone who disagrees with the Nats left when they spoke it would leave a very empty chamber.
One notable absentee from proceedings was Gordon Brown. His tragedy is that he spent 10 years lusting after the top job in politics only for it to prove beyond him when he finally landed it.
When Labour were in power Scotland was often described as his fiefdom. Now he doesn't even want to speak in such a historic debate about its future.
And it wasn't as if he was busy elsewhere for immediately following the Section 30 debate Brown was leading an adjournment debate the first time he's spoken in the Commons in over a year. He sat out for the whole of 2012. Adjournment debates are short sessions in which members can raise issues of local importance. The former PM's subject was the fate of the Remploy factories that employ people with disabilities in his constituency.
His speech was everything Kennedy's wasn't and Brown the politician is serious, weighty, full of figures.
But their appearances on Tuesday gave a glimpse of what politics has lost for good or ill with their professional passing. Had history worked out differently it's not inconceivable that the 2010 election would have returned a government led by Brown, with Kennedy as his Lib Dem deputy. For some that would be a dream team, for others particularly Tories a nightmare.