A woman who died during a water therapy session near the Peak District likely suffered "sudden cardiac death" caused by the cold water, an inquest has heard.
Kellie Jean Poole died on April 25 last year after being pulled from the River Goyt in Whaley Bridge, Derbyshire, during a cold water immersion session.
The 39-year-old, from Droylsden in Tameside, Greater Manchester, had been attending the session with two friends when she went into cardiac arrest and was later pronounced dead at the scene by paramedics.
At an inquest into her death, which began on Tuesday at Chesterfield Coroner's Court, a doctor said the temperature of the water – recorded as just 10.7C – was "relevant".
Giving evidence, Dr Damian Kelly, a consultant cardiologist, said Ms Poole's death was a "tragic case" and that the cold water could have caused arrhythmia which "incapacitated" her.
When asked by Senior Coroner, Peter Nieto, whether he thought it was more likely than not that cold water could have triggered a cardiac arrest, Dr Kelly said: "Yes, I think that is what has happened.
"It is difficult not to see it as relevant."
A post-mortem examination, carried out by consultant pathologist Dr Abed Zaitoun, recorded her cause of death as sudden cardiac death, caused by left ventricular hypertrophy, a thickening of the walls of the lower left heart chamber.
Giving his evidence, Dr Zaitoun said Ms Poole was obese according to her body mass index, and her heart was heavier than expected, which could have contributed to her death.
He said: "In my opinion, it is all related to the weight. The larger the weight of the body, the harder the heart has to work for that body.
"That in time increases the weight of the heart.
"(Cold water) might have had an effect on the cardiac function and might link to sudden death."
Dr Zaitoun said he could not be certain that cold water had caused the sudden cardiac event, as this would change based on temperature and how familiar a person was with being in cold water, but agreed it could have contributed.
The immersion session was booked by Ms Poole's friend, Victoria Fielding, and was run by a company named Breatheolution led by Kevin O'Neill.
Giving evidence, Ms Fielding said it was a "mild" day but that the group were "shivering" prior to entering the water due to being in bathing suits.
She said she did not recall being asked to sign a waiver form but was instead asked questions by Mr O'Neill, and she, Ms Poole and another friend completed around 15 minutes of breathing exercises prior to entering the water.
She said: "I booked it, I thought 'did we fill in a waiver form?', I knew that we hadn't.
"He (Mr O'Neill) went up to each of us individually and asked if we had any medical conditions."
Ms Fielding said that Ms Poole was "enjoying" the session and "laughing and giggling", but later complained she had a headache in the front of her head.
She was advised to splash cold water onto her face by Mr O'Neill, who also scooped some water over the back of her head.
In her statement, Ms Fielding said Ms Poole then fell forward into the water, with Mr O'Neill – who will give evidence later on Tuesday – then beginning CPR.
The inquest continues.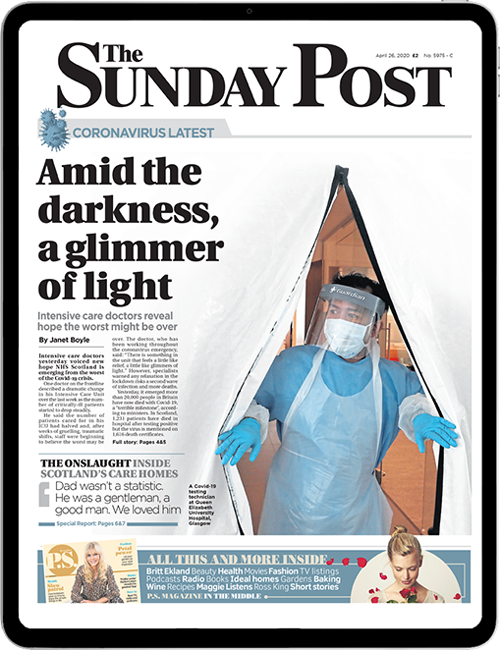 Enjoy the convenience of having The Sunday Post delivered as a digital ePaper straight to your smartphone, tablet or computer.
Subscribe for only £5.49 a month and enjoy all the benefits of the printed paper as a digital replica.
Subscribe