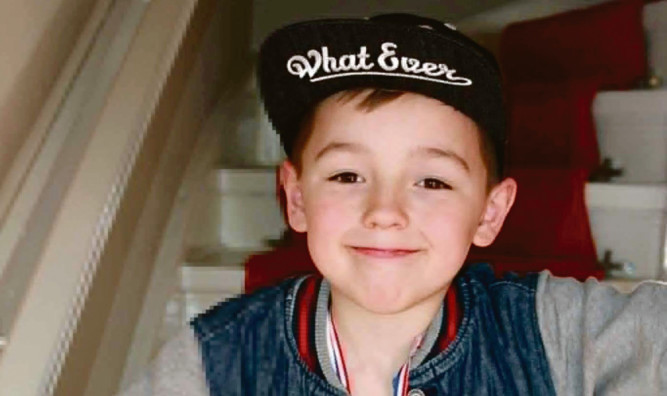 The council that runs the cemetery where tragic schoolboy Ciaran Williamson was killed had not signed up to a national headstone safety register.
It is believed Ciaran died when a tombstone fell on him as he and his pals climbed through a hole in the wall of the graveyard on Tuesday night.
But a Sunday Post probe has discovered Glasgow City Council which runs Craigton Cemetery in Cardonald where Ciaran died hasn't joined the British Register of Accredited Masons (BRAMM).
The scheme, described as the "gold standard on safety", was introduced after a string of lethal graveside accidents over the last two decades.
It ensures new headstones can withstand the equivalent force of a 14-stone man pulling them.
Tim Morris, of the Institute of Cemetery and Crematorium Management, said: "It's very disappointing that some local authorities haven't joined a register designed to ensure good practice."
Ciaran's death was far from the first in British cemeteries in recent years.
In July 2000, Harrogate schoolboy Reuben Powell, six, was killed by a tumbling tombstone while playing with friends.
Five years earlier, nine-year-old schoolgirl Kerry Conteh, from Liverpool, was crushed by a falling cemetery slab.
The deaths of the schoolchildren as well as 44-year-old Alan Bowmer who was slowly suffocated after being pinned to the ground by a granite grave in 1993 in a cemetery in Delper, Derbyshire prompted authorities to act.
A countrywide audit was ordered by the Association of Burial Authorities to look at the state of the country's graves and the memorial masons who carry out the work.
The body warned there was "15 million accidents waiting to happen" because of crumbling masonry.
Officials then ordered the setting up of BRAMM in 2004 to "combat concerns".
The register, which has members of the funeral industry sitting on its board as well as memorial masons, was ordered to ensure stonemasons adhere to a strict legal British standard.
It was hoped it would stop rogue tradesmen from installing dodgy headstones that could easily topple over.
Around a third of the UK's 418 local authorities are now members of BRAMM.
But our probe has found just seven out of Scotland's 32 authorities have joined.
Dundee, Dumfries and Galloway, East Ayrshire, Fife, Highland, North Ayrshire and Scottish Borders are the only Scottish members.
Brian Morgan, the chair of BRAMM, said: "The death of Ciaran is a really tragic case.
"Sadly, there is a perception that signing up to BRAMM could be expensive for local authorities.
"In these times of austerity, authorities will do all they can to avoid expenses.
"But it's simply a register to ensure everyone in the industry is adhering to the same health and safety laws, risk assessments and British standards.
"It's there to ensure the gold standard of safety is met."
Rolling out the scheme has been hampered by an internal power struggle within BRAMM.
In 2009 one of its founding members, the National Association of Memorial Masons (NAMM), quit the register and set up a rival regulatory body.
But experts have warned it doesn't have the same stringent safety standards.
Councils including Glasgow have undertaken a huge safety overhaul of their cemeteries in the wake of last week's tragedy.
It has been reported 30,000 headstones have been inspected since Tuesday with ones potentially earmarked as dangerous now lying flat.
A spokeswoman for Glasgow City Council said: "As police inquires continue about Ciaran Williamson's death it would be inappropriate for us to comment."
She declined to say why the council hadn't joined the BRAMM, but did confirm it had signed up to NAMM.
Police Scotland's Detective Inspector Tom McKean added: "Inquiries are ongoing. However, the incident is not being treated as suspicious. A full report will be submitted to the procurator fiscal."
A spokeswoman for the National Association for Memorial Masons declined to comment.
Ciaran's family have been too upset to talk about the accident.
Councils flatten stones amid safety fears
Tens of thousands of headstones have been flattened or removed across the country because of fears they could fall on people.
Councils have spent millions uprooting old stones they have deemed a threat to public health and safety.
Tombstones deteriorate due to weather and frost over decades.
They are also de-stabilised as the ground in cemeteries is continually disturbed by fresh graves being dug.
Some of the older-style, largely Victorian, memorials weigh several tons and can be easily toppled over.Health and Safety officials say 360 people in the UK, including 44 in Scotland, have been injured in "funeral and related activity" accidents in the past five years.
As well as covering graveside incidents, the figures cover injuries to workers doing things like embalming and burning animal corpses.