Water regulator Ofwat has published this year's performance review of water companies, announcing that a net total of £114 million will be returned to paying customers as many firms failed to meet various targets.
The top five who are expected to pay out the most are Thames, Southern, Dwr Cymru, Anglian and Yorkshire Water.
Apart from Dwr Cymru which has no shareholders, these companies are owned by various pension and investment funds based all over the world, while some have debt piles that run into the billions.
The PA news agency looks at who these water companies are owned by, how many people rely on their services and why they are set to receive money back.
– Thames Water
Thames Water is the UK's largest water company serving 15 million people from Gloucestershire through to London and parts of Essex and Kent.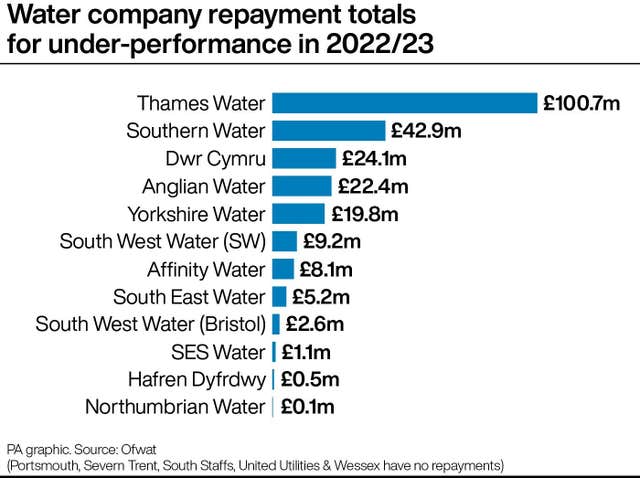 It is owned by a consortium of pension groups and sovereign wealth funds, including those ran by the states of Abu Dhabi and China, with the largest portion of shares – almost a third – owned by the Ontario Municipal Employees Retirement System.
In 2023 it reported an annual loss of £30.1 million and much of the company's £14 billion debt pile was built up while owned by Australian investment giant Macquarie, which saw it rise from £2.4 million in 2005 to £10 billion a decade later.
Under Ofwat's performance review, the company is expected to pay out a rebate of £100.7 million to its customers for failing to meet targets on reducing leakage, pollution incidents, supply interruptions, mains repairs and drinking water quality.
– Southern Water
Macquarie now owns a majority stake in the parent company of Southern Water, Greensands Holdings, which is also part-owned by banks JP Morgan and UBS, alongside investment group Hermes.
Southern Water made £284.9 million in profits this year though it has suspended dividends until 2025 after its credit rating was downgraded due to mounting debt.
The company has said it is looking to raise over £500 million from shareholders to invest across its network in Hampshire, the Isle of Wight, West Sussex, East Sussex and Kent, where 4.6 million people take their water supply.
These customers are set to receive £42.9 million after the company failed to meet all of its Ofwat targets except on unplanned outages.
– Dwr Cymru
More than three million people in Wales, Herefordshire and Deeside get their water from Dwr Cymru (Welsh Water), which is owned by Glas Cymru, a private company that exists solely to finance and manage the water company.
It receives capital investment but has no shareholders, so would keep any financial surplus in the businesses, though in 2023, Dwr Cymru lost £124.7 million with its parent company making £1.5 million.
This year the company failed to meet targets on pollution incidents, drinking water quality, leakages, mains repairs and treatment works compliance but succeeded in its customer satisfaction and was a top performer on preventing sewer flooding, with customers set to receive £24.1 million as a result.
– Anglian Water
Anglian Water is owned by a series of pension funds and investment groups from Australia, Canada and the UK, as well as the same Abu Dhabi sovereign wealth fund that owns part of Thames Water.
It made £1.8 million this year and has a £6.6 billion debt pile, though the company insisted it is financially secure in the wake of Thames Water's recent troubles.
Over seven million people use Anglian Water in the east of England between Essex, Norfolk, Nottinghamshire and Buckinghamshire and together they are set to receive a rebate of £22.4 million after the company failed to meet targets on customer satisfaction, leakage, drinking water quality, pollution incidents, sewer flooding, repairs and interruptions.
– Yorkshire Water
Yorkshire Water's 5.7 million customers across the northern county and those in parts of Derbyshire and Lincolnshire are expected to receive a rebate of £19.8 million with the company meeting its targets on pollution incidents and leakage but failing on almost everything else.
It is owned by Kelda Group, which was established when the water industry was privatised in 1989 and is now owned by various investment funds from Europe, Australia, the US and Asia.
The company with the largest slice of shares – 33.56% – belongs to the state of Singapore, while Yorkshire Water reported a profit this year of £544.2 million.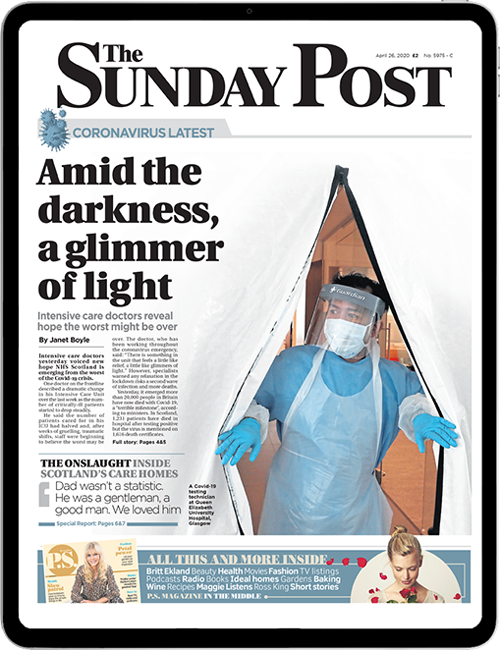 Enjoy the convenience of having The Sunday Post delivered as a digital ePaper straight to your smartphone, tablet or computer.
Subscribe for only £5.49 a month and enjoy all the benefits of the printed paper as a digital replica.
Subscribe