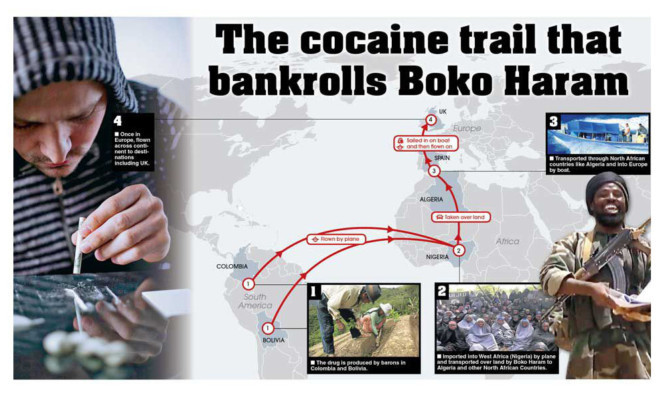 Low-level drug deals carried out in backrooms of pubs and on shady street corners are helping bankroll Nigeria's murderous Boko Haram terror group.
Cocaine peddlers who have become the scourge of Scotland can be directly linked to the African group responsible for countless murders and the abduction of hundreds of schoolgirls.
A major investigation today lays bare how the Islamic group's tentacles stretch from the cocaine fields of South America to its Nigerian heartland and up through Europe's smuggling channels to streets in Scotland.
Last night one terror expert said: "Cocaine is ubiquitous these days, but for anyone who thinks it's harmless, think again.
"Every deal is mired in the blood of innocents and can be linked to this disgusting, murderous terror group."
Our probe has obtained evidence Boko Haram is running a lucrative extortion racket charging international drug traffickers a tariff to smuggle cocaine through West Africa as it heads for Scotland.
Scots have the highest cocaine use per head of population in the world, making the country a lucrative destination in the deadly international trade.
Almost one in 40 Scots a higher rate than England and Wales' one in 50 take cocaine, according to a bombshell report by the UN last year.
Now, our probe can lay bare the full story of the murky path the trade takes.
The rise of Boko Haram
Founded in 2002, its official Arabic name, Jama'atu Ahlis Sunna Lidda'awati wal-Jihad, means "People Committed to the Propagation of the Prophet's Teachings and Jihad".
Began military operations in 2009 to create Islamic state.
Designated terrorist group by US in 2013.
Behind mass kidnapping of 267 school girls last year, many of whom were forced to marry fighters.
Declared a caliphate in areas it controls in 2014, while strengthening ties with ISIS.
Now expanding interests into Chad and Niger.
Boko Haram chief Abubakar Shekau said last week he planned to disrupt Nigerian elections.
The US-based National Consortium for the Study of Terrorism and Responses to Terrorism (START) has assessed Boko Haram's strengths after sending researchers to Nigeria last year.
The body, affiliated with the US's Department of Homeland Security, found Boko Haram who kidnapped 267 schoolgirls in Nigeria last April, most of whom are still missing were heavily involved in criminal activities including drugs, extortion, robbery and looting. Yesterday it was revealed the group freed 158 women and children abducted in December.
Research Director Amy Pate, the report's author, said: "Our research found that Boko Haram relies on narcotics to finance their organisation and motivate their conscripts.
"They are involved directly in drug trafficking but lack the organisational and infrastructure required to do so on a large scale.
"Instead, we found evidence they are extorting drug traffickers who transport large quantities of cocaine over the land they currently hold."
Traditionally, cocaine was flown into the UK from South America via the US. But a major crackdown post 9/11 shut off the US route for South American cartels.
It forced international drug traffickers into deals with Islamic terrorists in sub-Sahara Africa in the last decade.
Experts believe up to 25% of Europe's cocaine now comes through West Africa, mainly Nigeria. And with the north east of the country now under the control of Boko Haram, it is clear who is assisting with the flow of cocaine in that part of the world.
Previously, al Qaida in the Islamic Maghreb (AQIM) who invaded Mali in 2013 played the major role in the movement of cocaine through Africa. They were assisted by Boko Haram as a minor administrator.
But since France intervened in Mali, pinning AQIM fighters back, experts believe Boko Haram members have now filled the vacuum to become major players.
Vast quantities of cocaine are now making their way from Nigeria's airports and ports to the growing swathes of the country controlled by Boko Haram.
From there, it is transported by land through the interior of Africa to the Mediterranean coast before being taken to the streets of Scotland.
Terrorism expert Temitope Olodo explained: "People needs to understand if you buy cocaine in Scotland, the UK or other parts of Europe, you are in effect funding Islamic terrorism."
Security sources in Whitehall say they are aware of Boko Haram's growing influence in the trade.
A spokesperson for the UK's National Crime Agency (NCA) said: "The NCA is working with a range of international partners to tackle the trade and build capacity and capability in West Africa. Boko Haram, as with many other terrorist groups, raise funds through criminality, ranging from kidnap for ransom to trafficking in illicit goods. "
Security expert Anthony Glees, of the University of Buckingham, said: "The emerging links of Boko Haram and the cocaine trade is worrying.
"If cocaine users in Britain are not concerned about the effects on their health they will perhaps be perturbed by the fact they are supporting brutal Islamic terrorism."
Last night, Scottish Labour justice spokesman, Graeme Pearson MSP, a former top drugs cop, said more needed to be done to stop Scottish criminals from profiting in the trade.
"That will extend to the terror groups also operating in the industry, hitting them where it hurts their pockets," he said.
The UN World Drugs Report puts Scotland ahead of Australia and USA in terms of cocaine use.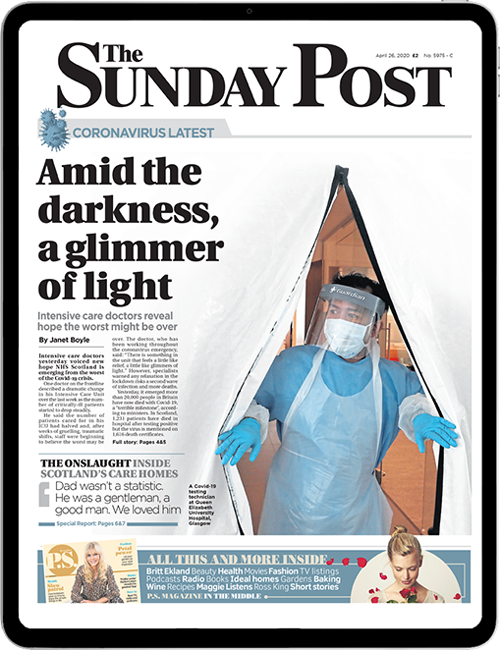 Enjoy the convenience of having The Sunday Post delivered as a digital ePaper straight to your smartphone, tablet or computer.
Subscribe for only £5.49 a month and enjoy all the benefits of the printed paper as a digital replica.
Subscribe