The UK is set to be hotter than Ibiza as temperatures could reach 32C on Wednesday and Thursday, as a heat health alert has been issued across much of England for the rest of the week.
The Met Office has said temperatures could be 4C hotter than the Spanish island and British temperatures could also be warmer than Ayia Napa in Cyprus (30C) and Athens in Greece, where it could be 27C on Thursday.
The UK Health Security Agency has issued a yellow alert in place across the whole of England apart from the North East, between 2pm on Monday and 9pm on September 10.
Met Office spokesperson Oli Claydon told the PA news agency: "We will see good sunny conditions through the week with cloudless skies, and some high temperatures by the time we get to Wednesday and Thursday, where we could see 31 maybe 32 degrees.
"The high temperatures are quite widely spread across the UK, although the highest temperatures are probably somewhere in south-eastern England spreading out to central parts of England as well.
"(It could be) a warm night overnight on Wednesday, with the potential for temperatures not dropping below 20 degrees, which is what we term a tropical night.
"That's most likely in the southern half of the UK and more likely in urban areas where the temperatures obviously stay up that little bit higher overnight.
"Then as we move through to Thursday, another hot day with highs of 31 to 32. And again, another warm night with potential for a tropical night on Thursday."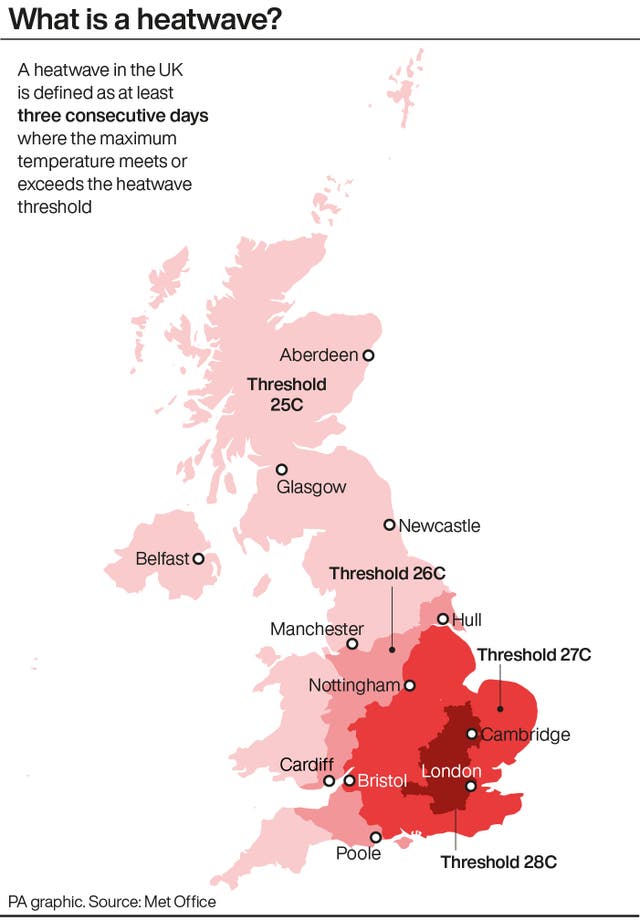 Temperatures reached 30C on Monday in southern England and the south east of Wales, according to the Met Office spokesperson.
The hot weather will also continue through Tuesday with highs of 31C expected.
The forecaster explained tropical storms in the far western Atlantic and deep areas of low pressure have helped to amplify the jet stream over the Atlantic Ocean and has led to high pressure "dominating over the UK".
The Met Office said temperatures could also hit 31C on Friday, although there could be more cloudy weather and chances of rain in the far north-west of Scotland.
But the weather conditions could change over the weekend and Mr Claydon said there is "no indication at the moment of another strong heatwave after this".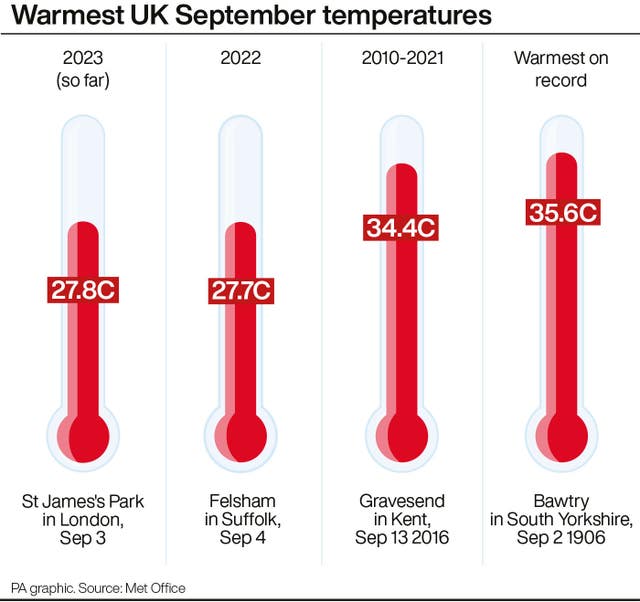 He added: "Through the weekend, we start to see some heavy, potentially thundery, showers developing but (they are) only isolated. There is a little bit of uncertainty as we start to get that far ahead."
Average temperatures are expected to return by the middle of next week.
The Royal National Lifeboat Institution (RNLI) has urged people to stay safe while visiting the coast as temperatures soar.
Ross Macleod, RNLI water safety manager, said: "As the peak season finishes for RNLI lifeguards and with a reduction of lifeguarded beaches, we're asking people to continue to take care and be aware of the dangers.
"If you are planning on swimming at a lifeguarded beach, we highly recommend you swim between the red and yellow flags as this is the safest area and is most closely monitored by lifeguards.
"If you get into trouble in the water, float to live. Tilt your head back with ears submerged and try to relax and control your breathing. Use your hands to help you stay afloat and then call for help or swim to safety if you can."
Mr Macleod warned there has also been an increase in paddleboard rescues in recent weeks.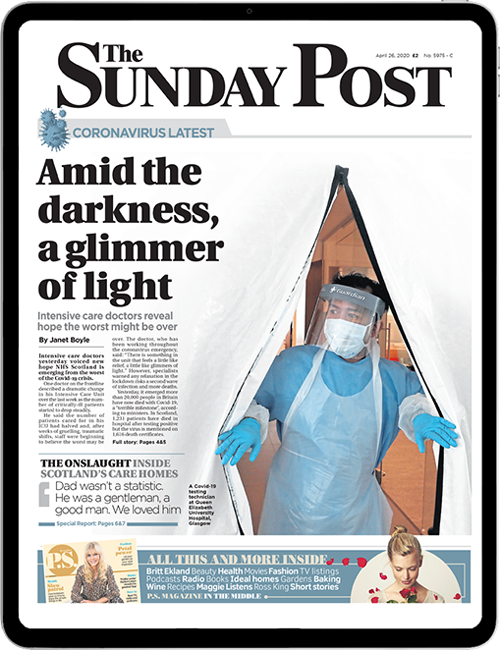 Enjoy the convenience of having The Sunday Post delivered as a digital ePaper straight to your smartphone, tablet or computer.
Subscribe for only £5.49 a month and enjoy all the benefits of the printed paper as a digital replica.
Subscribe