Thousands of ambulance workers and nurses will go on strike on the same day next month as the pay dispute with the Government shows no signs of reaching a resolution.
The GMB union said more than 10,000 ambulance workers, including paramedics, emergency care assistants and call handlers, will stage strikes on February 6, February 20, March 6 and March 20.
Nurses are also due to strike on February 6 – meaning mass disruption can be expected across the NHS on that day. Nurses will also strike the following day, February 7.
The escalation in industrial action comes as thousands of nurses are on strike on Wednesday and Thursday this week at more than 55 NHS trusts in England.
One nurse told the Health Secretary that "every day is a challenge" as he visited a hospital in north-west London during the nursing strike.
Alicia Borja told Steve Barclay at Northwick Park Hospital in Harrow: "We have so many ambulances coming here. We cover a very big area and we are always short of staff, that's another challenge, but we try to pull together and we have a very good team.
"We have hard work here and all the nurses are doing the hard work and management are doing their best.
"Every day is a challenge."
Speaking to broadcasters during the visit, Mr Barclay appeared to rule out a 10% pay rise for nurses, insisting it was "not affordable".
"Well 10% is not affordable, it would be an extra £3.6 billion a year and obviously that would take money away from patient services, essential services that we need to invest in given the backlogs from the pandemic," he said.
"Now, within Government we take a whole Government approach – of course I have discussions with the Treasury, as do other Secretaries of State, and these things need to be balanced not just with the needs of teachers, with the Education Secretary, or train drivers with the Transport Secretary, but also what's affordable for your viewers in terms of their own cost-of-living pressures."
He insisted he was working "constructively" with unions but said he was "disappointed" in the strikes.
"The losers in that are the patients," he added.
It comes as a new YouGov poll of 2,000 UK adults found that the majority of people are not confident that they would get the treatment they needed if they called 999 with a health emergency.
Some 24% of those who responded to the Channel 4 News survey said they were "not confident at all" and a further 36% said they were "not very confident" while only 4% said they were very confident they would get the assistance they needed.
On the fresh wave of strikes announced, NHS Providers' interim chief executive Saffron Cordery said: "Four more days of strikes by GMB ambulance staff will deal another blow to already overloaded health services. And now Unite is set to announce more ambulance strikes by its members.
"We understand the strength of feeling among NHS staff and nobody wants these strikes to happen.
"To stave off another wave of strikes and help the NHS, the Government must sit down with the unions urgently and address pay for the current financial year.
"Trusts plan and prepare for industrial action to support staff and do all they can to minimise the impact on patients and day-to-day business.
"But with incredibly high levels of A&E attendances and delays discharging patients from hospital beds severely hampering overstretched ambulance services, things are likely only to get worse if these strikes go ahead."
Pat Cullen, chief executive and general secretary of the Royal College of Nursing (RCN), said earlier that nurses feel "totally heartbroken" at going on strike, but have no choice.
She urged the Government to get back around the table to "resolve this dispute" but said no talks are currently scheduled.
She told the PA news agency that the Government cannot afford to lose "one single nurse".
She said: "No nurse should be ashamed to say that, actually, they're really struggling to live on the meagre salaries that this Government's paying them.
"It's their right to be paid a decent wage."
She told ITV's Good Morning Britain that the NHS is not currently delivering an acceptable minimum staffing level, which "flies in the face" of new anti-strike laws calling for minimum service cover on strike days.
"Minimum staffing levels are not available for our patients or our nurses on any day of the week," she said.
"So to try and suggest that we're going to have minimum staffing levels on days of industrial action is just so far removed from reality, and in fact it is a total insult to our patients and to nurses – it just doesn't happen.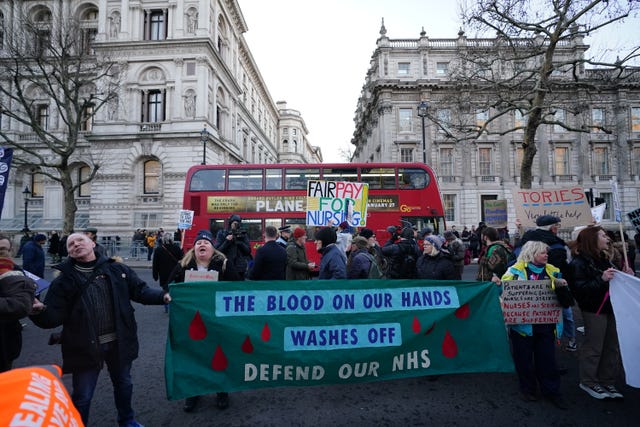 "You cannot have minimum staffing levels with 47,000 unfilled posts. So, I do not know how this Government's going to do this.
"We have campaigned year on year for a minimum staffing level to be put in place – safe staffing legislation to protect our patients and to ensure that our brilliant nurses can do their jobs and continue to provide safe care and treatment, but they cannot continue to do that with 47,000 unfilled posts."
She issued a warning to the Government that more strikes are on the cards, as immigration minister Robert Jenrick did not rule out nurses continuing to strike for months.
Ms Cullen said: "I would say to the Prime Minister this morning: If you want to continue to have strikes, then the voice of nursing will continue to speak up on behalf of their patients and that's exactly what you will get."
Asked if "inflationary pay deals" will end up taking money out of the NHS, as Mr Barclay has claimed, she said: "We can either have our focus totally on balancing the books or we can continue to respect and treat this NHS as it should be for every single patient right throughout the country.
"So, we have to address the crisis within the NHS, you will only do that by paying nurses a decent wage and filling the 47,000 unfilled posts…"
Writing in the Independent, Mr Barclay said that, while he recognises the cost-of-living pressures on NHS staff, "unaffordable pay rises" will stoke inflation.
He said: "If we provide unaffordable pay rises to NHS staff, we will take billions of pounds away from where we need it most. Unaffordable pay hikes will mean cutting patient care and stoking the inflation that would make us all poorer."
On Tuesday, Mr Barclay signalled that pay negotiations will look ahead to next year rather than reflecting on the 2022/23 pay award, which unions have said must be reviewed.
Prime Minister Rishi Sunak's official spokesman said on Wednesday: "We continue to be concerned with the level of disruption strikes bring to patient care.
"As the Health and Social Care Secretary said, we want to continue discussions. We think that is the right way forward rather than picket lines."
As the strikes got under way, the NHS reminded patients to attend all their usual appointments unless they have been contacted, and to seek urgent care if needed during the strikes.
The health service is likely to be running a bank holiday-style service in many areas.
Thousands of operations and appointments are expected to be cancelled due to the strike action on Wednesday and Thursday. Almost 30,000 needed to be rescheduled following December's nurse strikes.
It comes after Matthew Taylor, chief executive of the NHS Confederation, urged ministers to renew pay talks with unions in a bid to halt further industrial action.
In comments shared exclusively with PA, Mr Taylor urged the Government to "end the damaging dispute", adding: "If there is no realistic prospect of a solution, then we're facing the prolonged war of attrition between the Government and the unions that we've been fearing."
Meanwhile, union leaders have said "no progress" was made during a meeting with the Education Secretary in a bid to avert strike action over teachers' pay.
Gillian Keegan held talks with unions representing teachers and school leaders on Wednesday after walkouts in February and March were announced by the National Education Union (NEU).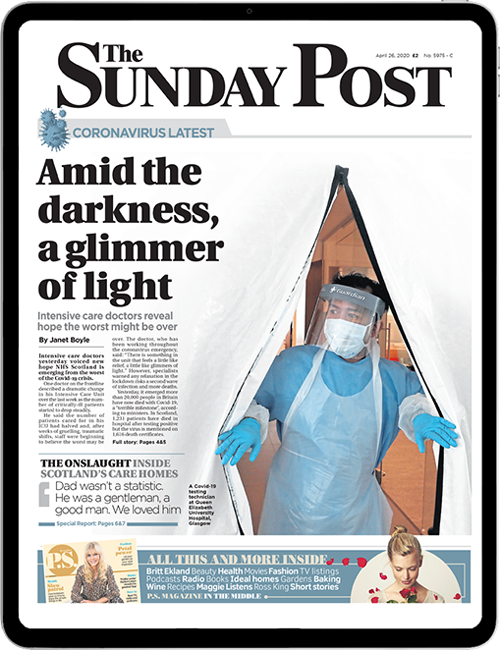 Enjoy the convenience of having The Sunday Post delivered as a digital ePaper straight to your smartphone, tablet or computer.
Subscribe for only £5.49 a month and enjoy all the benefits of the printed paper as a digital replica.
Subscribe