Locked up in a cell with the most sadistic murderers Britain has ever produced it's not something many of us would choose to do. But for David Wilson, it's all part of the job.
The Scots professor is the UK's leading criminologist and a world-renowned expert on serial killers.
Often described as "the real-life Cracker", he's spent much of his 30-year career in the company of mass killers like Dennis Nilsen and "Suffolk Strangler" Steve Wright.
He interviews the murderers. Studies them. Gets inside their minds.
It's a task the professor admits he struggles with as anyone would.
Wilson says: "To get any useful information from these people you need to present a friendly face.
"You need to be professional and courteous, or they'd never speak.
"All the while I know exactly what they've done the horrific details.
"It's not easy.
"I have to keep the bigger picture in mind. What we can learn from their crimes can help solve and prevent others in future."
While many imagine it must be terrifying to be in the presence of those responsible for slaughtering multiple innocents, Wilson reveals otherwise.
He says: "I've only been genuinely scared twice and neither man responsible was a murderer.
"Both were burglars. One in particular could switch from being perfectly relaxed and talking calmly to full blown, eye-popping all-out rage in an instant. There were no warning signs.
"Such unpredictability is unsettling to say the least."
Wilson explains the popular image of the serial killer as someone urbane, highly intelligent, interesting, even charming think Hannibal Lecter is a myth.
He says: "The truth is almost the exact opposite. They tend to be blue-collar workers, uneducated, uninteresting, boring men. Hollywood has a lot to answer for.
"They're defined, not by what they 'have', but what they lack.
"Each one I've met, when you look in their eyes, is 'missing' something vital.
"All I feel after talking to them is utterly depressed.
"A phrase I use can describe every serial killer I've ever met weedy and needy."
It's that kind of frank description that gets Wilson, who grew up on a farm near Carluke, furious letters from the killers.
His Channel 5 show Killers Behind Bars brought a lot of angry mail.
The series saw Wilson, who heads the criminology unit at Birmingham University, use his skills to link known serial killers to unsolved crimes.
"There were two groups who hated it," he reveals. "The killers, and police press officers.
"I had a letter from Peter Tobin's lawyer making out I'd defamed him.
"The family of another killer emailed insisting I'd got things wrong.
"And the police press people moan about the extra work I cause them."
The second series of Killers Behind Bars started last week.
The opening episode on Thursday saw Wilson, 56, convincingly link Milly Dowler's murderer, Levi Bellfield, with the killing of a young woman who disappeared in 1996.
He wants the police to re-examine the case and others featured in coming episodes.
Wilson says: "My hypothesis is that many of the serial killers we catch will have killed before.
"By looking at how they kill their modus operandi and examining cold cases, it's possible to establish links."
Wilson admits he didn't really choose his line of work, it's more that he fell into it.
He graduated from Glasgow University before studying for a PhD at Cambridge. Then he entered the prison service becoming, at 29, the youngest governor in England.
His work saw him design and run two units housing the 12 most violent prisoners in the country.
Wilson says: "I don't have any burning desire to work with serial killers I'm not fascinated by them as many imagine.
"Because of my academic background, the prison service asked me to get involved. I was a prison governor but was also a PhD, a doctor, so it made sense to them."
Wilson tells me that, since 1888 and Jack the Ripper, there have been 34 serial killers in the UK, defined as someone who murders at least three victims over a period of more than a month.
Just three of that number have been women Myra Hyndley, Beverley Allitt and Rose West.
And it's significant that of them only Allitt a nurse who killed four babies in 1993 worked alone, without a man for a partner.
"Men are simply more violent and aggressive," explains Wilson.
The criminologist reckons there are, on average, two serial killers active at any one time in the UK, who between them murder seven victims a year.
It sounds a lot, but Wilson provides a bit of perspective.
He says: "On average, two children are killed a week in Britain, usually by their parents. That's a far bigger problem."
The question Wilson says he's asked most is why do serial murderers kill? But surprisingly, the professor says their reasons aren't all that important.
He says: "Their motives vary, but generally they're either so mundane and generic that they could apply to absolutely any one of us, or so specific to them as to be meaningless."
Wilson uses the example of Scots-born killer Dennis Nilsen to illustrate his point. Nilsen, originally from Fraserburgh, killed and dismembered 15 young men in London in the late 70s and early 80s.
He was caught after drains at his flat became clogged with lumps of his victims' flesh.
Wilson says: "According to Nilsen, he killed basically because it reminded him of his grandfather, whom he was close to.
"He had memories from childhood of seeing his grandfather laid out in his coffin. He was trying, he says, to recreate the feeling he had.
"Well, we've all lost someone close to us it doesn't mean we become serial killers.
"To understand these crimes, I tell my students to concentrate not on motives, but rather the people the serial killers target.
"Almost every victim over the last 120 years has belonged to one of five groups children, women, the elderly, gay men and sex workers.
"The common factor among them is that, because of the way society treats them, they are vulnerable.
"And that tells us a lot about our society. Some of these groups are often considered a burden, others have been seen as outcasts.
"Society's attitudes create their vulnerability and that leaves these groups open to attack. It shouldn't be too hard to develop a policy to protect these people.
"We'll never stop murder but we can reduce a killer's opportunities."
Killers Behind Bars is on Channel 5, Thursdays at 9pm.
Scots' society 'inhibits' killers
SCOTLAND, it seems, has produced more than its fair share of serial killers.
From Peter Manuel, Ian Brady, Dennis Nilsen and Robert Black to Peter Tobin and killer nurse Colin Norris.
Even Fred West once drove an ice cream van in Glasgow.
But one thing they have in common, almost without exception, is that they never kill in Scotland.
Professor David Wilson says: "We have produced more than you'd expect for such a small country.
"Compare us to Wales, for example. I can only think of one Welsh serial killer Peter Moore, who killed four men in the 1990s.
"What's really interesting is that Scots serial killers rarely if ever kill in Scotland.
"Peter Manuel who killed nine in the 1950s is the exception. But he was actually born in the US.
"Child killer Black abducted one of his victims in Scotland, and Tobin has killed here but most of their crimes were committed elsewhere.
"I believe it's because Scotland has a 'face-to-face' society. Basically, it's a small country and you only ever seem to be one step away from someone you went to school with.
"It seems just about everybody knows somebody in common the old refrain, 'I kent yer faither' is pretty much true.
"That kind of society seems to inhibit the serial killer they prefer to operate somewhere bigger, where they can be anonymous."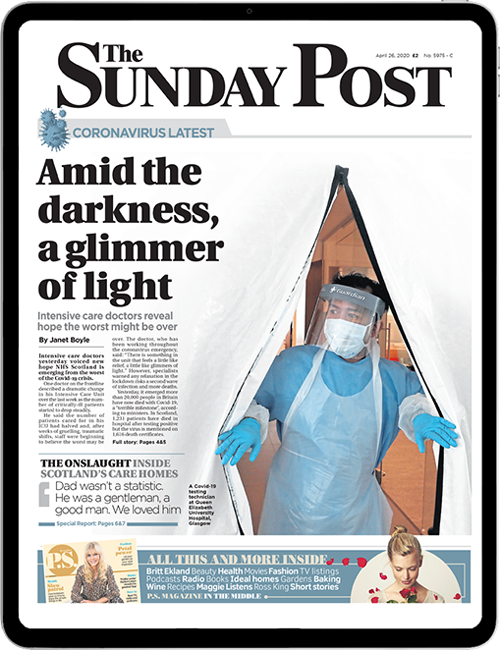 Enjoy the convenience of having The Sunday Post delivered as a digital ePaper straight to your smartphone, tablet or computer.
Subscribe for only £5.49 a month and enjoy all the benefits of the printed paper as a digital replica.
Subscribe