Guidance should be produced to ensure parents' views are taken into account and families should be given appropriate notice of court action in cases where they disagree with medical professionals caring for critically ill children, a review has recommended.
The Nuffield Council on Bioethics (NCOB), which was asked in December to lead a Government-commissioned review, said the Department of Health and Social Care (DHSC) should create a taskforce to implement its suggestions, which are aimed at helping to ease "distressing" situations.
The review, published on Monday and containing 16 recommendations, came in the wake of high-profile court cases involving the families of Charlie Gard and Archie Battersbee, which ended in separate legal disputes with the NHS trusts caring for the boys.
Archie died aged 12 in August 2022 after his life support was withdrawn at the Royal London hospital in the east of the capital.
His parents took their fight for ongoing treatment, and subsequently for him to be moved to a hospice, to the Supreme Court and the European Court of Human Rights.
Charlie died aged 11 months in July 2017 after his parents lost their fight to have him transferred from Great Ormond Street hospital in central London for treatment elsewhere. The Charlie Gard Foundation, a charity set up after his death, was one of the contributors to the review's call for evidence.
Currently, the parents of critically ill six-month-old Indi Gregory are engaged in a High Court life-support treatment fight.
The baby girl has mitochondrial disease, a genetic condition that saps energy from the body's cells, and her parents want treatment to continue.
But a lawyer for bosses at Nottingham University Hospitals NHS Foundation Trust said they are asking the court to decide whether life-sustaining treatment should continue "because Indi's parents and those treating her cannot agree".
Those behind the overall review said they hope that, if implemented properly, their recommendations can "make a real and positive difference to the families and healthcare professionals who find themselves in these nightmare situations".
The NCOB said it had looked at disagreements in the care of children under 16, including babies, in England, and heard from parents of critically ill children and healthcare professionals from hospitals across the country.
Among the recommendations, it said NHS trusts in England should inform families within three calendar days of deciding to start court proceedings in order to give them enough time to get legal advice, and that the Children and Family Courts Advisory Service (CAFCASS) should provide and promote information for parents about the role of the children's guardian in court proceedings about medical treatment of children.
The review also said there should be guidance for clinical ethics committees (CECs) in England on how to ensure parents' and, "where appropriate, children's views are taken into account in CEC discussions and that parents are supported to provide input to CEC meetings".
It said the DHSC should establish a taskforce "to oversee the implementation of the recommendations in this report to facilitate collaboration; promote the filling of current gaps in evidence and ensure mechanisms are in place to effect lasting change".
The review also urged NHS England to put together resources to help families navigating healthcare systems, including how to seek second opinions and raise concerns.
Natalie Michaux, research and policy manager at the NCOB, led the work undertaken during the independent review.
She said: "The unique insights we have gathered throughout this review have helped us identify when and why disagreements arise, and most importantly what needs to change to help people navigate these difficult situations better.
"We are extremely grateful to everyone who spoke to us and shared their experiences so honestly. One thing our review makes very clear is that there is no one approach we can take to improve things for everyone.
"Every person is unique, every illness is different and as such, every case requires its own approach. If heeded appropriately, the recommendations of this review will make a real and positive difference to the families and healthcare professionals who find themselves in these nightmare situations."
Steph Nimmo, whose 12-year-old daughter died, contributed to the review and said the recommendations could help "ensure that the parents and professionals caring for the most medically complex children in this country are both supported and heard".
She said: "Parenting a critically ill child is an unparalleled journey through uncharted territory, where every decision feels like an impossible choice.
"When my newborn daughter was diagnosed with a rare and life-limiting disease, I found myself thrust into this world, learning to be her advocate, faced with unimaginable decisions.
"In the years since her death at the age of 12 I have dedicated my spare time to understanding the tipping points which can lead to disagreements and conflict between parents and their child's medical team.
"As today's report clearly demonstrates, good communication practices and practical and emotional support – for everyone involved – is at the heart of making lasting change."
Health minister Maria Caulfield thanked the Nuffield Council for carrying out the "essential piece of research", and said the Government will consider the recommendations "and will update in due course".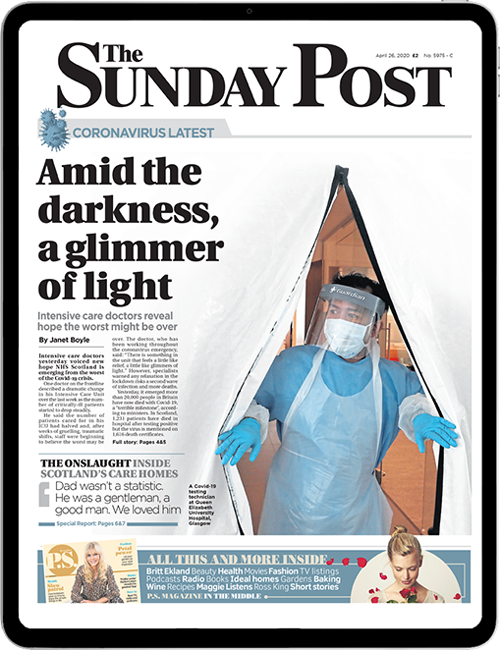 Enjoy the convenience of having The Sunday Post delivered as a digital ePaper straight to your smartphone, tablet or computer.
Subscribe for only £5.49 a month and enjoy all the benefits of the printed paper as a digital replica.
Subscribe