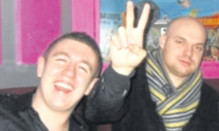 A computer whizz who plagued the public with 840,000 texts a day has issued a grovelling apology from his overseas bolthole.
Gary McNeish, who grew up in Dunoon, was one of two directors of Manchester-based Tetrus Telecom. At its height in 2011 the firm was raking in £8,000 a day out of sending unsolicited texts about PPI refunds.
But the scale of their operations soon attracted the attention of the government regulators, the ICO, who hit them with a £440,000 fine, the first of its kind. The penalty was split between the directors of the firm, Chris Niebel and Gary McNeish.
As we reported last week, Niebel had his £300,000 share thrown out by an appeal judge. That's left his former business associate who we tracked down to his home in Pratumnak, Thailand still owing an eye-watering £140,000.
Last night he insisted his fight with the ICO, who he has yet to pay a penny to, has already left him broke and unable to return to the UK.
Gary said: "I'd like to apologise to everyone we offended with the texts we sent out. I genuinely thought we were offering a service that would help people claim back PPI. It was never my intention to cause distress."
The 26-year old says the company's success was due to developing a system that let them send thousands of texts cheaper than any other company. Gary designed the system from Thailand where he has been living since 2010 with his business partner Chris. The pair met while working in Manchester and Chris was left to handle the operations in the UK.
The ICO's in-depth investigation into the company discovered they illegally targeted people without checking whether or not they had signed up to the Telephone Preference Service.
He said: "We bought the numbers from a company and then sent the texts out. If we were getting good leads we were then selling it back to the same company for around £5 per number. We were good at it and had a system that made it cheaper to do than any of our competitors.
"We were pretty clueless about the law but ultimately I blame the company who gave us the leads in the first place. They should have checked they were legitimate.
"When someone texts back to say they wanted us to stop pestering them we genuinely always tried to remove their details. I'm not going to lie. I made a lot of money through it but it wasn't as much as the ICO said."
He added: "Yes, we were making £8,000 a day but we also had huge costs in staff and overheads. You'd be lucky if I was earning around £5,000 a month.
"But I spent that and believed we had huge savings built up in the business account that we could use to pay the ICO fine. But that's all gone and I'm wiped out. The money is missing and I don't know where it's gone."
Gary claimed he has spent thousands on lawyers' fees to fight the case and has "nothing left to give".
He moaned: "I'm now living penniless in a rented one-bedroom studio flat with my pregnant girlfriend in Thailand and don't know how I'll pay next month's rent let alone repay £140,000.
"I can't return to the UK with this hanging over me."
A report on nuisance calls by The All-Party Parliamentary Group, headed up by Edinburgh West MP Mike Crockart, will be launched this Thursday at Westminster.
The publication, which heard written and oral evidence over the summer, is expected to make a number of wide-ranging recommendations on the issue. It is believed the APPG will call for Ofcom to bring forward a strategy to protect vulnerable consumers, including the elderly, people suffering from dementia and others with debilitating conditions from illegal phone scams and legitimate companies with bad practices. This could see them given call-blocking equipment by the regulator who will fund the pioneering system.