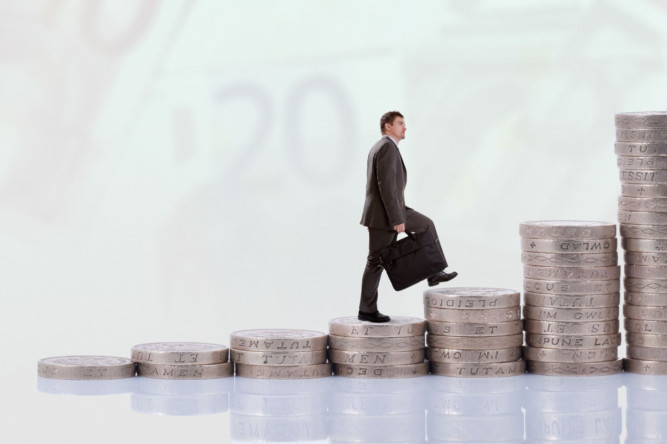 Quango chiefs are enjoying soaring pay packets despite calls to slash the cash paid to the bodies.
A Sunday Post probe has found that the number of senior staff being paid a basic salary of £60,000 or more at the country's top non-governmental bodies has rocketed nearly 20% over the last five years.
The rising bill comes despite pledges from politicians over the years to curb quango spending.
Alex Salmond and David Cameron have both called for cash paid to them to be better managed.
In 2009, Cameron said: "We'll never get control of public spending unless we get control of quangos."
As far back as 1999, Salmond insisted: "I think Scotland needs a bonfire of the quangos."
Despite the tough talk, billions were paid to Scotland's top bodies last year, with critics claiming the public is now fed up with the sky-high wages enjoyed by the so-called quangocrats.
TaxpayerScotland's Eben Wilson said: "Taxpayers are sick of political parties promising to get rid of quangos and then reneging on that.
"There's very little accountability and transparency in how most of these bodies operate with salaries and rewards having very little bearing on performance.
"Taxpayers cannot be expected to fund these ludicrous salaries when families up and down the country have to tighten their belts."
Our investigation looked at the dozens of organisations on the Scottish Government's National Public Bodies Directory that provide a wide variety of services.
Out of these we stripped away police and fire authorities, NHS bodies, public corporations, panels and tribunals that do not enjoy central Scottish Government funding.
That left a list of 57 quangos quasi-autonomous non-governmental organisations which were given more than £5bn of taxpayers' cash in the 2013/14 financial year.
The bodies range from small organisations tasked with the upkeep of monuments to behemoths given the remit of resurrecting Scottish businesses like Scottish Enterprise.
In 2007, the SNP pledged to cull some of Scotland's biggest quangos amid claims they were unelected and unresponsive.
Despite Salmond promising his bonfire with organisations like sportscotland, SEPA and Scottish National Heritage in for a roasting the planned inferno never materialised.
Sportscotland, a body which promotes sports participation and training facilities, had previously been singled out.
But since being spared, the number of staff on the quango's management board being paid more than £60,000, has increased from five to seven.
Their chief executive, Stewart Harris, draws a basic salary of around £100,000-a-year. A further six members of his executive team get more than £60,000 in basic pay.
Overall, our probe found the average basic salary of CEOs in charge of Scotland's quangos is now £99,000.
But that excludes many of the other cash bonuses they enjoy including pension contributions and bonuses.
One of the best paid CEOs is the boss of jobs quango Scottish Enterprise, Lena Wilson, whose basic salary is £203,000.
Barry White, the top man at the Scottish Futures Trust, draws an annual wage of £180,000 nearly seven times the UK average of £26,500 for steering a body set up in 2008 to ensure taxpayers get value for money across the public sector.
According to its most recent accounts, on top of his basic pay, Mr White gets £46,000 in pension and car payments.
Since 2010, he's been joined by executive director Peter Reekie, who earns £137,000 with a further £35,000 in bonuses.
Alison Payne, research director at Reform Scotland, believes the salaries "may, or may not, be justified".
But she is clear that those "who agree to pay them must absolutely be accountable for their decisions".
She said: "The problem with quangos is their complete lack of accountability they seem to be accountable to no-one other than themselves.
"They should be either transferred to government departments, turned into genuinely independent bodies or devolved to councils."
Quangos which employ thousands of people across Scotland argue they are fulfilling a vital role in austerity-hit Scotland.
Sportscotland is credited with helping fight soaring childhood obesity rates, while other bodies such as VisitScotland have won praise for turning the country into a top tourist destination.
A spokeswoman for sportscotland said one of the two new posts was funded externally and the other was a temporary post.
Scottish Enterprise argued that Dr Wilson had got "exceptional" results since taking the job.
A spokesman for the Scottish Futures Trust said: "We have delivered benefits and savings valued of more than £640m to Scotland since becoming operational in 2009.
"SFT's work in attracting and securing more than £4 billion of additional investment is stimulating economic growth."
The Scottish Government said pay packets across the board have been "subject to significant restraint in recent years".
A spokesman said: "We have reduced the number of Scottish public bodies under our control from a baseline of 199 in 2007 to 119 now, and we expect all parts of the public sector to ensure their activities deliver maximum value for money.
"The salaries of public sector staff are set in accordance with the Scottish Government's pay policy, which has been subject to significant restraint in recent years, and for which ministers are also accountable to parliament.
"Pay ranges are assigned in relation to the roles and responsibilities of the position."
Five of the top basic salaries for CEOs
Malcolm Roughead £140,000-145,000 VisitScotland
Born in Perth and raised in Stenhousemuir, Roughead, 55, studied modern languages at Glasgow University before joining Nestl as a marketing trainee in 1981.
He then moved to pharmaceutical group Beecham, before joining Guinness, which became part of drinks firm Diageo in 1983.
In 1997 he was put in charge of marketing at Guinness Publishing. He took up the top marketing role at VisitScotland in 2001 before becoming chief executive in 2010.
Lena Wilson £203,000 Scottish Enterprise
Wilson's 25-year career has spanned the international private and public sector.
She grew up in East Kilbride and gained a BA in public administration at Glasgow Caledonian University.
One of her first jobs involved setting up two electronics companies during the Silicon Glen boom in Scotland.
The 51-year-old later worked as an advisor with the World Bank in Washington DC, helping third-world countries get support for economic development.
Barry White £180,000 Scottish Futures Trust
Originally from Belfast, White studied civil engineering at Edinburgh University.
He then joined the army for seven years, rising to the rank of major in the Royal Engineers before leaving in 1994.
After a number of years working for some of Europe's leading construction firms, he took up the position of chief executive at the Scottish Futures Trust in 2009.
The 49-year-old is said to have experience in roads, health, education and justice projects.
Derek Penman £120,000-130,000 HM Inspector of Constabulary in Scotland
Penman, 49, joined Central Scotland Police in 1982 before becoming a constable in 1984.
After working in uniform and CID, he attended the University of Glasgow and graduated in 1993 with an honours degree in law.
He became chief superintendent at Central Scotland Police in 2007, assistant chief constable with Grampian Police in 2008 and deputy chief constable with Central in 2011.
He took on his current role in 2014.
Damien Yeates £115,000-120,000 Skills Development Scotland
Born in Dublin, Yeates, 49, gained a Bachelor of Business Studies degree from Dublin City University and then a Master of Business Administration from the University of Strathclyde.
He worked as an export executive at Polydata; chief executive of the Scottish University for Industry and the Govan Initiative.
He was appointed chief executive of learndirect Scotland in 2006 before taking on the same role at Skills Development Scotland in 2008.