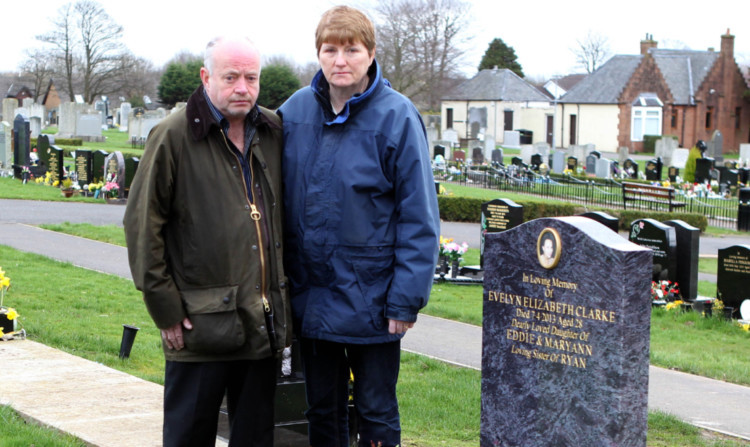 "Not knowing what happened to our girl is the hardest thing."
The heartbroken parents of a stewardess, believed murdered in Dubai, are pleading for her body to be exhumed.
Evelyn Clarke was found dead after falling from a tower block in mysterious circumstances.
Speaking on her first Mother's Day without Evelyn, mum Maryann said: "This is our last bid for the truth."
Next Monday morning, Eddie and Maryann Clarke will visit their only daughter's graveside to mark the first anniversary of her death.
The Ayrshire couple will lay flowers, share memories and shed a tear with a small group of Evelyn's closest friends.
Later that day, they will meet with a lawyer in Glasgow to discuss requesting an exhumation of that same grave.
Heartbroken Eddie and Maryann believe an exhumation and post mortem is their last hope of finding answers about their daughter's mysterious death.
The 28-year-old air hostess from Irvine was found dead outside a Dubai apartment complex on April 7 last year. Authorities there deemed the death accidental, but her parents are convinced she was murdered.
After 12 months of asking question after question and receiving few answers, Eddie and Maryann feel they've been left with no choice but to take matters into their own hands as they seek justice for their girl and the truth for their own peace of mind.
"We believe there's a murderer out there who killed our daughter," Maryann said.
"We've pleaded for more information about the case from Dubai, where Evelyn had been for nine months, but we don't even have her belongings from that night.
"We've asked for the case files, we've asked for her mobile phone to see if that provides any information, but despite the case being closed we still don't have them.
"I truly believe the only way we'll have closure is to uncover the truth. And we feel the only way we can get that is with an autopsy done in the UK so we can discover the full extent of Evelyn's injuries.
"This is our last chance to find answers."
Speaking exclusively to The Sunday Post from their family home in Irvine, the couple recalled a nightmare 12 months. They lost their happy daughter, came up against a bureaucratic brick wall and heard contradictory stories of Evelyn's final moments.
"The loss hits us every day and not knowing what happened makes it even harder," admitted Eddie.
The 61-year-old maintenance joiner says he doesn't believe the theory that Evelyn accidentally fell from an eighth floor window of a rundown apartment complex, miles from where she lived.
"We went to see the window and it's about 4ft off the floor. She wouldn't have fallen out of it," he said. "The area is rundown. Evelyn was quite posh and wouldn't have gone to a place like that."
Evelyn is said to have died from a blow to the back of the head, but her mum is convinced that had her daughter fallen from the window there would have been more signs of injury.
"There was barely a scratch or bruise on the rest of her, which can't be right. She was only wearing shorts and a red jumper, so she should have had bruises and cuts.
"When we brought her home I noticed there were three marks on her stomach but they were very superficial, just light grazes. I also checked the soles of her feet, because there were reports of her being seen barefoot, but they were smooth.
"She looked just like she was sleeping. I'll never forget that."
Maryann, who is a clerical officer in Crosshouse Hospital, says the pathologist in Dubai revealed there were no traces of drugs in Evelyn's body or signs of a sexual assault.
"I think someone has clobbered her and dumped her body there to make it look like she fell. If we are granted an exhumation and the autopsy reveals her body is crushed, I'll have to accept the police's theory. But if the autopsy says otherwise it will confirm our fears."
The 56-year-old continued: "It's a coincidence the date of the lawyer's meeting has fallen on the anniversary. The lawyer offered us that date, but it feels like a good sign.
"We know the process will be expensive, but finally it feels like someone is on our side, rather than against us."
Evelyn's parents have been in regular contact with the Foreign Office about her personal belongings and files relevant to the case.
"We went to London in December to speak with the Minister of State Hugh Robertson. There was a meeting a couple of weeks ago that I thought would result in progress, but when I called recently they were still no further forward. We feel as if we've been let down by the Government."
Holding back tears, Maryann looks up at a family picture hanging in the corner of the living room. It shows her and Eddie standing with Evelyn and their 24-year-old son, Ryan, and serves as a constant reminder of the final conversation she had with her daughter.
"We were talking on Skype at 4pm on Saturday. I was showing her the picture, which I'd just collected. It had come back as black and white by mistake, and Evelyn was joking that her dad's bald head was blending into the background.
"She was coming back to the UK the following weekend for a wedding in London and was describing her dress.
"At 3pm on Sunday, a police car drew up outside our house. At first I thought they were talking about my sister, Evelyn, but then they mentioned Dubai.
"I remember calling her mobile, but there was no answer. I called her friends over there, but they didn't know anything.
"Her flatmate said the police had come to the door but hadn't told her Evelyn was dead. Then her work called us to confirm the news."
The feeling of loss remains excruciatingly raw for Eddie and Maryann. However, even in the darkest moments they cling to memories of happier times.
"Evelyn was bubbly and cheerful and loved a laugh and a prank," Maryann said.
"She was full of fun. At the funeral, one of her friends said April Fool's Day was like Christmas to Evelyn.
"She went to Reid Kerr College and graduated in drama, but then decided to be an air hostess. She was well travelled and knew what to do and what not to do.
"First, she worked out of Glasgow and then London, and went out to Dubai on a three-year contract nine months before she died.
"When her contract was up, she wanted to become a professional wine taster. There was a course in America she'd looked at and she had lots of books on the subject."
Maryann smiled, adding: "She would have helped anyone. I always told our two kids to treat other people how they would want to be treated themselves and they would be ok."
Now Evelyn's friends are doing what they can to help. A fundraising site has been set up and a recent charity night raised cash to help pay legal costs and a possible post mortem bill.
"More than £3,000 has been raised so far," Maryann said.
"Local people are stopping in the street to give us money.
"For a year we've been hitting our heads off a wall and doors close on us wherever we turn. Everything we try gets us nowhere, but hopefully this is the moment things change.
"This is our last throw of the dice. If this doesn't work, where else can we turn? We have to hope for the best."
A Foreign Office spokesman said: "We are aware of the death of Evelyn in Dubai. We continue to provide consular assistance to her family at this very difficult time."
Donations can be sent via paypal.com to evelynclarkefundraiser@gmail.com.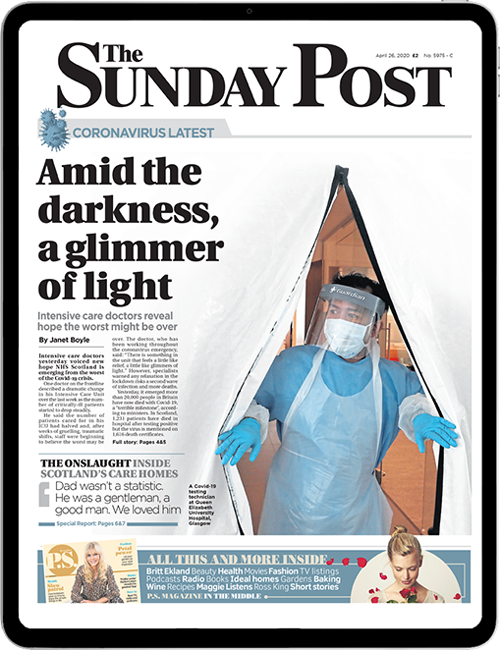 Enjoy the convenience of having The Sunday Post delivered as a digital ePaper straight to your smartphone, tablet or computer.
Subscribe for only £5.49 a month and enjoy all the benefits of the printed paper as a digital replica.
Subscribe