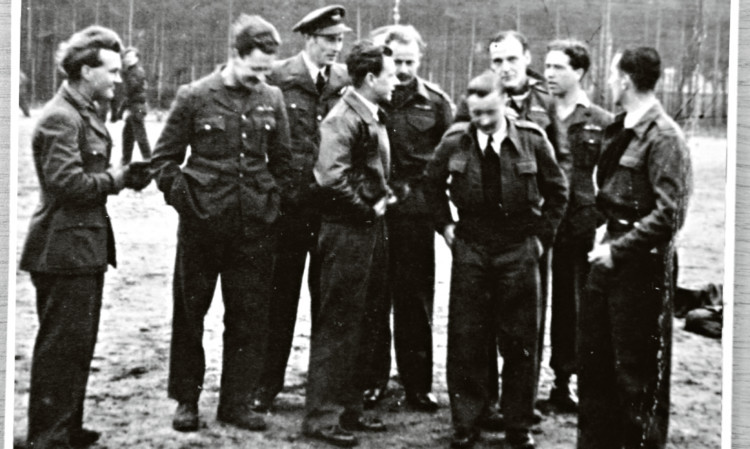 Chance meeting led to women learning true story of fathers' roles in wartime breakout.
It was the most daring prisoner-of-war camp breakout of the Second World War and inspired a Hollywood classic.
And now, two women whose dads were involved in the Great Escape are organising a poignant service to mark the event after a chance meeting 70 years on.
Rosalind Woods and Alison Howard live just three miles apart, but did not realise their amazing bond until they got chatting in their local library.
Their dads, Bill Johnson and Jimmy Howard, played vital roles in planning the escape from German POW camp Stalag Luft III in 1944.
It was immortalised in the film The Great Escape, which told the story of the 200 inmates and their ill-fated bid to tunnel their way out of the prison.
Retired librarian Rosalind and civil servant Alison, from Glasgow's East End, have revealed for the first time their dads' harrowing tales as POWs.
Bill and Jimmy left a legacy of diaries and letters about life in Stalag Luft III, 80 miles south east of Berlin.
"Dad's letters and his diary told me something of his life, but I needed to know more about what he had endured as a POW," Rosalind said.
"I met Alison at Baillieston Library, where I worked, and we got chatting about our families. I was thrilled."
Alison added: "It was a once-in-a-lifetime moment. Rosalind mentioned her dad and how much he had meant to her and it struck a wonderful chord.
"We agreed to meet up again to share their letters, drawings and memorabilia. From each other's collection we were able to piece together the jigsaw of our dads' lives as POWs."
Bill and Jimmy's route to the POW camp was uncannily similar. Both were RAF flight lieutenants who had been shot down in Kittyhawk planes in North Africa.
The incidents came within months of each other at the two battles of El Alamein in 1942.
Both had searing burns Bill's to his face and Jimmy's extending over his shoulders and back and each was saved by German war surgeons before being packed off to Stalag Luft III.
It housed 11,000 prisoners, including legendary Spitfire ace Douglas Bader.
"We don't know if our dads knew each other but the odds are they did because both were both heavily involved in the tunnel," Rosalind said.
Bill's brief was to log precise details of the guard changes, which were invaluable to those planning the escape.
Throughout his time as a POW, Bill wrote a diary which is now kept in the Imperial War Museum.
Jimmy, who was sports mad, was tasked with dispersing the excavated tunnel soil.
"He played football with the German guards and would drop earth from pockets in his trousers," Alison said.
"It has to be one of the best remembered scenes from the film."
There were 200 men selected to escape. Order of priority was given to those who spoke German and who could blend in on the outside.
Jimmy's hopes were raised when he was allocated escapee number 117.
But only 76 managed out before being discovered and 50 of those were shot on Hitler's orders.
"My dad was desperate to escape and was distraught when he didn't get the chance," Alison revealed.
"In retrospect he was probably lucky."
Bill's name wasn't among the 200 chosen, partly over fears the burns on his face may have identified him as an airman.
In the end only three RAF crew made it home one Dutch pilot and two Norwegians.
The daughters reveal amazing information about life inside Stalag Luft III, including the fact Germans posed as Swiss Red Cross workers to try to trick information out of prisoners.
"There was a mutual respect between our airmen and the Luftwaffe guards," Rosalind explained.
"Dad spoke of how fair the camp commandant Friedrich von Lindeiner-Wildau was and I don't think there was much love lost between him and the Gestapo. Some POWs were beaten to death by Gestapo, but dad never discussed those horrors.
"Despite everything they endured, they always smiled in group photographs they sent home because they didn't want to worry their families. There are also many myths about the camp started by the film.
"In it Steve McQueen escapes, but in fact no Americans got out because they were shipped out of their compound before the escape bid. Most people also think the camp only housed airmen, but there were soldiers too."
Jimmy and Bill were incarcerated in the camp until, fearful of the advancing Russians, the Germans marched them west in sub-zero temperatures.
They eventually arrived home in spring 1945 after the area they were being held in was liberated by the US army.
Bill sadly died in 2000 while Jimmy passed away in 2005, but their brave legacy lives on.
Rosalind and Alison have organised a service to mark the 70th anniversary of the Great Escape. It takes place at 2pm on Sunday March 30 at the Congregational Church in Parkhead, Glasgow.
Do you recognise any of the other prisoners with Bill in the photo? If so, contact The Sunday Post on 0141 567 2776 or email jboyle@sundaypost.com.