Thousands of nurses across England are continuing to strike in a dispute over pay while around 1,000 ambulance workers in Wales have also walked out.
The NHS is advising people who are seriously injured or ill to still phone 999 but to call 111 or visit the 111 website for non-urgent care.
It comes as health leaders begin to make contingency plans for what could be the biggest walkout in the history of the NHS.
Unions representing nurses and ambulance workers are scheduled to strike on the same day – February 6.
Further strikes are planned throughout February and March, with the NHS Confederation and NHS Providers both expressing concern about how the NHS will cope and urging the Government to talk to unions about pay.
On Wednesday, a former Cabinet minister was branded "heartless and out of touch" for suggesting nurses who use food banks are careless with budgeting.
Speaking on BBC Radio Tees on Wednesday, Middlesbrough South and East Cleveland Tory MP Simon Clarke told nurses that "something is wrong with your budgeting" if they are relying on handouts.
The Liz Truss supporter, who was secretary of state for levelling up under her brief premiership, said: "I'm afraid if you are using a food bank and you are earning the average nurse's salary of £35,000 a year then something is wrong with your budgeting, because £35,000 a year is not a salary on which you ought to be relying on a food bank."
Asked about the comments on Thursday, Levelling Up Secretary Michael Gove said the Government must balance pay demands with "recognising we also have to be careful stewards of public money overall".
Asked if he agrees "with Cabinet colleagues that nurses are excellent at saving lives but hopeless with their finances", Mr Gove told Kay Burley on Sky News: "No, I would never put it that way.
"I think we appreciate that nurses, everyone who's working on the front line in the National Health Service, is doing an amazing job, and my thanks and gratitude to nurses today is something I want to express very deeply and personally.
"I also think that when we're looking at the pay claims that are being made by people within the National Health Service, and also people in other parts of the public sector, we have to balance making sure we do everything we can to reward them for their hard work with recognising that we also have to be careful stewards of public money overall.
"What we can't do is necessarily accede to every demand in the public sector for pay increases because we don't want to be in a position where the public finances overall are out of control."
Asked again if his colleagues are wrong to criticise nurses for the way they manage their money, he said: "I would never criticise nurses for something like that, I think the most important thing to do is to recognise that people who are working in the NHS are people who've dedicated their lives to a caring profession…"
Regarding the joint action on February 6, Mr Gove said the Government would prefer there not to be "any strikes at all and we prefer there not to be co-ordinated strike action of this kind".
Joining nurses on a London picket line on Thursday morning, the Royal College of Nursing (RCN) chief executive, Pat Cullen, told the PA news agency: "I want to find myself at a negotiating table.
"Let's sit down, I will lay out my stall for nursing staff, they (the Government) will have the opportunity to do that, and let's come to an agreement, but that agreement needs to be about 2022/23 and resolve the dispute for these brilliant people."
The Government has suggested any pay negotiations would look at the future pay award for 2023/24.
Ms Cullen said: "It is over to the Prime Minister to grab the olive branch.
"I have said for every single day that I want to meet with Rishi Sunak. That's an obligation he has – and it is absolutely something I will do any time of the day or night.
"The strike will end when this Government does the decent thing for the nursing staff that they have pushed out on to picket lines and give them a decent wage and allow them back in to look after their patients, because that's what they want to do."
She said nurses have been left "deeply disappointed" after Health Secretary Steve Barclay ruled out a compromise 10% pay settlement.
The RCN has previously suggested this is the level at which the dispute may end.
She said: "Every nurse I have spoken to is deeply disappointed.
"They say this is just another move to turn their backs on the fantastic nursing staff that have kept us all going through a very, very incredible period, which was the pandemic and long before it."
Commenting on the combined strike action scheduled for February 6, Saffron Cordery, interim chief executive of the NHS Providers organisation, said on Wednesday: "The prospect of ambulance workers and nurses striking on the same day is a huge concern.
"It could be the biggest day of industrial action the NHS has ever seen…
"We need ministers to get round the table with the unions urgently to deal with the key issue of pay for this financial year, otherwise there is no light at the end of the tunnel."
Matthew Taylor, chief executive of the NHS Confederation, added: "This escalation takes us deeper in to the situation NHS leaders have been warning against – a war of attrition between the Government and unions spanning several months at a time when NHS services are seeing unprecedented pressures."
Speaking to broadcasters at a police station in London on Wednesday, Prime Minister Rishi Sunak said talks were "ongoing and we're keen to find a constructive way forward and bring these strikes to an end."
Both the RCN and GMB have asked for above-inflation rises.
The Government has given NHS staff an average of 4.75%, with everyone guaranteed at least £1,400.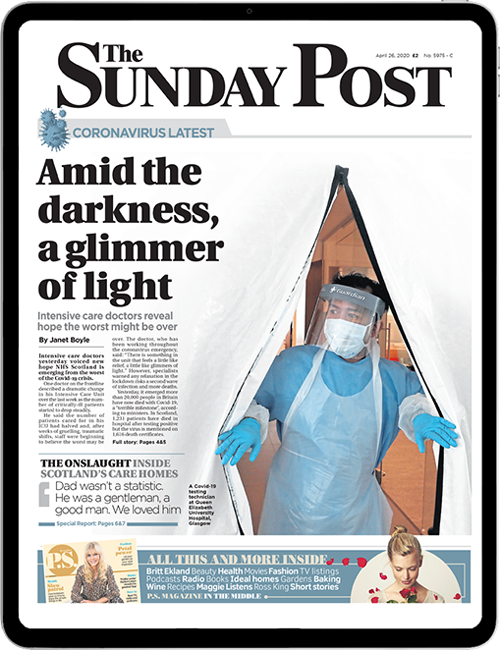 Enjoy the convenience of having The Sunday Post delivered as a digital ePaper straight to your smartphone, tablet or computer.
Subscribe for only £5.49 a month and enjoy all the benefits of the printed paper as a digital replica.
Subscribe