Breast cancer patients in England with a certain form of the disease could be "denied" access to a new treatment, a charity has said, after health officials provisionally rejected a drug for NHS use.
The National Institute for Health and Care Excellence (Nice) said it will not recommend trastuzumab deruxtecan for treating advanced HER2-low breast cancer in new draft guidance.
While the NHS spending watchdog said the treatment is a "potentially significant development" for patients with this type of cancer, there were uncertainties in the information provided by manufacturer Daiichi Sankyo.
As a result, Nice said the "cost-effectiveness estimates were too high for it to be recommended for use in the NHS" and called for more information from the manufacturer on the benefits.
Clinical trials suggest that trastuzumab deruxtecan (also known as Enhertu) can increase the amount of time patients live and gives them more time before their disease progresses.
People with HER2-low breast cancer that cannot be removed surgically or that has spread to other parts of the body, also known as metastatic breast cancer, are offered treatments for HER2-negative cancer – usually chemotherapy. But, after chemotherapy, people with HER2-low cancer may also benefit from targeted treatments.
Trastuzumab deruxtecan is the first licensed targeted treatment for this type of breast cancer.
If Nice approved the drug it is estimated that around 1,000 patients would be able to take it each year in England.
Commenting on the announcement, Baroness Delyth Morgan, chief executive at Breast Cancer Now, said: "Today's devastating provisional decision will deny certain patients living with incurable secondary breast cancer of the hope that trastuzumab deruxtecan could bring them, of both more time to live and more time before their disease progresses.
"This could have been a crucial moment to change practice and for the first time, provide an effective HER2-targeted treatment for patients whose breast cancer is HER2-low[2]; but instead, trastuzumab deruxtecan, and the invaluable extra time it could bring patients to do the things that matter most to them, remains out of reach.
"We urge Nice and Daiichi Sankyo to work together to explore all possible solutions to ensure this provisional decision is reversed without delay."
Helen Crawford, patient advocate from METUPUK, a patient group dedicated to metastatic breast cancer, added: "We have been given this hope for so long that HER2-low treatments for metastatic breast cancer were in development and coming.
"I work, I'm a parent and I contribute to society. Why shouldn't I and the many other women each year who would fall into this category not be worth the cost for the new drug?
"Enhertu is already approved on the NHS for a different type of metastatic breast cancer so why not for us? Approval of this drug means patients will gain extra time to spend with their loved ones. Patients in other similar income countries are already receiving this treatment, but here in the UK we are falling behind."
Jo Taylor, founder of the group, added: "All patients across the UK who could benefit from these treatments should be able to access them."
Helen Knight, director of medicines evaluation at Nice, said: "Trastuzumab deruxtecan represents a potentially significant development for people with this type of advanced breast cancer who currently have limited chemotherapy options and no targeted treatments available to them.
"Clinical trial evidence shows that trastuzumab deruxtecan increases how long people live and how long they have before their cancer gets worse compared with chemotherapy treatments used for HER2 negative breast cancer.
"However, because there were a number of uncertainties in the company's economic model, this meant that even when taking into consideration the condition's severity and its effect on quality and length of life, the cost-effectiveness estimates were too high for it to be recommended for use in the NHS.
"The committee has identified a number of areas for clarification by the company before its next meeting and Nice will work with the company to address these."
A Daiichi Sankyo UK spokesperson said: "This decision from Nice is disappointing given that HER2-low breast cancer has a poor prognosis and there are limited other options to patients currently.
"Daiichi Sankyo UK Limited and AstraZeneca UK Limited are committed to working with Nice to provide the further analyses requested during consultation and will continue to focus on working towards a solution to support patient access.
"However, we are concerned that the recent changes to the way Nice assesses new medicines may underestimate the severity of this disease, which would have met Nice's previous end-of-life criteria, and the potential impact that this may have on the evaluation."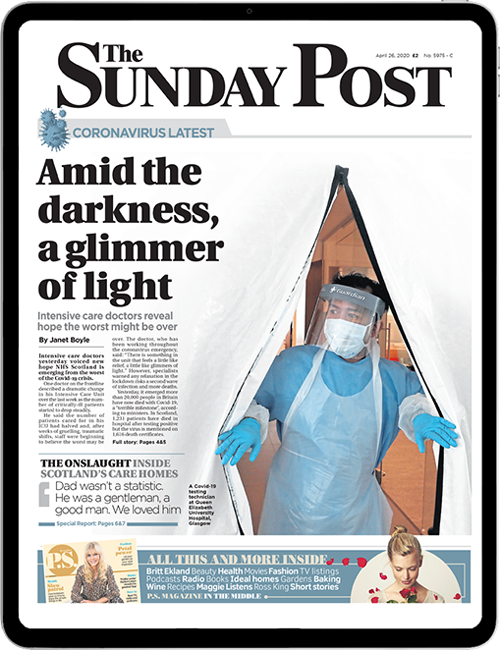 Enjoy the convenience of having The Sunday Post delivered as a digital ePaper straight to your smartphone, tablet or computer.
Subscribe for only £5.49 a month and enjoy all the benefits of the printed paper as a digital replica.
Subscribe