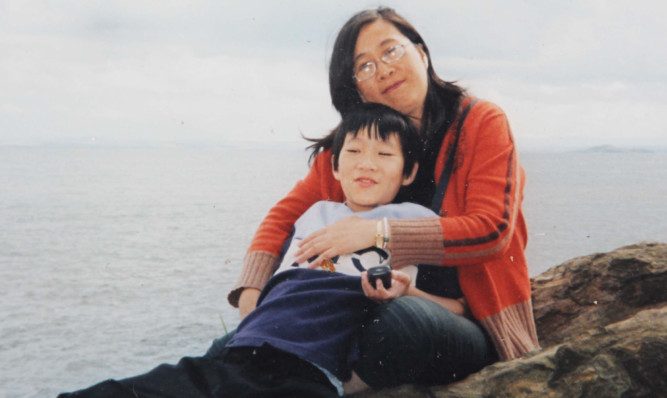 Mum's heartbreaking plea for help over Scots specialist care.
Vulnerable kids with severe autism are being failed because of a scandalous lack of specialist care in Scotland, it has been claimed.
Charities and campaigners have slammed a woefully underfunded system which is letting down silent armies of parents struggling to get the support they need for their autistic children.
One desperate mum has been forced to spend thousands of pounds travelling more than 200 miles to see her 16-year-old son in England.
A dire lack of funding means loving mother Nina Ni has been denied the care her son Tianze desperately needs near his Scottish home.
Last night, Nina and her husband Clinton Chen, 50, described the lack of support she and Tianze have received as a "national disgrace".
She claimed he is being kept "prisoner" in a hospital in England because funding cuts mean there's nowhere for him to be treated closer to home.
She is also terrified he could be forced to stay south of the Border for years.
Tianze, who is autistic, was sent to the West Lane Hospital in Middlesbrough from his home in Glenrothes, Fife, in May for an assessment.
His parents were told it would take no longer than 12 weeks. But nearly five months later following the completion of the assessment he's still in the hospital.
So far they have spent thousands of pounds and travelled 9,000 miles to spend just two hours during each visit with their son.
A keen mathematician, who can play the piano by ear, Tianze was sectioned under the Mental Health Act following a series of violent incidents at his home and previous school.
Nina, a Chinese-born businesswoman, said her son had been responding "well" to new medication but then started self-harming leaving himself covered in bite marks.
She said: "He wakes up at 4am and asks the nurses for a pen so he can mark yet another day off his calendar, counting the days when he can come home.
"But the social workers say there are no specialist schools in Scotland that he can go to. He feels like he is in prison."
Nina has now made a direct appeal to First Minister Alex Salmond to intervene.
In her letter to Mr Salmond, who is stepping down following the referendum defeat, she writes: "What has happened to my dream? Time is running out for Tianze. We're very concerned for his health and wellbeing. You are our last hope."
Budget cuts have had a massive impact on funding care for autistic children in Scotland.
The number of children in Scottish schools needing extra support due to autism leapt from 8,650 cases in 2012 to almost 10,000 last year four times as many as a decade ago.
The figures prompted fears schools were ill-prepared to cope.
In July, education chiefs at Tianze's former special school, the New Struan, which is in Alloa and run by the charity Scottish Autism, blamed budget cuts on them having to make 39 redundancies.
At the time, Scottish Autism chief executive Alan Somerville said the school had "not been immune to the tightening of local authority budgets".
Hugh O'Donnell, a former MSP introduced the Autism (Scotland) Bill in 2011, to create a national autism strategy.
Although it was defeated, it paved the way for the Scottish Government's own £13.4million strategy.
But Mr O'Donnell said that, because services were still funded through councils, there remained a "postcode lottery" of services for people with autism.
Last night, he described Tianze's situation as "ridiculous."
He said: "It is not uncommon for kids to be hiked off across the country as there has always been a dire lack of services.
"New Struan School has been around for a quite a long time but it is not really equipped to provide care for someone who is a threat to themselves and others."
Mr O'Donnell said the Scottish Government were still "sidestepping responsibility".
Instead it was saddling hard-pressed local authorities with the responsibility of providing specialist care for people with autism.
He said: "During the preparation of the bill, it was identified to me there were issues in relation to how to deal with kids with challenging behaviour, who could not be accommodated in the system in Scotland.
"What came out of the autism strategy does not address that at a national level. It has been left down to the local authorities."
Figures show a growing number of children in Scotland diagnosed with autism. The number of children in Scottish schools needing extra support due to autism has rose 15%to almost 10,000 in 2013.
Scott Johnston, of the Scottish Government's support and wellbeing unit, said more specialist services for children with autism are planned.
A spokesperson for Tees, Esk and Wear Valleys NHS Foundation Trust, which runs West Lane Hospital, where Tianze is being treated, said: "We are sorry the family has concerns about their son's care.
"We have spoken with the patient's mum on a number of occasions but would encourage her to get in touch again to discuss any further concerns."
Scottish Autism did not wish to comment when contacted by The Sunday Post.