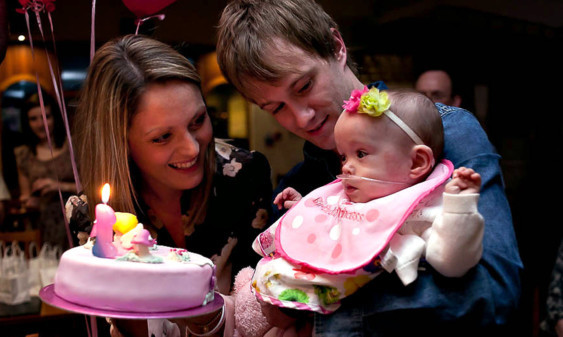 Docs told mum her baby girl would be stillborn.
A mum who was told her baby was going to die has celebrated the miracle tot's first birthday after she defied the odds to survive.
Tiny Amie Mackay weighed just 1lb 3oz when she was born at Dundee's Ninewells Hospital last March.
Parents Dani and Greig had already lost Amie's twin Lucy during the pregnancy and were told her sister would be stillborn.
However, the couple's "little fighter", who is one of the smallest babies born in Scotland, proved medics wrong and has overcome numerous health scares since then to reach her landmark birthday.
Dani and her family, including Amie's sister Leila, 8, and brother Finlay, 4, chose to spend the "emotional" day last week alone.
However, they held a proper bash the following day and invited along a load of other parents and kids.
Dani said: "Amie's birthday was such a happy day. I couldn't let myself imagine we'd ever get there. I can't believe she's one already because she's still so little.
"She's doing well at the moment. She's started sitting up this week and already has a couple of words: 'hiya' and 'daddy'.
"She also shakes her head when she doesn't want something and will wave back at you."
Amie weighed less than half a bag of sugar when she was born 15 weeks early.
She underwent heart surgery at Yorkhill Hospital in Glasgow and didn't get home until she was around five months old.
She has also been back in hospital seven times since then with health problems, has chronic lung disease and is on oxygen until her lungs develop.
The family were so worried about her catching a cold or flu during winter they locked themselves away and tried to avoid being around other people.
However, Amie is doing well now and her birthday proved a great chance for the couple to catch up with friends and family.
Dani said: "Amie is 11lb 7oz now. She's a little fighter.
"There are no concerns about her mental development but her physical development is delayed."
Dani, 32, was devastated when a routine 19-week scan revealed her waters had broken around one of her precious twins.
She went into labour at Aberdeen Royal Infirmary six weeks later but Lucy's heart stopped.
Amie was being throttled by her mum's cervix before she was delivered by emergency Caesarean on March 21 at Ninewells Hospital.
The family travelled from home in Dyce, Aberdeen, to Dundee the Monday before Amie's birthday to have a day of remembrance for Lucy.
They chose to have the event at the Bridge View Station restaurant as it looks out over the same stretch of the River Tay they saw from their room at Ninewells Hospital.
Dani said: "It felt like Lucy was a part of our day."
The couple also let off a balloon in memory of Lucy on Amie's birthday and bought a cherry tree that will blossom every spring.
About 30 friends and family came along for the event.
For many, it was the first chance they'd got to hold little Amie as they were worried she was too fragile before.
The couple invited one of the nurses from Ninewells who became a close friend throughout their stay in hospital.
Dani said: "All the nurses played a massive part in Amie's survival but this one nurse stood out for us.
"One day Amie was not doing well at all. She went above and beyond to keep Amie with us.
"She said no other baby has made such an impact on her."
Dad Greig took part in asponsored bungee jump in Glasgow yesterday to raise money for Yorkhill.
For more info go to www.facebook.com/amazingamiemagoo.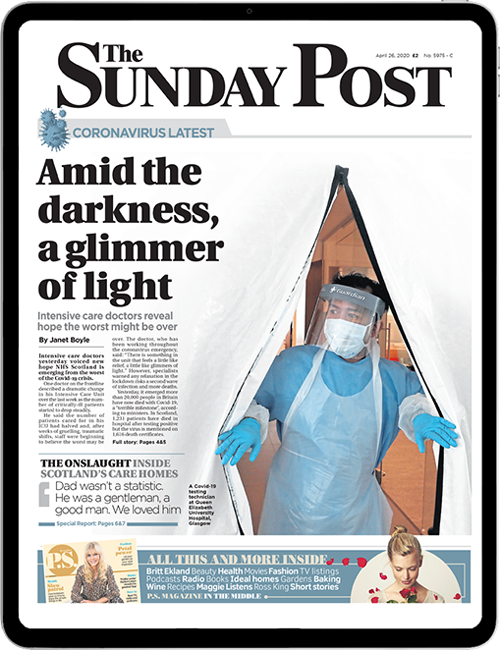 Enjoy the convenience of having The Sunday Post delivered as a digital ePaper straight to your smartphone, tablet or computer.
Subscribe for only £5.49 a month and enjoy all the benefits of the printed paper as a digital replica.
Subscribe