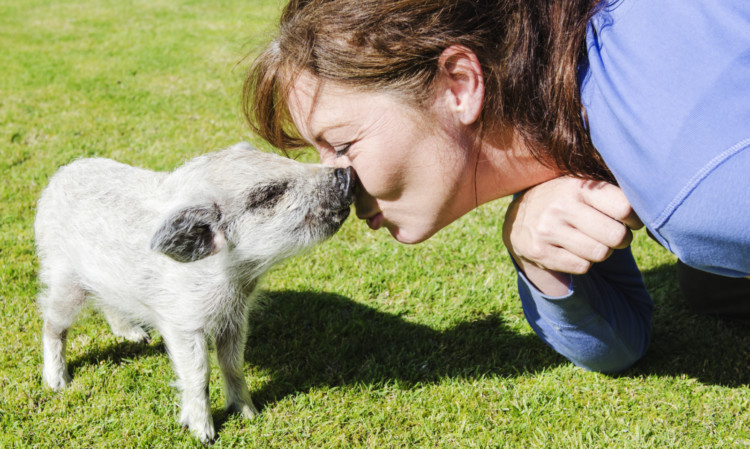 Rare breed of pigs are the spitting image of sheep.
Meet the pampered hogs who can't decide whether they're sheep or pigs.
But these animals are not trying to pull the wool over anyone's eyes they're a rare breed of porker that's the spitting image of its fluffy farm cousins.
Despite their huge popularity in Japan and the US, ancient Mangalitza are only found in a tiny handful of farms in Britain.
And young grandmother Lisa Otterburn keeps a woolyback herd on the 300-acre farm she runs with partner Tim in Helmsley, North Yorkshire.
They are fed on a special diet of distillers' oats and museli mix known as Manga Munch and even curl up on the sofa with Lisa, 45.
She said: "They are quite pampered but they are just such amazing animals.
"The blond ones are just like sheep. We had a friend who told us a tourist in the area said he thought the farmer needed to shear his sheep.
"He got a surprise when he said they were actually pigs!"
Lisa fell in love with the unusual porkers after seeing some grazing at Beamish museum in County Durham.
Tim, 48, was initially sceptical. His family farm's livestock had fallen victim to the foot and mouth outbreak and he didn't want the hassle of rearing any more animals, said Lisa.
But she talked him round and, after a great deal of searching, took on three of their own Mangalitzas in February 2012.
They have since built-up the herd to 207, with pigs bought from as far away as the south of England and Elgin in northern Scotland.
Lisa said: "There were only 16 females and three boars when we first started looking at them. They are a very rare breed that were on the brink of extinction but have been brought back over the past 20 years.
"They have fantastic personalities and love human attention. We have an orchard where they sit and beg for apples.
"They love to have their woolly coats brushed and their bellies rubbed."
One of the latest litter, born in August last year, nearly didn't make it.
Little Lucky's mum had turned deaf and couldn't hear her babies squealing as she crushed them under her 600lb weight.
Lisa, a mother-of-two, said: "There were two left Lucky and her brother and Tim lifted them out with a shepherd's crook.
"We didn't hold out much hope and thought it might be kinder to put Lucky out of her misery. We then saw she was still breathing and thought she had a chance.
"I brought her inside and put her in a box with a couple of pillows and a fire guard around her.
"We fed her goats milk and later tried her with sweet potatoes and pumpkins and she absolutely loved it.
"She would sit in the house with me for a bit of a pet on my knee.
"She's now six months and doing really well."
Mangalitza pigs were first developed in the 1830's by the ArchDuke Joseph Anton Johann in the Austro-Hungarian Empire.
Initially the meat was reserved for the Habsberg Royalty but became popular all over mainland Europe by the end of the 19th century.
As animal husbandry changed after the 2nd world war and need for faster maturing pigs, Mangalitza numbers declined dramatically. In the 1970s there were less than 200 sows left in Hungary.
They are still very rare and were only introduced to the UK in 2006. Their thick, wooly coats mean they can withstand temperatures as low as -30.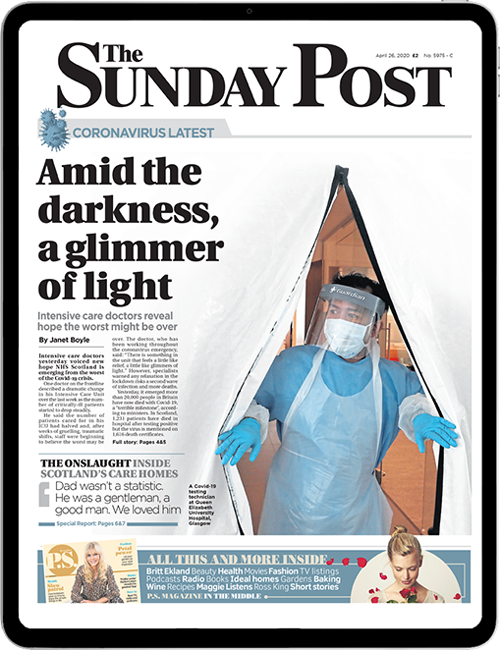 Enjoy the convenience of having The Sunday Post delivered as a digital ePaper straight to your smartphone, tablet or computer.
Subscribe for only £5.49 a month and enjoy all the benefits of the printed paper as a digital replica.
Subscribe