Eyewitnesses have told a jury of the "chaos" after a nine-year-old girl was murdered in a shooting.
Thomas Cashman, 34, is accused of carrying out the attack in Dovecot, Liverpool, which killed Olivia Pratt-Korbel and injured her mother Cheryl Korbel, 46.
Cashman is alleged to have been trying to shoot a man named Joseph Nee, blasting him in the street then following him as he fled into Olivia's house further up the street.
He is accused of firing again from a revolver, missing Nee and hitting Olivia in the chest, Manchester Crown Court heard.
On the fourth day of the trial the jury of 10 men and two women heard police statements from neighbours of Ms Korbel.
Libby Boylan had just parked up outside her house over the road with her mother Lisa Boylan in the passenger seat when she heard two loud bangs, shortly before 10pm on August 22 last year.
Ms Boylan said: "I then heard my mum shout, 'Oh my God!'
"I looked behind me, I saw a lad run past my car on my mum's side and run onto the pavement in front of my car.
"I saw a second male chasing the first male. I heard him saying, 'Don't lad' and continue running.
"At some point I heard my mum saying, 'He's got a gun'.
"I then saw this male run into the driveway of a house a few doors down on the road.
"The security light came on which illuminated the second male. I then saw him stop running and raise his right hand towards the front door of the house.
"I saw he had a small black handgun in a gloved hand then saw a flash and heard another loud bang.
"I felt panicky and decided to drive away from this situation."
A few minutes later she drove back to the street just as police arrived.
Her statement added: "I saw officers run into the address then saw an officer run out of the address carrying a little girl in his arms. I could see her pyjamas were blood-stained.
"I'm shocked and distressed about the whole thing. I can't get this little girl out of my head."
Her mother, Lisa Boylan, told police she saw the gunman run past her holding a gun out, pointing at the man he was chasing.
She said: "I could not believe what was happening in front of me. The male with the gun glared at me as he ran past us. It scared me.
"I heard a further three gunshots. We drove away, I immediately phoned the police."
After police arrived she returned to the street and saw police take Olivia from her house.
She added: "She wore a white nightie which had a lot of blood all over the neck, all over the chest area. She appeared floppy.
"I knew immediately the little girl had been shot."
"The whole incident has made me feel sick, I'm still in shock and upset."
Adele Maher, another neighbour, looked through her bedroom blinds after hearing two loud bangs and saw one male dressed in black, "from head to toe" chasing another male who was pleading, "Please lad, please."
Mrs Maher said this was immediately followed by, "the worst screaming I have ever heard in my life. Women screaming, hysterical, out of control. It threw me into an instant panic. I flew downstairs and was hyperventilating.
"Then loads of blue lights and sirens appeared outside."
Rebecca Power was in her bedroom watching a film with her children when she heard two loud bangs and went to the window to see a man outside with a gun chasing a second man.
"I reacted by pushing my children away from the window. I grabbed my phone and dialled 999. I was terrified," she told police.
Olivia Heffron, who was at her partner's house over the road from Olivia's house, said she heard three or four loud bangs in the street outside and went to the window.
She saw one man she thought was holding a gun, pursuing a second man who was saying, "What are you doing lad?"
Ms Heffron then saw Ms Korbel come out of her house to her front gate, to see what was going on, then run back to her front door.
The first male, Nee, followed, banging on her door, shouting, "Help me!" Ms Heffron told police.
She then heard a bang and saw a flash.
Afterwards the street "descended into chaos" Ms Heffron said and she saw her neighbour screaming, shouting, "She is dying, she's been shot in the chest. Has anyone got a towel?"
Ms Heffron added: "I have never seen anyone in such a state of stress before. Officers ran into the house before exiting a few seconds later carrying a child who looked like she had died."
Opening the case earlier this week, David McLachlan KC, prosecuting, told the jury Cashman killed Olivia in a shooting which had gone "horribly wrong".
Cashman denies the murder of Olivia, the attempted murder of Nee, wounding with intent to do grievous bodily harm to Olivia's mother, and two counts of possession of a firearm with intent to endanger life.
The trial continues.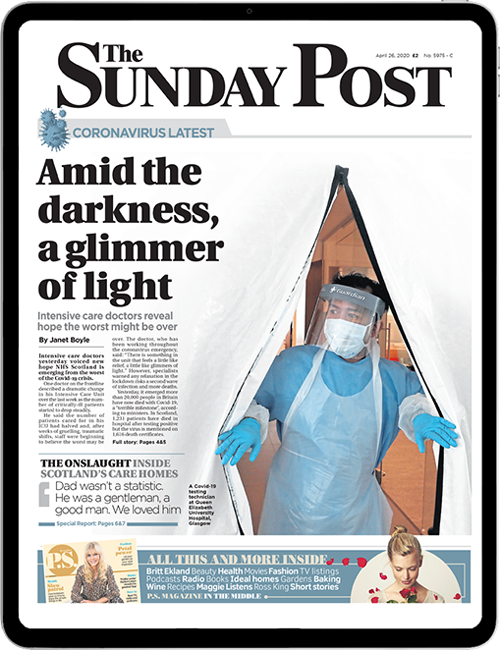 Enjoy the convenience of having The Sunday Post delivered as a digital ePaper straight to your smartphone, tablet or computer.
Subscribe for only £5.49 a month and enjoy all the benefits of the printed paper as a digital replica.
Subscribe