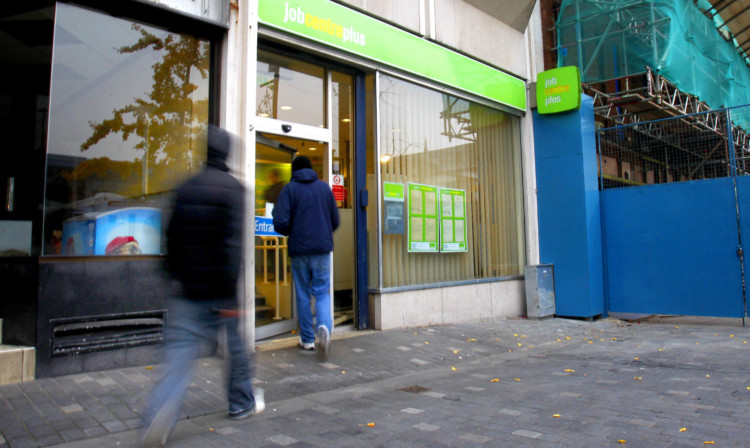 Attacks on Jobcentre staff have more than doubled since the Government began its well-publicised welfare reform programme.
Policies to slash the benefits bill have led to a rise in assaults. Increasing violence in jobcentres is leaving staff scared to go to work.
The government's own figures show hundreds of incidents of either verbal or physical assaults on jobcentre staff every month.
Last year alone there were more than 20,000 attacks. In one of the most extreme cases a man drove his car into the front of a jobcentre in Norwich.
In Lincoln a man left the centre after being told his benefits were being stopped only to return brandishing a meat cleaver, and an Airdrie civil servant had his nose broken when he was punched in the face by someone who'd just been told their dole payment was being withdrawn.
The Department for Work and Pensions (DWP) has been accused of neglecting their duty of care to staff. It's believed staff have been trained in how to spot if a claimant is likely to commit suicide but have been given little or no training on protecting themselves from assault.
Figures released to Hamilton MP Tom Greatrex show incidents of abuse have shot up from around 1,200 the month after the Coalition took power to more than 2,500 in the most recent month for which figures are available.
They leapt last spring after the so-called bedroom tax was introduced and a £26,000 cap on benefits came into force, meaning many claimants saw their handouts reduced. Last week Work and Pensions Secretary Iain Duncan Smith reiterated his commitment to welfare reform, comparing it to the Victorian campaign against slavery. While condemning the violence, Greatrex claims reforms are driving people to extreme measures.
He said: "It is utterly unacceptable for jobcentre staff to be assaulted or abused at work. The DWP have a duty of care to their employees to do everything possible to minimise and prevent such incidents.
"It's very concerning there has been such a substantial increase in violence with changes to the system that have seen an increase in arbitrary sanctioning and a feeling that many caught in unemployment are being hounded rather than helped, it is deeply disturbing that frustration has led to such unacceptable violence. DWP ministers should be doing more to protect staff from such alarming incidents."
The union that represents jobcentre staff has also called on the Government to do more to protect workers. The PCS trade union is currently carrying out a survey into the level of abuse and says early results back up Government statistics that show a marked rise.
A source at PCS claims the government has "a lack of interest in the welfare of staff".
He added: "The government is not taking its duty of care seriously but we are very concerned about it.
"Staff are being put under a huge amount of pressure to hit targets and remove benefits. They often have to tell people that benefits are withdrawn in meetings taking place in the middle of an open office, which is completely inappropriate. Our people know that and they are scared to go to work."
However, in a remarkable statement, the union boss claimed Iain Duncan Smith is entirely to blame rather than those swearing at or hitting union members.
Mark Serwotka, general secretary of the PCS, said: "No attack is ever justified but the violence this government is doing to our welfare state, and the vilification by sections of the media of people entitled to social security, have led directly to this increase in violence against staff. Ministers must bear full responsibility.
"No one started work at a jobcentre to be in conflict with the people they are there to help, but this government's policies are making life intolerable for claimants and staff alike."
Under reforms introduced by the Coalition, jobseekers can have their handouts cut or withdrawn if they miss interviews, fail to make themselves available for employment or walk out of a job.
A DWP spokesperson said: "Our jobcentre advisers carry out around 25.5 million interviews each year and physical assaults on our staff are very rare.
"However, we take every incident very seriously and work with the police and departmental solicitors to secure the harshest penalties appropriate.
"We introduced a more detailed reporting system in 2011, which has improved the quality of our reported incidents."
Last year alone there were more than 20,000 attacks on jobcentre staff.