Chancellor Jeremy Hunt has said he did not see "any conceivable circumstances" in which HS2 would not run to its planned central London terminus at Euston, amid reports that section of the route could be axed because of rising costs.
Rishi Sunak also insisted that the Government is "committed to delivering all the plans that it's announced with rail".
Soaring inflation means the redeveloped Euston station may not open until 2038 and could be axed completely, with trains instead stopping at a new hub at Old Oak Common in west London's suburbs, according to The Sun.
The newspaper also reported that a two to five-year delay to the entire project is being considered.
Mr Hunt, asked by BBC News after a central London speech whether ministers were committed to HS2 going "all the way to Euston", replied: "Yes we are.
"And I don't see any conceivable circumstances in which that would not end up at Euston.
"And indeed I prioritised HS2 in the autumn statement."
Mr Hunt said the UK does not have "a good record" of delivering complex, expensive infrastructure quickly, but he is "incredibly proud" that HS2 is being built under a Conservative Government.
He added: "We're going to make it happen."
Speaking to broadcasters during a visit to the North East, Mr Sunak said his government was "committed to investing in rail across the country".
The Government was "committed to delivering all the plans that it's announced with rail," he added.
"But as well as these very large rail schemes, which are of course important, what I'm also keen to do is make sure that the Government invests in local transportation around the areas where people live, whether that's better local roads, or we're filling in potholes, putting in more bus lanes, road junctions, bypasses."
Complexities around the Euston site meant high-speed services were already due to temporarily start and end at Old Oak Common, with passengers using the Elizabeth line to travel to and from central London.
That would add at least half an hour onto journeys to and from Euston.
A "full business case" for HS2 published by the DfT in April 2020 stated that the target timeframe for services launching between Old Oak Common and Birmingham was 2029-2033, whereas for trains between Euston and north-west England the range was 2031-2036.
The document also stated: "Euston is an important part of realising the benefits of HS2 and that work should continue on the section from Old Oak Common to Euston.
"Notwithstanding this, Euston is a very challenging, complex major programme and given its current status, Old Oak Common will be expected to operate as a temporary terminus for a period of time."
Lord Berkeley, deputy chairman of a review into HS2 commissioned by then-prime minister Boris Johnson in August 2019, told the PA news agency that Old Oak Common could only have capacity for around half the trains of Euston.
He said: "There's not enough space for it (to be the London terminal) so they couldn't do it except maybe (for) a shuttle service from Birmingham.
"What's the point of building HS2 just to get to Birmingham?
"I think the whole thing should be cancelled."
He claimed investment in the project would be "much better spent on improving the railway lines in the north, east and west, than going to London a bit quicker".
Phase One of HS2 involves the railway being built between London and Birmingham, with the line extended from the West Midlands to Crewe in Phase 2a.
Phase 2b will connect Crewe to Manchester and the West Midlands to the East Midlands.
The planned extension to Leeds was shelved in November 2021.
Nigel Harris, managing editor of Rail magazine, claimed it would be "catastrophic" to scrap HS2's Euston station as there would be "no incentive" for people to switch from West Coast Main Line services.
He said: "If you're flying into Heathrow, you don't want to go to Southend. That's effectively what you'd be doing."
Mr Harris added that Euston is "being built right now" with billions of pounds already spent on preparatory work and buying up property.
Construction of a 4.5-mile long tunnel between Old Oak Common and Euston was expected to begin in 2024 and take two years to complete.
HS2 has been dogged by criticism over its financial and environmental impact.
In October of last year, Levelling Up Secretary Michael Gove suggested capital investment for HS2 would be reviewed, but Chancellor Jeremy Hunt subsequently backed the project.
The target cost of Phase One was £40.3 billion at 2019 prices.
A budget of £55.7 billion for the whole of HS2 was set in 2015.
Shadow transport secretary Louise Haigh tweeted: "Insulting that the PM goes to the North-East, visits a site with a HS2 contract and refuses to give a clear commitment.
"The Tories have no plan for the future."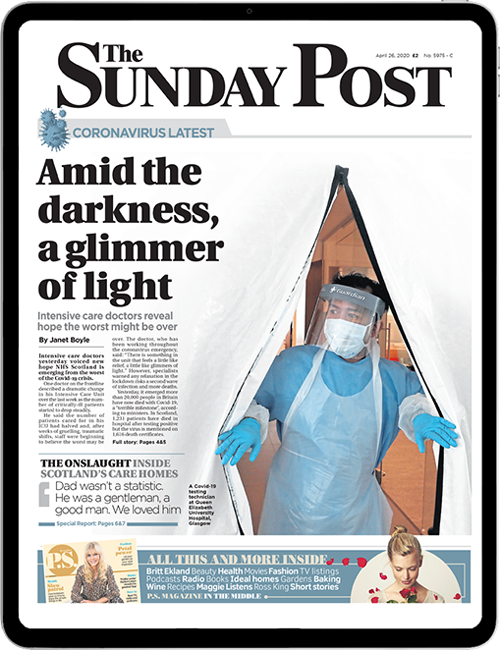 Enjoy the convenience of having The Sunday Post delivered as a digital ePaper straight to your smartphone, tablet or computer.
Subscribe for only £5.49 a month and enjoy all the benefits of the printed paper as a digital replica.
Subscribe