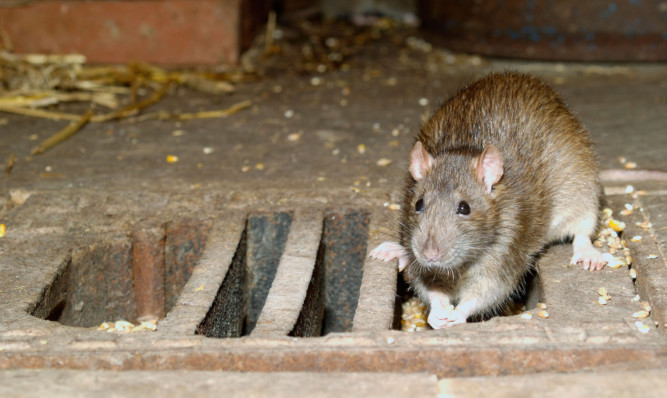 Spud surplus to blame for epidemic of poison-resistant super-rodents
It's like something from a trashy B-movie an army of giant rats invading Britain's cities and countryside. But this is no Hollywood film.
Experts have warned that rodents as big as CATS and feared to be resistant to poison are running riot throughout the UK.
The super-rat epidemic is believed to have been caused by the furry critters bulking up on surplus potato stocks stored in silos around the country.
Exterminators told The Sunday Post they frequently find mega-sized rodents in tatty storage tanks.
Some are well over a foot long, while others are believed to have thick, lustrous coats to better enable them to live in cold storage silos making them appear even bigger.
Either way, Kevin Higgins, of the British Pest Control Association, said there was plenty of work for exterminators. He said rat numbers were going up by about 15% each year and the boom was driven by the availability of food.
"The more food, the more rodents it will attract," he said.
John McNeice, director of Scottish Pest Control Services, said: "We see big rats in cold stores. The rats grow a very thick fur. That can make them look bigger.
"You might see a rat under a pallet that looks as big as a cat."
Andy Swinton, director of Swinton Pest and Property Solutions, said gamekeepers in Duns in the Borders found a whopping rat double the size of an average one.
"The guy told me its head was the size of a cat's head," he said. "They called it a 'king rat'."
Earlier this week, Britain's Potato Council confirmed there was currently a bumper spud surplus.
Poor pest control on farms and in city sewers, coupled with greater food resources, like potatoes, is leading to pest controllers being swamped with emergency calls.
One Glasgow pest controller said: "My phone never stops ringing with people reporting rat infestations. The mild winter and availability of food has definitely led to an increase in their numbers."
There are also concerns more of the vermin have become resistant to toxins. Reports of poison-resistant mutant rats were first made in the south of England in the '90s. But exterminators in Scotland and the north of England are now encountering the problem too.
Gavin Lindsay, owner of Anglo Scottish Pest Control, who this week caught a whopper measuring 18 inches from nose to tail, said rats aren't being tackled properly in some areas.
He said: "The population of rats is definitely increasing, especially in agricultural areas. We used to do 70% of our work on farms but nowadays it's only around 10%. A lot of farmers try to do it themselves but are
not as successful.
"It's possible there are more of the bigger rats as a result. We see some whoppers on farms that are untreated."
Families have been left terrified when confronted with huge rodents in their homes.
Catherine Fyfe, from Port Glasgow, Inverclyde, and daughter Louise Bradley, 10, have been terrified by a "giant rat" in their flat.
"I boarded my kitchen door one morning and it chewed through it," said Catherine. "It also chewed through a bin."
Families living on a housing estate in Falkirk have also been terrorised by an infestation of rats.
Residents say dozens of the critters have swamped their homes.
Urine carries disease
Vet Pete Wedderburn said rats posed a danger to humans as they carried disease. The rodents carry a bacterial infection called Weil's disease which can cause life-threatening problems, including organ failure and internal bleeding.
Rats are also likely to bite people if they are cornered.
He said: "Weil's disease is carried by rats in their urine. It can be a problem if a rat has urinated on something that you later ingest. Also, if you corner a rat it could bite you to try and get away."
Pete, who runs website petethevet.com, said rats would thrive on a diet of spuds. "Potatoes are a rich source of carbohydrate," he admitted.