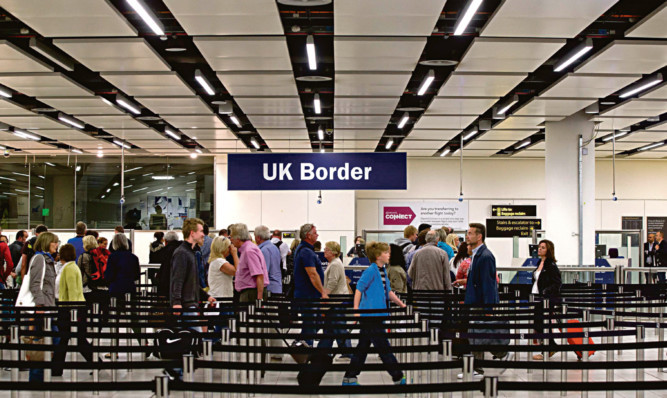 POLICE are stopping holidaymakers who have not paid their TV licence fee or council tax from leaving the country.
New legislation and tighter border controls are being used to identify fee-dodgers if they attempt to leave the UK.
Sun-seekers passing through airports and sea ports are being warned they will be "inconvenienced" if they have outstanding fines to pay.
The UK Government's E-Borders initiative and the Immigration Act 2014 allow a greater sharing of information between the police and third parties, facilitating more in-depth checks.
Head of Border Policing Command, Detective Superintendent Alan Crawford, said: "There are information sharing protocols in place and we continue to work closely with our partners in law enforcement. Tourists warned of holiday nightmare as top resorts 'won't be safe for years' – to read more, click here "We will always take action against those who have outstanding fines and/or warrants, and those who travel through our airports and seaports will undoubtedly interact with police and law enforcement as part of their journey.
"I would urge anyone who is currently subject to an outstanding fine or warrant and preparing to embark on a trip to address the matter urgently to ensure you are not inconvenienced and can fully enjoy your break."
Police Scotland would not be drawn on the numbers of people being stopped at the country's exit ports. More than 100 million passengers depart through the UK's airports, sea ports and international rail terminals annually, while more than 200,000 people were prosecuted for non-payment of their TV licences last year.
Anyone found guilty of evading the licence fee is given a criminal record and can be fined up to £1,000. People who fail to pay the fine can be jailed.
The Government's E-Borders initiative was designed to monitor and snare extremists and criminals. It allows passenger information to be checked against watch lists and security databases, alerting officials to people of interest.
However, its remit has been extended to flag up people who have not paid their TV licence. Critics claim drivers are being wrongly fined after speed cameras 'get vehicle size wrong' – to read more, click here But campaigners have questioned if targeting TV licence fee dodgers is an appropriate use of the new powers.
Andrew Allison, of the Freedom Association pressure group, said: "To prevent people from leaving the UK in this way is a misuse of legislation that is supposed to target dangerous criminals. This should stop now.
"The TV licence is a tax on watching live TV, irrespective of whether or not you watch the BBC. The Government should pass legislation to decriminalise non-payment of the fee and then move to scrap the fee altogether."
With around 80% of trips currently being monitored, the peak summer 2015 holiday getaway period could prove worrying for people who have dodged the £145 a year colour licence fee, especially as the UK Government plans to introduce blanket exit checks and wants this introduced by spring.
"The police and immigration officers are jointly working to ensure the law is carried out to the letter," said a source. "The Immigration Act 2014 requires transport carriers to collect passengers' personal information and provide this to immigration and law enforcement authorities in advance of travel.
"Staff in the National Border Targeting Centre use this record of travellers passing through UK ports to conduct security checks on travellers, in order to identify persons of interest to the immigration authorities and police."
Passengers who have repeatedly refused to pay their fines or turn up in court are being tackled at Scottish airports and presented with their fines to be paid on exit. If they refuse, they will be arrested.
"Glasgow Airport is already rolling out the initiative," added the insider. "Police Scotland has detained a number of people who were planning to exit the country who have had warrants issued for non-payment of their TV licences and council tax. If a fine is outstanding, they are given an opportunity to pay it or they are arrested and prevented from leaving the country."
E-Borders, devised by the Labour government in 2003, was designed to count everyone coming in and out of the UK. The system, which was expected to cost £536m from 2007 to 2015, has been dogged by problems over the past decade.
It was delayed for several years, its brief changed and the Government has become embroiled in a legal battle with a former contractor, US firm Raytheon, after it was fired in 2010 for what officials said was an "extremely disappointing" performance.