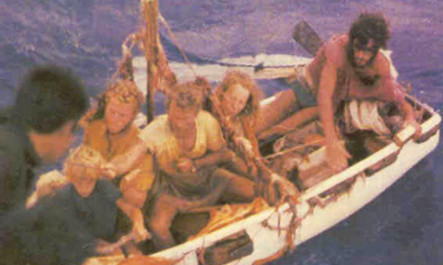 "Raising Joshua is harder than being lost at sea."
A Scot who spent 38 days at sea, drinking turtle's blood to survive, has labelled the experience "easy" compared to raising a brain damaged son.
Douglas Robertson was just 18 when he and his family found themselves clinging to a tiny dinghy in the middle of the Pacific Ocean. To survive they had to drink turtle blood and undergo makeshift enemas with polluted water to stop themselves dying of thirst. Yet the family managed to last 38 days before being rescued 200 miles off the Galapagos Islands.
Now more than 40 years on, Douglas has revealed how the ordeal pales into insignificance compared to the heartache of having to raise his son, Joshua, who was left brain damaged after an accident.
Douglas, now 59 and an accountant in London, said: "Being lost at sea and left for dead was easy compared to what I face today. I'd even say I reflect on our time in the Pacific with a bit of fondness."
Joshua was just 11 when he was left brain damaged on Christmas Day, 2004, after a quad bike accident. With catastrophic head injuries, doctors told his family it was unlikely he would survive and urged them to turn off his life support. But, inspired by his own survival, Douglas insisted his son stay in intensive care and, after four months in a coma, the youngster woke up. Almost nine years on, Joshua, 19, needs 24-hour care and can't walk or talk properly, while his arms barely function.
Despite the odds, Joshua, who splits his time between his mother in Australia and father in the UK, has forged a career as a stand-up comedian.
Douglas said: "Like me, Joshua was written off by many people."
It was in 1971 that the Robertsons Douglas, his father Dougal, his mother Lyn, sister Anne, 17, and twin brothers Neil and Sandy, both aged nine set off from Cornwall on board Lucette, a 43ft wooden schooner. For 17 months they sailed the Atlantic, the Caribbean and the Pacific Ocean. But disaster struck when the Lucette was hit by a school of killer whales, breaking the boat's hull.
The family, minus Anne who had been left in the Bahamas, scrambled into an inflatable raft and a dinghy. But they only had rations for six days, leaving them facing certain death as no one knew what had happened to them.
The situation worsened after 16 days when the inflatable raft gave out, forcing the group into the 10ft dinghy. To survive they killed 13 turtles using a spear made from a paddle.They ate the meat, drank the blood and turned the fat into oil to rub on the salt-water sores covering their aching bodies.
Their ordeal finally ended after 38 days when a Japanese fishing trawler spotted their distress flare.
Douglas added: "I remember it all vividly it's burned into my mind. That will never go away."