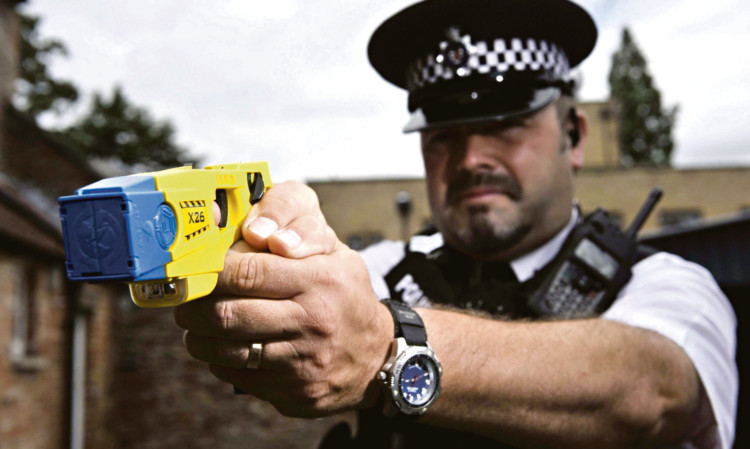 A furious row has broken out over the use of police stun guns on children.
Official guidelines warn of potentially fatal consequences if youths are hit by the 50,000-volt Taser devices. But despite this, their use in confrontations with under-18s has rocketed by 1,000% over five years.
Figures show police used the weapons on just 29 occasions in 2007 but that shot up to 323 in 2011, an average of six times a week.
This included firing them outright and doing "drive stuns" in which the device is placed against a youth's body and fired without causing incapacitation.
Justice campaigners said the soaring use of Tasers on children was a major concern. However police defended their actions.
Steve White, vice-chairman of the Police Federation of England and Wales, said: "Taser presents an extremely effective means of dealing with the many dangerous situations that officers face. Often, the sight of a Taser can quickly de-escalate a situation. Taser represents a less lethal option than conventional firearms and can be safer than other methods used by officers."
But Tippa Naphtali, founder of the 4WardEver group, insisted Tasers must be reserved solely for the most dangerous criminals.
He said: "Our concern is that if you have fully-grown men who are dying, what will Taser do to people under 18 who are not fully physically developed? The police won't know the people they aim them at may have underlying medical conditions."
Mr Naphtali, who formed the organisation two years after the death in police custody of his cousin, added: "There are circumstances where police would be justified in using Tasers, as we do have some violent criminals.
"But we rely on them to make proper judgement calls."
Overall use of Tasers, including children and adults doubled between 2009 and 2011, from 3,500 to 7,250. There are 14,700 officers trained to use Tasers, after their availability was expanded from highly trained marksmen to specialist units and beat officers.
Experts estimate each officer will draw his weapon once every two years and fire them once in eight years. But lawyer Sophie Khan, who specialises in Taser-related injuries, called for a ban on their use on under-18s.
She said: "There is a serious risk a child could die and people will ask if we need them at all."
She added Tasers were becoming the first resort for police officers rather than used as a safer alternative to firearms. An Independent Police Complaints Commission spokesman said: "We have concerns about some of the ways and circumstances in which it is used, bearing in mind each use must be justified as being necessary and proportionate to the perceived threat."
A Home Office spokesperson said: "Independent medical assessments have concluded that the risk of serious or life threatening injuries is low. They are only used by officers who have been carefully selected and trained and in situations where there is a serious threat of violence."
Tasers in the spotlight
Last week two police officers were sacked after an innocent man was Tasered five times in their van. Kyle McArdle, 26, said he passed out from the excruciating pain inflicted by the 50,000-volt weapon after he was hauled from the street in Liverpool.
He was shot in the chest, stomach and leg at point-blank range as up to three officers assaulted him. Four years later PC Simon Jones and PC Joanne Kelly were fired for gross misconduct following Mr McArdle's arrest for urinating in an alley.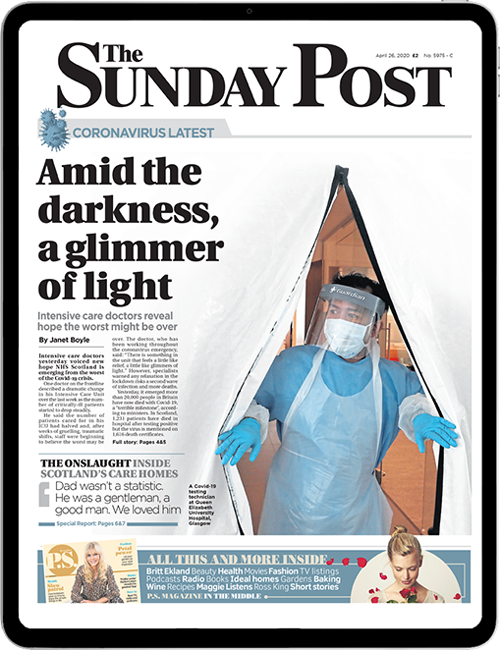 Enjoy the convenience of having The Sunday Post delivered as a digital ePaper straight to your smartphone, tablet or computer.
Subscribe for only £5.49 a month and enjoy all the benefits of the printed paper as a digital replica.
Subscribe