Predatory men are using sperm donor websites to bed women desperate to have babies, we can reveal.
Our probe has lifted the lid on a rising number of unregulated internet-based agencies putting vulnerable would-be mothers in touch with sperm donors. The childless women turn to the sites to avoid shelling out thousands for fertility treatment. But they are being plagued by men offering to impregnate them for free through natural intercourse.
Now experts have issued a stark warning that those who give in to the pressure are dicing with death and disease.
Within minutes of posting an advert seeking a donor on four internet sites our reporter was bombarded by offers of sex from married and single men. She received 44 proposals in just a week. Among those coming forward were men claiming to be highly-paid IT consultants, accountants and marketing specialists.
Most claimed natural insemination NI, worked better than AI, artificial insemination, where the woman injects herself with the donor's sperm. None raised the issue of sexually transmitted diseases.
One married "professional" from Glasgow who contacted our reporter said he "didn't mind travelling" wherever to do the deed. Another from the North West of England bragged about having already fathered several kids.
"I have had success with both but it took less time with NI," he claimed.
Another willing donor added: "NI is more effective than AI and safer than a night club".
A married dad-of-two from Cumbria openly admitted he preferred NI because "it is better in terms of fun attached to it".
Our investigation found that many men play on women's desperation by trying to arrange a meeting with them as early as possible. One respondent to our reporter's advert said: "If you wanted to do it we would meet probably at hotel or yours and do a donation just however you want it done."
A truck driver, who admitted he was in a long-term relationship, added: "Any females want NI donation and can meet where I can park up for breaks, then there's room in the truck to perform the deed."
Experts have warned little can be done to shut down the seedy sites. The Human Fertilisation and Embryology Authority (HFEA) said it has no power to regulate them. Some sites operated "legitimately", it said.
But a spokesman added: "Others feature men who are little more than sexual predators. This is clearly of concern to us. We recommend that women seeking fertility treatment with donated sperm undergo treatment at a UK clinic that is licensed by the HFEA.
"It is only when treatment takes place at a licensed clinic that a person can be confident of the quality and safety of the donation and that the relevant consents of legal parenthood are completed."
No health checks are needed on the web or social sites, which Prof John Ashton, president of the Faculty of Public Health, which represents consultants in public health, called "problematic".
He said: "I would be worried about the safety of women using these sites and potential threats to their health from infection. However, we live in a time of free choice so it is difficult to see how these sites can be prevented."
One in six couples is affected by infertility but Susan Seenan, of Infertility Network UK, urges women not to plea for donors online. "Infertility of any kind is a complex and devastating illness with huge emotional side-effects," she said. "To consider treatment outside a licensed clinic could be extremely dangerous.
"I think this sadly highlights the overall lack of awareness about infertility and we are here to help everyone struggling to conceive to find the right, safe solution for them."
Rachel Griffin, of personal safety charity the Suzy Lamplugh Trust, added: "In addition to the negative medical implications, the women who use these sites could be at physical risk from some of the men they meet up with.
"There are clear dangers in meeting people in an offline setting as you don't know who you are meeting, whether they are a dangerous individual or what agenda they may have."
Rachel's personal experience:
I posed as a 30-something single woman anxious to have a baby.
Within minutes of registering on four sperm donor sites, I was contacted by men offering to give me my dream of a baby, no questions asked. Some were ready to hop into bed the very next day without knowing anything about me. They weren't fussy a hotel, my home, the back of a truck. Anywhere would do.
There was pressure put on me to hand over my mobile number and email address. All they wanted to do, apparently, was "help me out".
Most donors ignored the issue of STD tests. One even told me his best mate would test him "cos she's a nurse".
As I waded through their desperate messages, other women on the sites warned me to be careful. One said she had been targeted by boys as young as 15. Another told of how she found out her donor was married and had been in prison.
In all honesty, these desperados who I can only describe as predatory made me feel sick. They all just wanted to have sex as quickly as possible. The whole experience was deeply disturbing and I was astounded that anyone, male or female would take this risk.
A professional man who used a sperm donor website to get women into bed was ordered to pay £300,000 legal costs and child maintenance to a child he fathered. In July, the High Court in London ruled that the man, known as Mr F, had got the woman pregnant after persuading her to have an extramarital affair. Mr F claimed to have fathered 30 children via the site.
Married father-of-three Gennadij Raivich appeared in court on Friday charged with 10 counts of sexual assault of women he met on unlicensed donor websites. The neuroscientist, 50, is believed to have fathered 49 babies as a donor on the internet.
The academic, who works at University College, London, is an expert on maternal and foetal medicine. He will stand trial at Blackfriars Crown Court in January next year.
Paula and Peter McBretney both have fertility problems and were denied IVF on the NHS in North Yorkshire. The hard-working pair are trying to save up £6,000 to pay for fertility treatment. It has been emotionally exhausting experience for the couple.
"It is crazy that our IVF will cost us around £6000, " said Mrs McBretney. "But how simple it would be to just go and get the sperm donation free of charge, without hospital intervention.
"I absolutely understand why women are choosing this. IVF is so costly and especially frustrating, so to some women this will be their only option and worth the risk."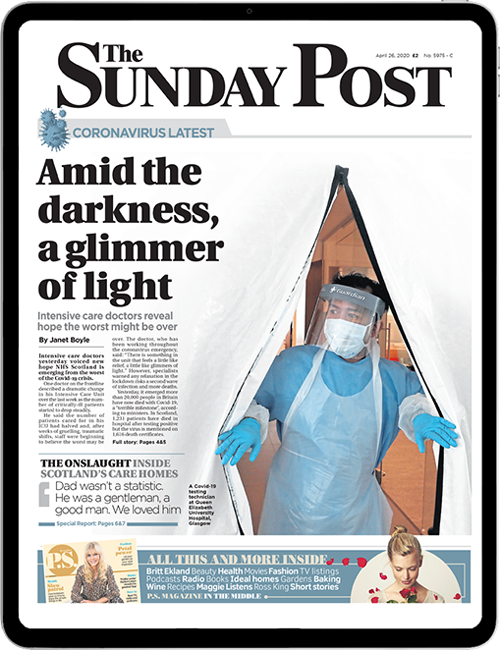 Enjoy the convenience of having The Sunday Post delivered as a digital ePaper straight to your smartphone, tablet or computer.
Subscribe for only £5.49 a month and enjoy all the benefits of the printed paper as a digital replica.
Subscribe