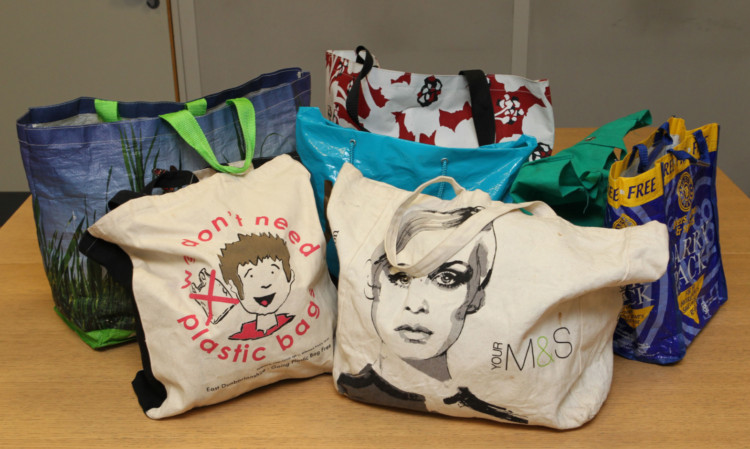 Health experts fear outbreaks of food poisoning could soar as a result of the new 5p supermarket bag tax.
A Sunday Post probe has found that reusable bags are often "heavily contaminated" with bacteria that could cause illness. There is particular concern over "bags for life" that have been used to carry fresh meat and raw vegetables.
Leading bacteriologist Professor Hugh Pennington said: "There is a real issue here as we could see an increase in the number of cases of food poisoning. We have to be careful about being too strict in forcing people to re-use bags. There are some bags you should only use once, so I would be very unhappy at having a 5p charge on bags that are being used for food."
Experts said those with underlying health problems, as well as children and the elderly were most at risk of being struck down. And reports from other countries that have banned free bags have seen a spike in A&E admissions and deaths.
American scientists presented evidence last year that plastic bag bans are bad for public health. Research by Joshua D. Wright from University of Pennsylvania found a 25% jump in A&E admissions for bacterial infections like E. coli after San Francisco banned plastic bags.
Reporting his findings in the Social Science Research Network journal he said: "The San Francisco ban is associated with a 46% increase in deaths from food-borne illness to a rate of approximately 12 deaths per year."
A study by Professor Charles Gerba at University of Arizona, said: "Our findings suggest a serious threat to health, especially from bacteria like E.coli, detected in half the bags sampled. Consumers are alarmingly unaware of these risks and the critical need to sanitise their bags weekly."
A poll carried out by US analysts revealed 97% of shoppers who used eco-friendly bags have never washed or bleached them.
The warnings come as millions of UK families are being encouraged to reuse bags through the imposition of charges. The Scottish Government wants shoppers to pay 5p per bag from October 2014.
Scotland uses 750 million carrier bags each year, the highest proportion in the UK.
Environment Secretary Richard Lochhead said the charge was to "encourage shoppers to reuse bags to combat the throwaway culture Scotland has". Deputy Prime Minister Nick Clegg announced plans for similar charges for England at the Lib Dem conference last month. They would take effect in 2015.
We took a selection of reusable bags for analysis at Glasgow Caledonian University's School of Health and Life Sciences. There were plastic and cloth types, with laboratory analysis being done on one square centimetre of each.
Four of the nine fell into the heavily contaminated category.
"These bags would have to be cleaned and disinfected on a regular basis to avoid the risk of food poisoning," said Professor Kofi Aidoo, a leading expert on bacterial toxins and food-borne diseases.
"Vegetables that come into contact with the inside of the bags could easily be contaminated."
To ensure they have the bags with them on their next shop, many families put the empty bags back into the boot of the car. Professor Aidoo highlighted this as a major hazard.
"The warm environment of cars make them the worst place as far as bacteria is concerned. One bacteria cell will quickly become thousands. If people are going to have to pay for bags and re-use them my concern is we're creating a high risk of food poisoning. At the very least people have to be given advice to clean these bags every time they use them."
Professor Aidoo's concerns were echoed by Professor Pennington, who headed the enquiry into the world's worst E.coli outbreak at a Wishaw butchers which killed 21 in 1996.
"There is a real issue here as to whether we should go ahead with the 5p tax. Any bag that's carrying meat, wrapped or unwrapped, shouldn't be used again. I would be very surprised if many people washed bags and even if they do they won't necessarily get rid of all of the bugs. The bag may look clean but you can still easily find these bugs."
A spokesman for The Food Standards Agency said: "Packing raw meat and fish with ready-to-eat foods can lead to cross-contamination. While a carrier bag may look clean there is always the potential for cross-contamination of ready-to-eat foods."
A British Retail Consortium spokesperson said: "We have already succeeded in significantly reducing carrier bag usage. Single use carrier bags account for less that one per cent of household waste in the UK.
"Any legislation should be proportionate."
Our shock findings led to renewed calls for a re-think on charging for bags from the Carrier Bag Consortium. They have been campaigning on the subject with Scots boss Bill McDonald currently seeking to challenge the legality of the Scottish Government's proposals.
"These are very striking findings," said Mr McDonald. "We have been against charging and there is very real issue with the hygiene of re-using bags. I despair when I go to supermarkets and see people bringing these bags which could be carrying all sorts of bugs. Politicians aren't paying attention to the medical evidence."
Both Polypropylene plastic bags and cloth ones will still have bugs regardless of cleaning, according to Professor Aido. Disinfecting plastic bags by wiping won't remove all the organisms. Heating to 121 degrees is the only way to kill them, which is well above boiling point and not practical. If I had to choose, I'd pick a cloth one that can be washed at high temperature in a washing machine."
The lab analysis found staphylococcus aureus, a disease-causing bacteria that can grow and produce toxin. Yeasts and moulds from food spoilage were regularly isolated. Asperigillus and Penicillium were the most common.
"Presence of these organisms on carrier bags could contaminate freshly-purchased open foods such as fruits and vegetables," said Professor Aidoo. There's a need to protect the elderly, the young and those with a compromised immune system including the elderly. Regular re-use of bags to carry food without regular cleaning and disinfection could pose a threat."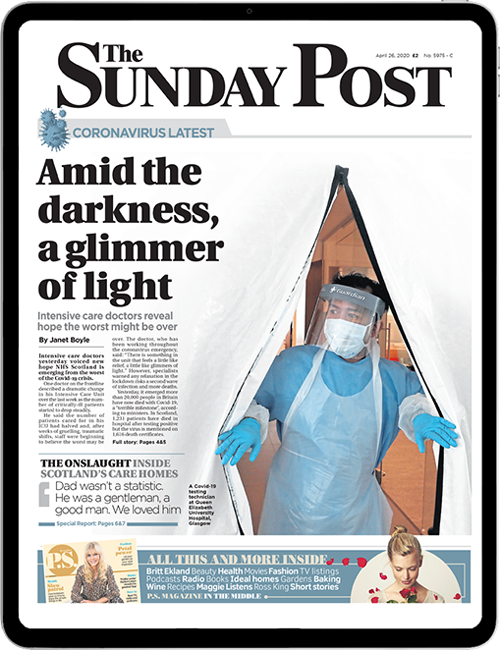 Enjoy the convenience of having The Sunday Post delivered as a digital ePaper straight to your smartphone, tablet or computer.
Subscribe for only £5.49 a month and enjoy all the benefits of the printed paper as a digital replica.
Subscribe