Adults taking antidepressants who want to come off their medication should not go cold turkey and should instead use a "staged" approach, experts have said.
A staggered reduction of medicine, known as tapering, could cut the likelihood and severity of withdrawal symptoms, according to the National Institute for Health and Care Excellence (Nice).
Patients who wish to come off the drugs permanently should first agree with their doctor whether it is right to stop taking the medication, and, if so, the speed and duration of withdrawal from it, according to a new draft quality standard from the health body.
Any withdrawal symptoms need to have been resolved, or to be tolerable, before making the next dose reduction, according to Nice's panel of experts.
There were an estimated 21.4 million antidepressant drugs items prescribed to patients in England between July and September 2022, according to data from the NHS Business Services Authority.
Meanwhile, the Nice quality standard, which sets out priority areas for quality improvement for the care of adults with depression, also calls for more action to support people of all ethnicities access mental health services.
Nice said adults from minority ethnic family backgrounds are "disproportionately less likely" to access mental health services than the general population.
Dr Paul Chrisp, director of the Centre for Guidelines at Nice, said: "There are millions of people taking antidepressants.
"If an individual decides they want to stop taking this medication, they should be helped by their GP or mental health team to do that in the safest and most appropriate way.
"In many cases people experience withdrawal symptoms, and the length in time it takes them to safely come off these drugs can vary, which is why our committee's useful and useable statement for a staged withdrawal over time from these drugs is to be welcomed.
"But it should be stressed there is no one-size-fits-all approach to coming off antidepressants.
"The way it should be done has to be down to the individual and their healthcare professional, to agree a way which it can work and only when side-effects can be safely managed.
"Our guideline on depression signposts to information produced by the Royal College of Psychiatrists, which can offer practical advice to help people safely come off this medication."
Lucy Schonevegel, associate director for policy and practice at the charity Rethink Mental Illness, said: "Antidepressant medications can alleviate the debilitating symptoms of several mental health conditions, helping to improve someone's quality of life.
"But there may come a point in an individual's recovery when they feel ready to stop their medication, and we welcome this guidance underlining how important it is for medical professionals to support people to reduce their dosage slowly at a pace appropriate for them.
"However, we need to look at this as part of the wider picture. Currently, pressures on mental health services mean many people are struggling to access or are not being referred to other suitable treatments such as talking therapy.
"Government must ensure mental health services have the resources they need so that people aren't held back in their recovery.
"It's highly concerning that people from black, Asian and minority ethnic backgrounds are stopping treatment at a higher rate than white people, but it is not surprising.
"It's vital that culturally appropriate support which fully meets their needs is provided by mental health services, and action to tackle this inequality must be a high priority for the NHS."
Stephen Buckley, head of information at Mind, said: "Improvement in this area is all the more important as more people have been struggling with their mental health and the number of people prescribed antidepressants in England has risen.
"While the prevalence of poor mental health is likely to have increased, the rise in antidepressant prescriptions may also reflect a wider shift in social attitudes, as stigma surrounding mental health is slowly decreasing, and awareness and understanding has improved.
"It's positive that more people are asking for help with their mental health, but it's important to acknowledge that medication helps some people, but it isn't always right for others.
"If you're taking medication for your mental health, you might reach a point where you want to stop taking it. You might feel you don't need it any more, you might feel it isn't working or you might not like the way it affects you or how it makes you feel.
"We strongly suggest talking to your doctor or mental health team if you are thinking of withdrawing from your medication, you want to change medication, or you are experiencing withdrawal symptoms, so that you can be supported to come off or change your medication safely over time."
Dr Adrian James, president of the Royal College of Psychiatrists, said: "We know that antidepressants can save lives, and most people will not need to take them for more than six to 12 months, but when a patient does come off antidepressants, they may experience both physical and mental withdrawal symptoms which is why it is usually best to stop them slowly.
"These new guidelines are a positive step forward which will help countless people come off antidepressants across the UK safely.
"The prescribing numbers for antidepressants have been consistently trending upwards in recent years.
"Clinicians treating someone who is taking them should regularly review whether they are still providing benefits or might no longer be needed.
"They should also inform the patient about the advantages and risks of reducing their dose so that they can take part in the decision-making process.
"It is important to note that, for many patients, antidepressants are part of a lifesaving treatment programme.
"Patients should not stop taking antidepressants suddenly and should talk to their doctor beforehand.
"The College has produced a resource for patients and carers on stopping antidepressants, that offers information on how someone can taper their medication at a pace that suits them and their individual needs."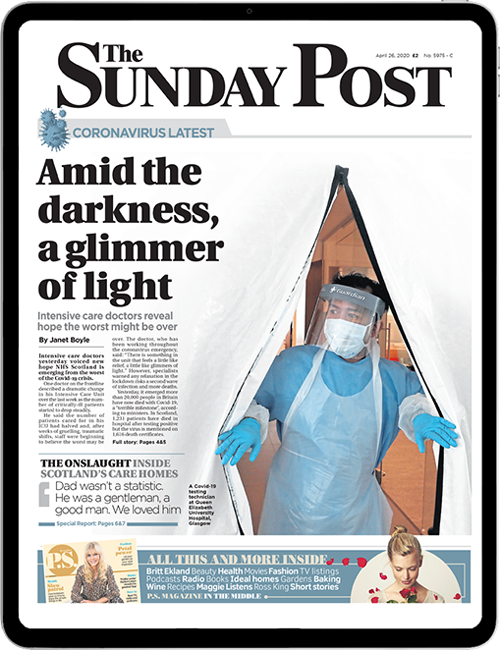 Enjoy the convenience of having The Sunday Post delivered as a digital ePaper straight to your smartphone, tablet or computer.
Subscribe for only £5.49 a month and enjoy all the benefits of the printed paper as a digital replica.
Subscribe