Here are the key points from Chancellor Sajid Javid's one-year spending round:
– A pledge to "turn the page on austerity" and bring about a "decade of renewal" after close to a decade of cuts.
– The Chancellor announced that day-to-day Government spending will increase by £13.8 billion next year – a 4.1% above inflation rise on 2019-20.
– Schools are set to see a cash boost, with every secondary school to be allocated a minimum of £5,000 per pupil by 2020-21, and every primary school £4,000 per pupil by 2021-22.
– A cash increase for the NHS with £33.9 billion a year by 2023-24 compared to 2018-19 budgets, and a new £1,000 personal development budget over three years for every nurse, midwife and allied health professional.
– Social care to receive an additional £1.5 billion, with £1 billion coming via a new Treasury grant and another £500 million raised through taxes.
– The Chancellor was given a chance to deliver a leadership pledge he made two months ago, giving a 6.3% spending rise to the Home Office – enough money to recruit 20,000 additional police officers.
– A £200 million grant to "transform" bus services will come out of a £490 million increase for the UK's transport network.
– Confirmed a "rapid review of HS2" and vowed to "kick-start the infrastructure revolution" in the UK.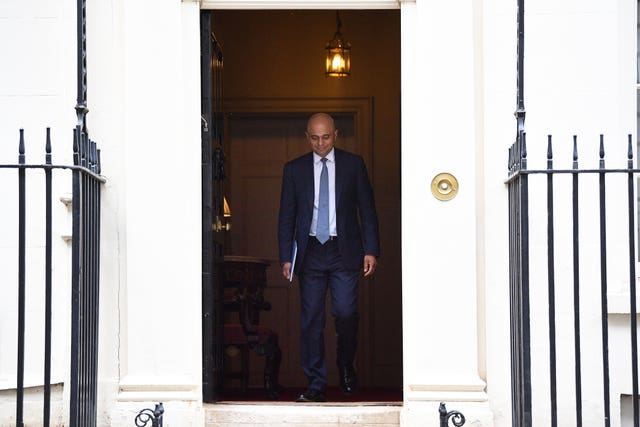 – Prison expansion will be given the go-ahead with a pledge to create 10,000 additional prison places while improving security.
– The Armed Forces will see a £2.2 billion funding boost, with Boris Johnson's administration vowing to continue to meet the Nato target of spending 2% of GDP on defence.
– The foreign aid target of 0.7% of Gross National Income (GNI) will continue to be met by the new Government, Mr Javid said.
– Brexit "delivery" funding worth £2 billion was set aside to pay for more Border Force staff, "better transport infrastructure" at ports and "more support for business readiness".
– The Cabinet minister said the "human cost" of homelessness was too high, and committed an extra £54 million to tackling rough sleeping, taking funding to reduce the blight on society to £422 million in 2020/21.
– Environmental concerns, including decarbonising Britain's economy, tackling air quality and protecting sea life, received a £90 million funding uplift.
– The Welsh government was handed an extra £600 million and Northern Ireland allocated £400 million more.
– The Chancellor recommitted the new Government to "meeting fiscal rules" and vowed: "I won't squander the hard work of the last nine years."